Diversity, equity, and inclusion (sometimes referred to as DE&I) is important in all parts of our society, but is crucial when it comes to nutrition. Making sure that underrepresented individuals have their nutritional needs met, having a thorough understanding of and promoting good nutrition in lower income and minority areas, and recruiting those from underrepresented groups to work within the nutrition field are all vital steps to be taken to help ensure that nutrition in our society is equitable, diverse, and inclusive of everyone.
Diversity can refer to differences in gender, ethnicity, socioeconomic status, sexual orientation, physical abilities, personal beliefs, and age. Respecting those differences among individuals living in a shared space is at the core of diversity. The Academy of Nutrition and Dietetics (AND) has offered the following as their definition of diversity: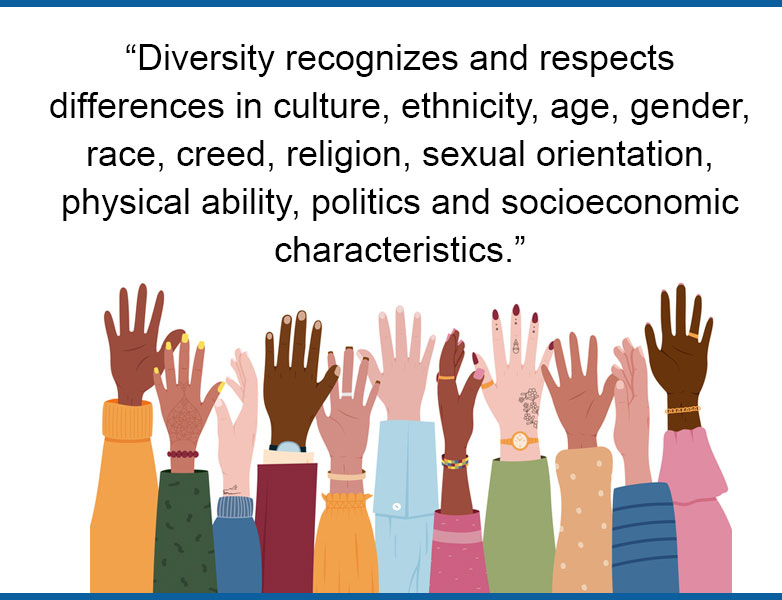 Per the Commission on Dietetic Registration, as of 2020, 80 percent of all dietitians are white. As our population becomes more diverse, patients want to be treated by health care providers who can relate to them in an equitable, fair manner. Recruiting people from minority groups to work in the nutrition field is imperative in making this a reality. Nutritionists, dietitians, and those who are from underrepresented groups themselves and work in nutrition care are more likely to serve minority patients as well as those from medically underserved communities. Furthermore, these patients tend to be more compliant to their nutritionist's suggestions and advice. If the profession better represents the patients that it serves, a nutritionist's advice is more likely to be followed. As African-American dietitian Jessica Jones remarks,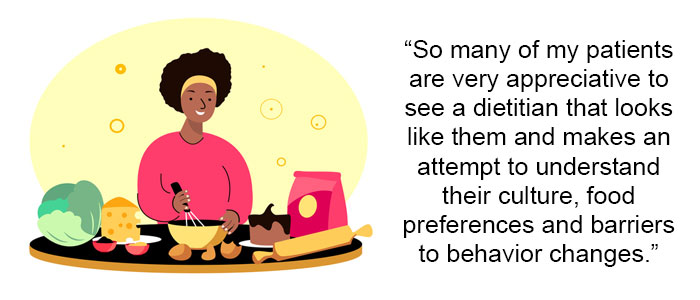 All nutritionists, not just those from underrepresented groups, must learn to treat their patients with care, keeping in mind their diversity. The 2018 Code of Ethics for the Nutrition and Dietetics Profession states that this involves "Acting in a caring and respectful manner, mindful of individual differences, cultural, and ethnic diversity." Equitable treatment for all is a standard of the profession, per the AND.
Dietitians and nutritionists must remember that respecting the diversity of patients is crucial to the success of their treatments. Such respect is often referred to as inclusivity. Nutrition care providers must understand what healthy eating looks like in all cultures, not just their own, and know what foods should be promoted and included and what foods will likely be rejected by patients.
Another consideration when it comes to diversity in nutrition is the fact that traditional literature on the subject highlights differences in gender-specific nutrient recommendations, based on cisgender males and cisgender females. Nutritionists must learn to consider the needs of sexual and gender minorities, including the LGBTQ+ community.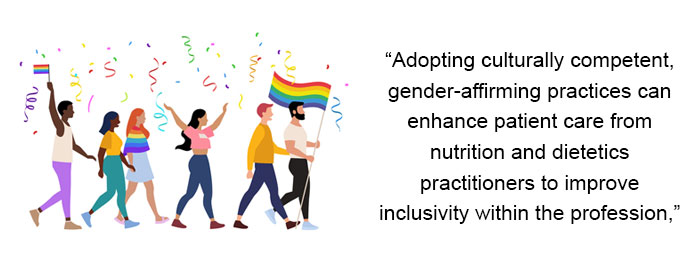 Writes Shamera Robinson, founder of Full on Faith Nutrition.
The Academy of Nutrition and Dietetics created its first diversity/affirmative action plan in the early 1980s. Today's Diversity Strategic Plan, which emerged in 2015, includes resources to increase diversity, equity and inclusion among the profession. These include grants, awards, a Diversity Mentoring Toolkit, diversity liaisons, and other initiatives by practice groups and interest groups.
Below are some of the most important DE&I resources that apply to the nutrition profession and to the care that nutritionists, dietitians, and nutrition care professionals provide. These resources are designed to promote nutrition professions among underrepresented populations and minorities, and to help those already working in the nutrition field to treat all patients with care, keeping in mind their diversity, providing them with equitable treatment options, and making sure that treatments are free from exclusion of any individual or group.
General DE&I Nutrition Resources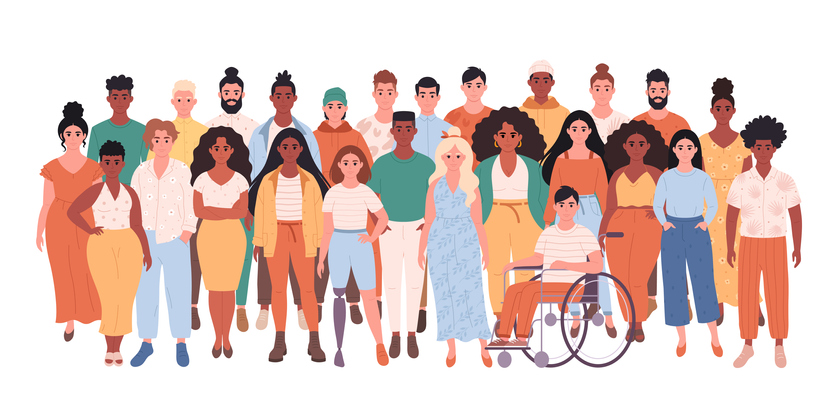 The following resources focus on general tips and advice for nutritional professionals in providing equitable, inclusive care to diverse individuals and communities.
Doubling Down on Diversity: The Journey to a More Diverse Field
This report on FoodAndNutrition.org examines the current demographic makeup of the nutrition profession and identifies steps that should be taken to increase diversity among nutritional professionals. It notes that and AND's strategic plan strives to "increase the diversity and cultural competence of the workforce to reflect the communities they serve."
Cultural Sensitivity: Moving Beyond Awareness to Provide Inclusive and Equitable Care
This FNCE Session from 2022 provides continuing professional education (CPE) credits for those working in nutrition. It is a starting point to instruct nutrition providers in practical ways to treat patients equitably, using correct language, policies, and practices. It is available to both members and non-members of the AND, as well as to students, for a fee.
Cultural Competency for Nutrition Professionals
This online publication of the AND gives nutrition professionals an overview of 28 cultures and their food practices. It is designed to help nutritionists serve diverse patient populations. It is available to both members and non-members of the AND, as well as to students, for a fee.
The AND's Inclusion, Diversity, Equity and Access (IDEA) Action Plan is presented here. It includes goals such as increasing recruitment, retention and completion of nutrition education and leadership within underrepresented groups.
Inclusion, Diversity, Equity, and Accessibility (ASN)
The American Society for Nutrition (ASN) is dedicated to establishing an environment that welcomes diversity and encourages participation from all communities. Included on this page are research fellowships and awards to encourage nutrition education for individuals from underrepresented communities.
This webinar of the School Nutrition Association examines diversity within the school nutrition profession as well as the diversity of the students that school nutrition professionals serve. It also focuses on building a more inclusive environment.
Bridging the Gap: Addressing food insecurity and promoting nutrition in low-income communities
This article by UCI Public Health focuses on identifying food insecurity in low-income communities and providing better nutrition care. The author suggests using community-based research to elevate voices within the community in order to establish better policies regarding food insecurity and nutrition.
Universal nutritional guidelines, with a cultural twist- celebrating healthy eating and diversity during National Nutrition Month
This article by Wellspring Health focuses on ways to increase nutritional value by trying foods from other cultures. Suggestions for foods to try from Latin America, Asian Indian, and Filipino cultures are presented.
DE&I Nutrition Resources Focusing on Religion

Dietary practices have long been included in religious practices of people worldwide. Many religious beliefs are expressed as food customs. Rules on the consumption of food and drink, fasting, and restriction of certain foods may all be incorporated into religious practices. It is important for nutritional professionals to have awareness and knowledge of religious beliefs surrounding diet and food, in order to be able to treat persons of all faiths in an equal, inclusive manner.
Religious Member Interest Group (RMIG)
This member interest group of the AND began in 2017 to educate and make nutritional professionals aware of religious diets and the special needs of individuals in religious communities. Included are resources for treating those of the Christian, Jewish, Muslim, and Baha'I faiths.
Religion and Dietary Practices
This article outlines the many dietary practices accompanying specific religions. It is designed to help nutritional professionals better understand and treat patients of diverse faiths.
Religion, Culture, and Nutritional Considerations
Published by the United Kingdom's Plymouth Marjon University, this handy guide explains religious and cultural differences regarding food preparation and distribution. It outlines which foods those from certain religions may not eat, and how nutritional professionals should regard religious practices such as fasting (i.e., making sure the patient has food and drink before and after the fasting period).
Religion and Culture: Nutrition for the Primary Care Provider
Part of the World Review of Nutrition and Dietetics series, this book is designed to increase knowledge and awareness of other cultures and their religious practices as they relate to nutrition. It focuses on providing this information for primary care providers to use when treating patients.
DE&I Nutrition Resources Highlighting Ethnic and Racial Diversity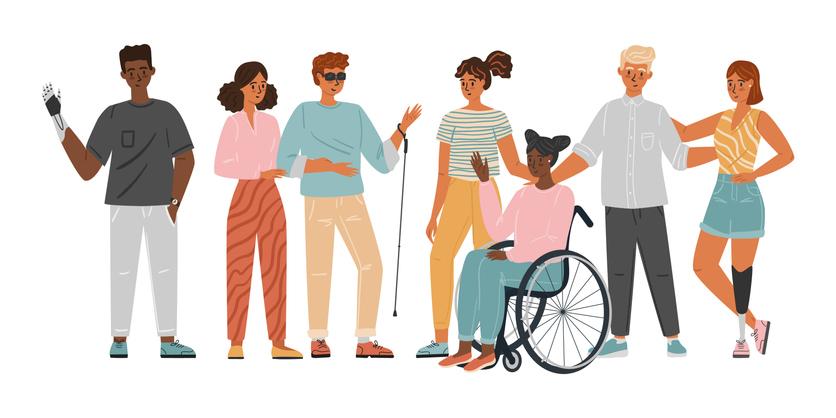 In its 2021 Compensation and Benefits Survey, the AND noted that the demographic profile of nutritional professionals had remained essentially unchanged since 2007. At the same time, the diversity of patients is increasing. There is a great need for nutrition professionals who represent all communities, including the underrepresented. These resources are designed to help encourage racial and ethnic minorities to become nutrition professionals, as well as to enable nutrition professionals to understand the diverse needs of patients in racial and ethnic minorities.
The mission of Diversify Dietetics is to increase ethnic and racial diversity among nutritional professionals through encouraging education and promoting leadership in underrepresented communities. The goal is to establish a nutrition profession that is more reflective of the diverse communities from which patients come. They also list scholarships and grants and offer an internship application support program.
Conscious Dietetics Practice: Assessing Dietetics (White) Privilege and Confronting Racism
This FNCE of the AND from 2021 is available to student members of the AND as well as to AND members and non-members for a fee. Its focus is on elevating awareness of dietetics professionals examining white privilege and experiences that influence food options and practices and examine how they affect nutrition training and nutrition care.
Racial and Ethnic Diversification Will Likely Shape U.S. Food Demand and Diet Quality
This report of the US Department of Agriculture shows how the demand for food in the U.S. changes as the population diversifies. It also examines how the eating habits of immigrants change with the amount of time they spend in the U.S.
Study Reveals Diet Trends- And Disparities – Among Americans by Race and Ethnicity
This report by Henry Ford Health finds that, from 2011-2018, Asian Americans tended to have a better quality of diet than other racial and ethnic groups in the U.S. The worst overall diet quality in the US was found among African Americans.
National Organization of Blacks in Dietetics and Nutrition MIG
This member interest group (MIG) of the AND focuses on providing professional development and support of dietetics, nutrition, and wellbeing in the general public, particularly for those of African descent.
Latinos and Hispanics in Dietetics and Nutrition MIG
This member interest group (MIG) of the AND is designed to help nutritionists and dietitians who are Latino or Hispanic and also to promote good nutritional practices among the Latino and Hispanic community.
Asian Americans and Pacific Islanders MIG
This MIG (member interest group) of the AND is dedicated to supporting nutritionists and dietitians who are members of the Asian American and Pacific Islander community, and also to promote nutrition in that community.
Indians in Nutrition and Dietetics MIG
This member interest group (MIG) of the AND is focused on supporting nutritionists and dietitians who are Indians and to foster good nutritional practices among the Indian community.
DE&I Nutrition Resources for the LGBTQ Community
According to Heather Schier of the ASN, members of the LGBTQ community have elevated risks of certain nutrition-related diseases. This includes a higher risk of obesity and overweight for bisexual and lesbian women, a higher risk of HIV among bisexual and gay men, and an elevated risk of some cancers and cardiovascular disease in LGB adults. Additionally, there have been too few studies on nutritional needs of transgender individuals, but it is known that they have a higher rate of food insecurity and disordered eating.
This evidence brief from Rainbow Health Ontario explains facts about nutrition and different populations under the LGBTQ heading, such as youth, women, men, and transgender individuals. Gaps in the research and implications for health care providers are discussed.
LGTBQ Patient Care Webinar Bundle
This AND continuing professional education webinar for dietitians and nutritionists focuses on providing gender-affirming nutrition care to transgender and gender-diverse clients. Nutritional considerations, gender-affirming communication, and counseling strategies are all examined.
LGBTQ+ Health: Nutritional Considerations and Providing Inclusive Patient Care
This AND continuing professional education session examines health disparities that the LGTBQ+ community faces in nutritional care, and instructs nutritional professionals in providing inclusive, affirming patient care to the population.
Eating Disorders in the LGBTQ Population
This continuing education course for dietitians explains the prevalence of eating disorders among the LGBTQ population and clinical implications. It offers nutrition professionals advice for treating LGBTQ patients, instructs them in the proper terminology to use, and offers recommendations for care.
Federal Nutrition Program Resource for LGBTQ Providers
Published by the Food Research & Action Center (FRAC) and the National Center for Lesbian Rights (NCLR), this resource includes a facts sheet and programs chart to help providers connect low-income LGBTQ individuals and families with federal nutrition programs.
DE&I Nutrition Resources Focusing on Individuals with Disabilities

According to the Centers for Disease Control and Prevention (CDC), as of 2023, 27 percent of the American population has some type of disability. These disabilities include problems with mobility, cognition, independent living, hearing, vision, and self-care. Individuals with disabilities are an often-underrepresented group when it comes to nutrition. Their special needs must be taken into consideration by nutrition professionals.
Center on Nutrition & Disability
Part of the Family Resource Network, the Center on Nutrition and Disability began in 2013 as a nutrition education source for those with disabilities and those who care for people with disabilities.
Disabilities in Nutrition and Dietetics MIG
This MIG (member interest group) of the AND focuses on connecting nutritional professionals who self-identify as having a disability with resources. It is also designed for nutritional professionals who work with clients who have various disabilities.
Nutrition Counseling for Individuals with Disabilities: Tactics from the Trenches
This FNCE session from 2022 focuses on helping nutrition professionals to provide better nutritional counseling to individuals with disabilities. It is presented by three RDs who each have disabilities. It is available to members and non-members of AND for a price.
Nutrition for Individuals with Intellectual or Developmental Disabilities
This report by the Montana Disability & Health Program identifies nutrition standards of care for use by nutrition professionals when treating patients with intellectual or developmental disabilities.
Malnutrition and disability: unexplored opportunities for collaboration
This article focuses on links between malnutrition and disability worldwide. Among other things, the authors note that countries with higher levels of malnutrition often report higher rates of disabilities, both physical and cognitive. This leads to the conclusions that malnutrition can cause or contribute to disabilities, and disabilities can cause or contribute to malnutrition.
DE&I Nutrition Resources Focusing on Gender
Women and girls experience nutrition at a higher rate than men. According to the Gender-Transformative Framework for Nutrition, 60 percent of those worldwide experiencing chronic hunger are women and girls. "Gender inequality is both a cause and a consequence of malnutrition, which can trap women and girls in a vicious multigenerational cycle of poverty and unmet potential," notes the GTFN website.
Out of the Dark: Shining the Light on Nutritional Challenges of Female Sex Workers and their Children
This panel discussion focuses on the challenges, barriers, and opportunities involved in improving nutrition care for female sex workers and their children, an often-overlooked group. It is available to AND members, non-members, and students for a fee.
A Gender-Transformative Framework for Nutrition
This interactive model is designed to help everyone understand how gender and nutrition affect each other. The project, which was started in Canada, extends the capacity of nutrition programs in confronting gender inequalities.
Integrating Gender into Nutrition Programs
This program guide by USAID is designed for nutrition professionals who are striving to integrate gender into multi-sectoral nutrition activities worldwide.
The Anatomy of Female Nutrition
This blog post focuses on listing the amounts, sources, and types of nutrients that women should consume in order to maintain good nutrition.
Women have unique nutritional and health considerations that must be recognized to achieve precision nutrition goals
This article of the ASN outlines the unique nutritional considerations that women have, and how they have experienced deficiencies in nutrition and micronutrients at different times during their lives. It also discusses how the nutritional needs of women change as they age.
DE&I Nutrition Resources for Older Adults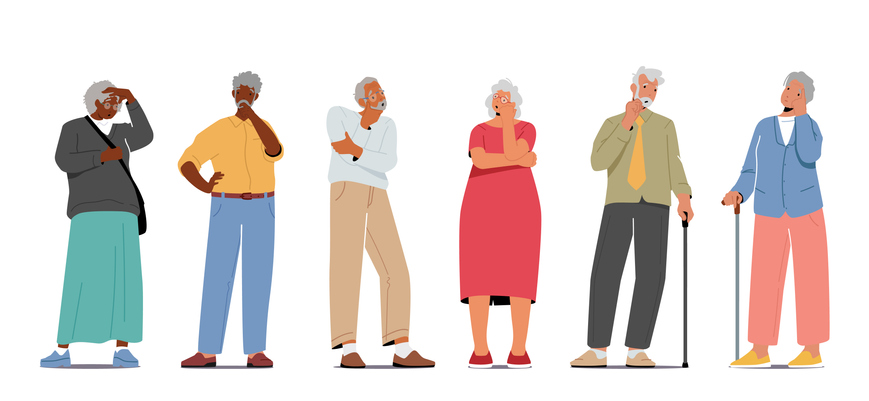 Older adults age 60 and over bring unique dietary needs and considerations to nutrition professionals. Dietary needs change with aging, and nutritionists must learn to counsel older adults accordingly. Older adults are at an increased risk of malnutrition, which should be of great concern to nutritionists as well.
This site of the U.S. Department of Agriculture explains some of the unique dietary needs of older adults. It includes nutrition tips and nutrient recommendations for the population.
Cultures for Gender and Age (COGA) MIG
This member interest group (MIG) of the AND has special sub-groups for those who are 55 and over, those who are 30 and under, and for men. It is designed to foster inclusivity between nutrition and dietetic professionals and students at different ages and stages of their careers, exchanging perspectives based on gender, age, and experience.
Generational Approach to Counseling People with Diabetes
This webinar, recorded by the AND's COGA MIG group, is free for MIG members and available at a cost for AND members and non-members. It details things that dietitians must remember when treating older people with diabetes, including generational elements that can affect diet and diabetes care.
Nutrition Concerns for Aging Populations
This summarizes four presentations for nutritionists concerning nutrition in older adults. It covers changing dietary needs, functional foods for older adults, modulating of aging through caloric restriction, and formulating nutritious products for older adults.
Food for Thought: The Role of Nutrition in Healthy Aging
This educational video by the Alliance for Agine Research shows how nutritional needs change as we get older. It also outlines recommendations from the U.S. Department of Agriculture Dietary Guidelines for nutrition for older adults.