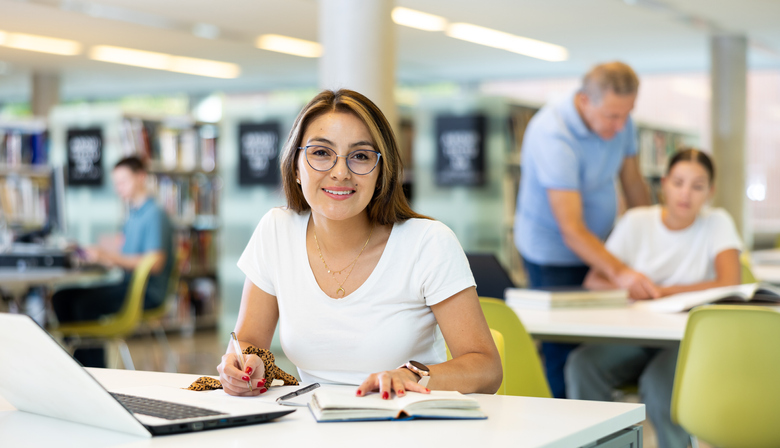 The Commission on Dietetic Registration (CDR), the regulating body for Registered Dietitian Nutritionists (RDNs), has recently updated its requirement for the type of degree RDNs must have. Starting on January 1, 2024, all RDNs in the United States must hold a minimum of a master's-level degree if they want to take the Registration Examination for Dietitians.
Although it is a popular choice, becoming a registered dietitian is merely one of the career options that those who have a master's nutrition degree can seek. While many students pursuing a master's- level nutrition degree or a related field are doing to in order to become an RDN, others may be readying themselves for a career as a licensed nutritionist, clinical nutritionist, nutrition educator, or other job option.
We will explore the benefits of getting a master's-level nutrition degree, and the myriad of career doors it opens, here.
What Nutrition Jobs Can I Get with a Master's Degree?
The number one career option that many with a master's-level nutrition degree are planning on is becoming a Registered Dietitian (also known as RD, Registered Dietitian Nutritionist, or RDN), as noted above. There are other career alternatives for those who have a master's degree in a nutritional field, such as:
Food Scientist
Food Technologist
Nutrition Project Manager
Sports Nutritionist
Wellness Consultant
Accreditation for Master's Degree Programs in Nutrition
Two types of accreditation exist when it comes to colleges: institutional and programmatic. Ideally, the master's degree nutrition program you choose should hold both types of accreditation.
Institutional Accreditation
You should make sure that the school you choose has been institutionally accredited. Institutional accreditation is granted by a regional or national accreditation agency, such as the following:
Accrediting Council for Independent Colleges and Schools (ACICS)
Distance Education Accrediting Commission (DEAC)
Higher Learning Commission (HLC)
Middle States Commission on Higher Education (MSCHE)
New England Commission of Higher Education (NECHE)
Northwest Commission on Colleges and Universities (NWCCU)
Southern Association of Colleges and Schools Commission on Colleges (SACSCOC)
WASC Senior College and University Commission (WASC)
Programmatic Accreditation
If you are searching for a master's-level degree program in nutrition and intend to become a RDN, you must choose a program that has been accredited by the Accreditation Council for Education in Nutrition and Dietetics (ACEND) of the Academy of Nutrition and Dietetics (AND). These criteria must be fulfilled to qualify to sit for the CDR exam. If you aren't hoping to work as an RDN, you might consider a master's-level degree program that is accredited by, or approved by, one of these agencies:
Accreditation Council for Nutrition Professional Education (ACNPE)
American Nutrition Association (ANA)
American Society for Nutrition (ASN)
Titles of Master's Degrees in Nutrition
You can find master's degree programs that are hosted completely online, offer hybrid classes (a mixture of online and in -person), or offer classes totally in-person. A few titles of master's-level degrees in nutrition include:
Master of Science in Nutrition
Master of Science in Human Nutrition
Master of Science in Applied Nutrition and Dietetics
Master of Science in Clinical Nutrition
Master of Science in Nutrition, Nutritional Education and Counseling concentration
Master of Science in Nutrition, Nutrition Science concentration
Master of Science in Integrative Nutrition
Master of Science in Food and Nutrition Sciences
Classes in a Master's Degree Nutrition Program
If the master's-level degree program in nutrition that you choose is with the goal of becoming an RDN, there will be certain courses that you must fulfill, in addition to a Dietetic Internship (DI). Your DI must be ACEND-approved and consist of a minimum of 1000 hours of supervised dietetic practice. Courses in an RDN program generally include:
Biochemistry
Chemistry Fundamentals
Food Systems Operations
Human Anatomy and Physiology
Macronutrients
Medical Nutrition Therapy
Micronutrients
Nutrition Across the Lifespan
Nutrition and Health
Nutritional Counseling
Nutritional Epidemiology
Principles of Biology
Public Health Nutrition
If your intention is not to become an RDN, you may choose a master's-level degree program without that focus, such as one in Nutrition for Wellness and Health or Integrative Nutrition. Examples of course titles you might encounter in such a degree program include:
Health, Social and Behavioral Wellness in Nutrition Coaching
Biostatistics and Research in Integrative Nutrition
Foundations of Chronic Disease Prevention and Management
Dietary Supplements and Herbs
Nutrition Across the Life Cycle
Nutritional Analysis and Assessment
Whole Foods Production
Advanced Nutrition Coaching
Bioactive Compounds, Nutrigenomics and Microbiome
Contemporary Nutrition- Community and Culture
Further Education for Graduate Degree in Nutrition Holders
If you complete an ACEND-accredited master's degree program and pass the CDR exam, you will become a RDN, then must seek licensure or certification in the state(s) in which you wish to practice. Your education does not need to stop there, however. If you'd like to concentrate your practice in specific areas, the CDR offers specialty certification for those with practice experience in these areas:
Board Certified Specialist in Gerontological Nutrition
Board Certified Specialist in Obesity and Weight Management
Board Certified Specialist in Oncology Nutrition
Board Certified Specialist in Pediatric Critical Care Nutrition
Board Certified Specialist in Pediatric Nutrition
Board Certified Specialist in Renal Nutrition
Board Certified Specialist in Sports Dietetics
If you are not an RDN (or even if you are), there are other specialized certifications you may pursue, such as:
Certified Clinical Nutritionist, Clinical Nutrition Certification Board
Certified Nutrition Specialist, Board of Certification for Nutrition Specialists
Certified Eating Disorder Specialist, International Association of Eating Disorder Professionals
Salaries for Jobs Requiring a Master's Degree in Nutrition
The mean annual wage for dietitians and nutritionists, per the Bureau of Labor Statistics (BLS), is $69,350 as of May 2022. Certain industries pay higher wages to dietitians and nutritionists, such as:
Computer Systems Design/Related Services: $83,510
Home Health Care Services: $82,850
Scientific Research and Development Services: $82,470
Merchant Wholesalers, Nondurable Goods: $81,180
Federal Executive Branch of Government: $81,120