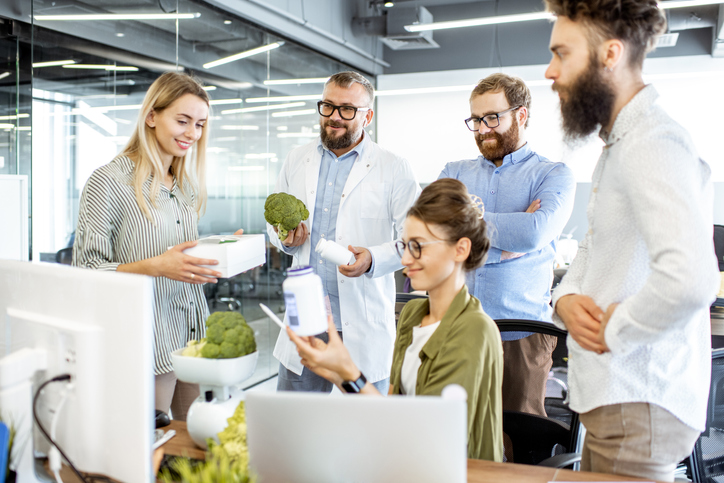 Corporate Wellness Programs are growing quickly across the United States. The premise for these programs is to create situations that allow employees to improve their health and wellness at the workplace. Being entrusted with that duty places a great deal of importance on a corporate wellness consultant. It is a position that is becoming more prominent as businesses and companies of all kinds are utilizing the services of corporate wellness consultants. The career path of a corporate wellness consultant does not always start in corporate America, but can use that setting to create a lucrative career that brings professional stability.
EDUCATION
There are no undergraduate degrees that are defined as corporate wellness. However, many of the individuals who become involved in this line of work hold a bachelor's degree in nutrition. This prepares individuals to understand the complexities of health and wellness among all different types of people. There are specific elements in the undergraduate Nutrition education curriculum that apply directly to the job assignment of a corporate wellness consultant. Some of the classes that students will take to prepare them for this future are as follows:
Advanced Nutrition
Systems Physiology
Nutrition and Health
Nutrition and Fitness
Nutrition and the Life Cycle
Community Nutrition
This educational pathway also includes a number of biology and chemistry courses. Some curriculums include psychology courses, in addition to other physiology courses. There are also electives available and for those looking to pursue a career as a corporate wellness consultant, some business courses can be added to the itinerary.
Some corporate wellness consultants have experience in other areas such as kinesiology and exercise science, but the overall wellness needs of a workforce shares the commonality of nutrition. Not all workers are going to have the same exercise goals, which means that overall wellness can be shared by a commitment to proper nutrition. Corporate wellness consultants often design programs and the ability to plan diets for larger groups of people comes with a firm understanding of nutrition concepts. Some of those concepts that are learned throughout the educational experience are as follows:
Food allergies
Nutrient deficiencies
Food science
Weight management
Healthy eating
Food customs
Corporate wellness consultants who are looking to go into business for themselves may invest in a variety of business and marketing courses. There are no requisite business courses for becoming a corporate wellness consultant, although the utilization of effective marketing tools can really help grow a business.
LICENSE AND CERTIFICATION
Corporate wellness consultants are hired by companies, which means those entities are in charge of establishing the criteria used in the hiring process. Most businesses are looking to hire corporate wellness consultants who can provide credentials to back up their training. There is no license required from someone who has the title of corporate wellness consult. However, those who earn a bachelor's degree in Nutrition can qualify for a state license once they have attained status as a registered dietitian. Half the states in the country require nutritionists to be licensed. A license is usually necessary to provide credibility as a nutritionist.
The more credentials a corporate wellness consultant can acquire, the better it will look to prospective clients. Those who are looking to enhance their credentials can attain a variety of certifications offered by the Academy of Nutrition and Dietetics. That organization features a Commission on Dietetic Registration (CDR) which provides certifications to those who have earned a minimum of a Bachelor's Degree. Here is a look at some of those certifications:
RDN (Registered Dietitian Nutritionist)
RD (Registered Dietitian)
DTR (Dietetic Technician Registered)
NDTR (Nutrition and Dietetics Technician)
The American Nutrition Association is another organization that provides certifications to nutritionists who have completed certain levels of education. Those who have earned an associate's degree in Nutrition can apply to be Certified Nutritionist (CN). A bachelor's degree meets the qualifications to take the certification exam to become a Registered Dietitian (RD). An advanced degree provides the chance to pass an exam that will lead to becoming a Certified Nutritionist Specialist (CNS).
CORPORATE WELLNESS CONSULTANT JOB DESCRIPTION AND SKILLS
The job of a corporate wellness consultant is to provide pertinent information to a company looking to improve the health and wellness of its employees. One of the tasks is to help create a wellness program for a company. On other occasions, corporate wellness consultants will be called upon to evaluate a current wellness plan in an existing company. This requires a detailed analysis of all facets of a wellness program. There may also be the need to provide guidance on the design of a wellness program while seeking ways to improve it from within.
Corporate wellness consultants are considered experts and being able to identify problem areas and replace them with solutions is a primary part of the job. A consultant could even be asked to deliver a workshop reviewing specific matters in regard to the health population of a particular company. In order to perform any of those aforementioned duties, a corporate wellness consultant should command the following attributes:
Communication skills
Strong Writing
Problem solving
Analytical abilities
Interpersonal skills
Some corporate wellness consultants incorporate a holistic approach to their repertoire. There is also the need for customization as no two companies are the exact same. Being brought in to evaluate a company's wellness plan usually requires innovative thinking so that it meets the exact needs of that company. For example, stretch management practices could also be incorporated with things such as healthier food options.
Corporate wellness consultants have the option of going into business for themselves. This gives them the freedom of being their own boss, but also requires them to do a lot of the legwork when it comes to marketing. There are also corporate wellness consultants who work for larger firms. In these instances, consultants do not need to worry about any type of marketing. They will strictly be sent to certain businesses to analyze and evaluate wellness plans. Their duties could also include making recommendations and developing a new wellness itinerary.
Corporate wellness consultants are often in transit as it is a job that requires a lot of on-site interaction with the specific client. It is more conducive to be on location to fully evaluate a company's wellness status, particularly since the organizational culture could also have an impact on company-wide wellness.
Corporate Wellness Consultant Salary
The United States Bureau of Labor Statistics does not categorize corporate wellness consultants in its annual tally of salary amounts according to profession. But since many corporate wellness consultants are nutritionists, it should be noted that the average salary for a nutritionist checks in at $60,370 per year. That is the median amount for all nutritionists as there are a lot of factors that could cause that amount to rise or fall.
The website ZipRecruiter.com estimates the national average salary of a corporate wellness consultant at $72,916 per year. However, there is a high ceiling for earning potential. ZipRecruiter also reports that the top 3% of corporate wellness consultants in the United States average an annual salary that ranges between $203,000 and $221,500. These estimations are taken from online data that involve actual salaries of corporate wellness consultants around the country.
Corporate wellness consultants who are in business for themselves have to consider all the overhead that comes with running a business. For that reason, their annual salaries may not truly reflect their net worth as the business itself can be valued at a high price.
JOB OUTLOOK
Health and wellness is a concept that is growing in all facets of American life. That has extended to the corporate world as companies are looking to invest quite a bit into wellness plans for their employees. A 2019 study conducted by the National Business Group on Health showed that large companies across the United States are spending an estimated 3.6 million dollars per year on wellness programs. This bodes extremely well for corporate wellness consultants as they will have ample opportunities to build their clientele. Continued research on the benefits of corporate wellness programs has shown positive effects and that is a favorable component for those looking to pursue a career as a corporate wellness consultant.
Nutritionists are also growing in number as there is expected to be a 15% increase in nutritionist jobs during the decade spanning 2016 through 2026, per the U.S. Bureau of Labor Statistics. Since many corporate wellness consultants are nutritionists, this is a positive sign moving forward.