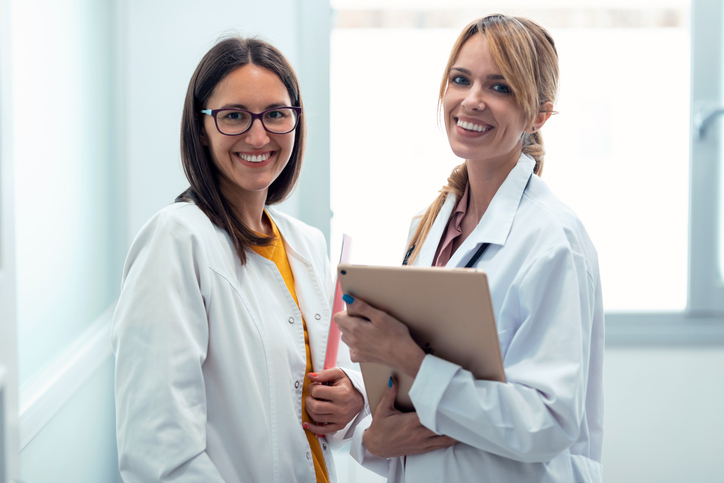 Like most people, you have probably heard the terms "nutritionist" and "dietician" used equivalently. The truth is, however, that dieticians and nutritionists are two different professions – sometimes. Does this seem perplexing to you? Here, we will attempt to clarify the differences and similarities between the two titles. 
The Commission on Dietetic Registration (CDR) is the only national agency that registers and certifies dieticians so that they may legally practice. Up until a few years ago, all dieticians who registered through the CDR and met their stringent standards were referred to as Registered Dieticians (RD). A few years ago, however, the CDR started using the term "Registered Dietician Nutritionists" (RDN) interchangeably with RD, as an optional credential that the qualifying professional was free to use. Its meaning was to emphasize to the public and others that all Registered Dieticians are Nutritionists, but not all Nutritionists are Registered Dieticians. Confused yet? Keep reading and things will likely become clearer.
What Are the Differences in Education, If Any, Between Dieticians and Nutritionists?
The Academy of Nutrition and Dietetics (AND) specifies that, in order to be called a Registered Dietician/Registered Dietician Nutritionist (RD/RDN), you must complete a minimum of a bachelor's degree program that has been accredited by the Accreditation Council for Education in Nutrition and Dietetics (ACEND). (As of January 1, 2024, that degree requirement will change to a master's degree). The degree program must also include a Dietetic Internship (DI), giving you practical experience. We will examine the educational requirements in-depth on another page.
Courses for Registered Dieticians will have titles such as:
Chemistry
Biochemistry
Anatomy
Microbiology
Medical nutrition therapy
Food science and food systems
Food in disease prevention
Ethics and practice principles in dietetics and nutrition
Nutrient metabolism
Human behavior
Counseling principles
Research methodology
You must graduate from an ACEND-accredited program in order to be eligible to sit for the CDR Registered Dietician/Registered Dietician Nutritionist exam. If your nutrition, dietetics or related degree is not from an ACEND-accredited program, you will not be allowed to take the exam.
Because Nutritionists need not be registered through any national agency, and may not need to have specified education in order to practice in their state, the education requirements for them are a bit looser. If you do plan to receive formal credentials from a nutritionist organization, such as Certified Nutrition Specialist (CNS) of the American Nutrition Association, you must hold a graduate degree in nutrition or a field of clinical healthcare in order to qualify to sit for their credentialing exam. Likewise, the Clinical Nutrition Certification Board, which bestows the other popular nutritionist credential, Certified Clinical Nutritionists (CCN), requires that you have completed post-graduate education in clinical nutrition prior to taking their exam. Courses for nutritionists may include:
Anatomy & Physiology
Chemistry
Microbiology
Human Biology
Biochemistry
Introduction to Nutrition
Nutrition and Disease
Nutrition Assessment
Nutrition Counseling Strategies
Nutrition & Supplementation
Herbology
Nutrition & Aging
Who Bestows Credentials for Dieticians and Nutritionists?
As mentioned above, the Commission on Dietetic Registration is the sole national agency that is responsible for regulating Registered Dieticians (RD) and Registered Dietician Nutritionists (RDN).
Nutritionists may be credentialed, or not, depending upon their state's regulations. Credentialing agencies for nutritionists are many, but the two largest and most recognizable are the American Nutrition Association, who gives the Certified Nutrition Specialist (CNS) credential, and the Clinical Nutrition Certification Board, who bestows the Certified Clinical Nutritionist credential (CCN).
What are the State Licensing Requirements, If Any, for Dieticians and Nutritionists?
As of 2022, most states require dieticians, dietician nutritionists, or nutritionists to be licensed, certified, or at least registered with the CDR or other certifying body, in order to be legally allowed to practice. This means that dieticians and nutritionists must fulfill the educational, experiential, and examination requirements of the certifying body in order to practice in that state. Two states, Arizona and Michigan, do not have any laws or regulations for dieticians or nutritionists – meaning that in these states, anyone can call themselves a dietician or nutritionist, regardless of education or credentials. Although these states have no dietetic licensing board, most jobs for Registered Dieticians or Registered Dietician Nutritionists will still require that you be registered through the CDR, however.
Three other states offer what is known as "title protection" for dieticians and nutritionists but do not formally regulate their practice. These are California, Colorado and Virginia. This means that, in order to legally be allowed to refer to yourself as an RD or RDN, you must have credentials from the CDR; and likewise, in order to be able to call yourself a nutritionist, you must have received credentials from a certifying body. There are no licensing boards within these states, however, to keep tabs and make sure that dieticians and nutritionists are meeting these requirements.
Are Salaries and Career Outlooks Different for Dieticians and Nutritionists?
The Bureau of Labor Statistics (BLS) of the U.S. Department of Labor classifies dieticians and nutritionists in the same category. According to them, as of May 2020, the mean annual wage for dieticians and nutritionists is $64,150. Top paying industries for dieticians and nutritionists are:
Federal Government $77,580
Home Health Care Services $73,460
Outpatient Care Centers $70,650
Spectator Sports $69,370
Employment Services $69,140
States paying dieticians and nutritionists the highest wages include:
California $81,070
Alaska $78,350
District of Columbia $73,150
Hawaii $72,810
New Jersey $72,750
As dieticians and nutritionists are classified in the same category by the BLS, their career outlook is also the same – which is excellent. Between 2020 and 2030, job opportunities for dieticians and nutritionists are expected to increase by 11 percent, faster than the average predicted increase for all other occupations.