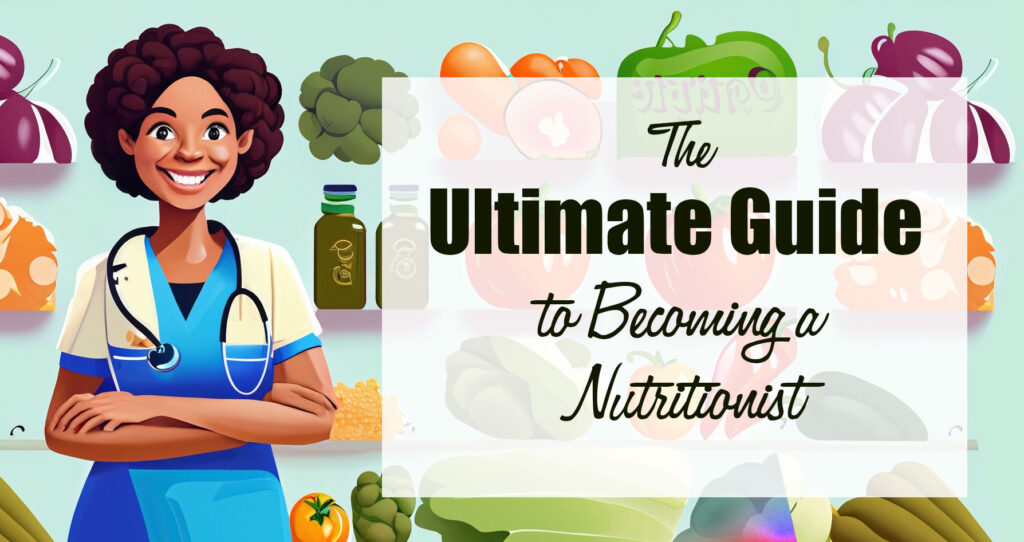 Becoming a nutritionist sounds like a simple, straightforward process. Because of the varying regulations from state to state, however, the process is far from streamlined. If you want to become a nutritionist (which is different than a registered dietitian nutritionist, which we cover here), there are a variety of pathways that you can take depending upon where you want to practice, the setting in which you wish to work, and the population you wish to see. 
Whether you wish to work as a licensed nutritionist or a non-licensed nutritionist, there are steps that you must take in order to do so. In this ultimate guide to becoming a nutritionist, we will tell you everything you need to know about licensed nutritionists, non-licensed nutritionists, and what steps you must take in order to work in this exciting field. 
What Is a Licensed Nutritionist?
A licensed nutritionist has obtained a license or certificate that is necessary in order to legally practice in their state. This might or might not follow a nutritionist obtaining national credentials from a nationally recognized organization. National credentialing, which we will discuss in a later section, is separate from state licensure or certification. States that do require nutritionists to be licensed often have mandates that these nutritionists must first earn credentials before licensure or certification is possible. In these states that require nutritionists to be licensed, after completing the requirements for credentialing, would-be licensed nutritionists in those states must submit information to the state's Board of Dietetics or similar agency to gain a license. Other states might simply require nutritionists to complete education or experience, but not to gain any specific credentials. 
As of May 2022, per the Academy of Nutrition and Dietetics (AND), the following states require licensing or certification for nutritionists (each state is listed along with the agency that is responsible for licensure of nutritionists in that state):
What is a Non-Licensed Nutritionist?
Other states do not require nutritionists to become licensed in order to legally practice in the state. These nutritionists are referred to as non-licensed nutritionists. Again, this is separate from national credentials for nutritionists, which may still be earned, if desired, by nutritionists practicing in these states. States that do not require nutritionists to hold a license or certification in order to practice there include:
What Do Nutritionists Do?
The job duties of a licensed and non-licensed nutritionist typically overlap. Depending upon your clientele and where you work, responsibilities of a nutritionist might include:
Evaluation a client's dietary needs by assessing their health and exercise levels, sleep habits, food intake habits, diet
Determining the most suitable comprehensive, personalized nutrition plans for clients
Setting clear objectives and goals and providing support to clients to help them reach those objectives and goals
Conducting scientific research to expand field-related knowledge
Clarifying and explaining information to clients on the effects of nutrients on overall health conditions
Counseling of clients, suggesting positive changes in their nutrition to address health conditions and/or dietary restrictions
Writing and publishing articles
Making presentations on a variety of nutrition-related topics
Where Do Nutritionists Work?
Nutritionists may work in a wide variety of settings. These include, but are not limited to:
Hospitals and medical centers
Long term care facilities and rehabilitation centers
Schools and childcare centers
Private practice
Group practice or for a primary care practitioner
Community public health offices
For athletes and sports teams
In research and academia
In the food industry
What Education Do I Need to Become a Nutritionist?
If you wish to practice as a nutritionist, the first thing that you should become familiar with are the regulations, if any, that govern nutritionist practice in your state. Check the list above for licensing or certification requirements in your state. This will largely determine what educational requirements you must fulfill in order to practice in that state. 
Not every state will require that nutritionists complete any set education. Most states that do mandate education, however, will require a minimum of a bachelor's degree in a field related to nutrition and dietetics. Examples of majors that fit this requirement include, but are not limited to:
Nutrition
Dietetics
Food systems management
Food and nutrition
Human nutrition
Health science
Public health
Biology
Biochemistry
Nursing
Courses that you must generally take, in order to become a nutritionist, will be in subject areas such as:
Anatomy & Physiology
Biochemistry
Chemistry
Herbology
Human Biology
Introduction to Nutrition
Microbiology
Nutrition & Aging
Nutrition & Supplementation
Nutrition and Disease
Nutrition Assessment
Nutrition Counseling Strategies
As we will discuss further below, if you wish to earn certain credentials as a nutritionist, you will need to get a master's degree. 
What Credentials, If Any, Do I Need to Become a Nutritionist?
Credentialing for nutritionists is handled by nationally recognized organizations that regulate nutritionists and their practice. A credentialed nutritionist has had their education, experience and competency verified by an organization that maintains the utmost standards for nutritionists. 
If you wish to practice in a state that requires nutritionists to be licensed or certified, your state will likely mandate that you have certain credentials. (As mentioned above, we will not cover the credentialing necessary to become a registered dietitian nutritionist, also referred to as a registered dietitian, as that will be outlined here). 
In states that do require nutritionists to be licensed or certified, statutes or regulations commonly refer to nutritionists having CNS or CCN credentials. This is what those credentials mean:
Certified Nutrition Specialist (CNS) – bestowed by the Board for Certification of Nutrition Specialists (BCNS) of the American Nutrition Association. Requirements include:

Completion of a master's degree in nutrition or a related field
Completion of 35 hours of coursework in core competencies, including nutrition science, biochemistry, anatomy and physiology, clinical or life sciences, behavioral science
Completion of 1000 hours of supervised nutritionist practice
Passing a certification examination consisting of questions covering:

Practice management
Public health
Clinical intervention and monitoring
Nutrition assessment
Nutrients and human health
Fundamental principles of nutrition

Certified Clinical Nutritionist (CCN) – bestowed by the Clinical Nutrition Certification Board (CNCB). Requirements include:

Completion of a bachelor's degree including core nutrition and science coursework
Completion of post-graduate studies in Clinical Nutrition (online through CNCB)
Passing a certification examination consisting of questions covering:

Laboratory assessment
Detoxification, herbology, homeopathic therapy
Cognition and sensory overload
Optimal human nutrition
These are by no means the only credentials available for nutritionists, just the most common ones that states typically refer to in their licensing or certification regulations. You may also earn more than one credential, if desired. Other credentials that nutritionists may earn, depending upon their specialization, interest, and level of education, include, but are not limited to:
If you wish to practice in a state that does not require nutritionists to be licensed or certified, you are not required to obtain national credentials. This is still an option for you if you so desire. Keep in mind, however, that if you plan to work with clients who require you to bill insurance for their care, many private insurance companies will mandate that you have certain credentials before they will reimburse you for services provided. 
There are certain nutritionist credentials that you can earn without completing educational requirements for a degree. Usually, they do involve completing online classes and passing a certification exam. These can be used as standalone credentials, or combined with other credentials you have earned. They include, but are not limited to:
What Jobs and Salaries are Available for Licensed and Non-Licensed Nutritionists?
The best way to examine the types of nutritionist jobs that are available at any given time, of course, is to search the online classified ads for nutritionist openings. Then you can see how many employers are mandating certain credentials, degree levels, and state licensure. The following are jobs that are listed for nutritionists as of May 2022, including licensure and credentialing requirements, as well as educational requirements, and salaries if specified:
Clinical Nutritionist, Naval Health and Vitality Center, Maryland

Salary: $40 to $55/hour ($83,200 to $114,400/year) 
Requires Maryland state licensure as a Licensed Dietitian Nutritionist
Requires graduate degree in clinical nutrition

Nutritionist, WIC Program, New Hanover County, North Carolina

Salary: $39,350 to $53,122/year
Requires bachelor's degree
Requires one year of nutrition work experience

Nutritionist, WIC, UPMC, Pittsburgh, PA

Salary: not specified
Requires bachelor's degree
Requires two years of work experience in nutrition

Nutritionist, Cornell University, Mexico, NY

Salary: not specified
Requires associate degree in nutrition and two years of experience, or bachelor's degree in nutrition, health education or public health

Nutritionist I, State of West Virginia

Salary: $31,146 to $57,620/year
Requires bachelor's degree in foods and nutrition

Nutritionist, State of Missouri, St. Louis, MO

Salary: $46,000 to $52,000/year
Requires bachelor's degree
Requires three years of nutritionist work experience