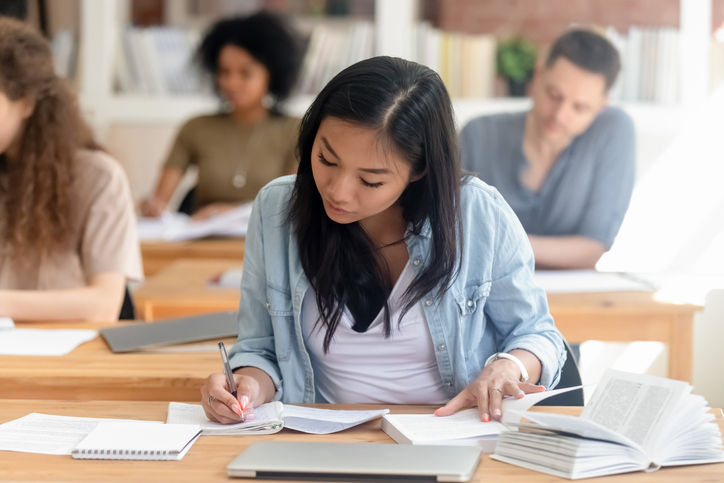 A baccalaureate degree used to be the gold standard for those who wanted to become Registered Dietitian Nutritionists (RDNs). As of January 1, 2024, however, the Commission on Dietetic Registration (CDR) is requiring all applicants who wish to take the RDN exam to have a minimum of a master's degree bestowed by a program that is accredited by the Academy of Nutrition and Dietetics (AND)'s  Accreditation Council for Education in Nutrition and Dietetics (ACEND). Earning your nutrition bachelor's degree can still be a valuable pursuit for would-be RDNs, who may go on to get a master's degree to complete their career trajectory. It can also help aspiring nutritionists to achieve their career goals, and can provide an entry-level degree to get a foot in the door with many other careers in the field of nutrition.  
If you are thinking of pursuing a nutrition bachelor's degree, there are many formats available to you. Degrees are offered completely online, in a hybrid fashion (meaning some classes are offered online while some are in-person), and totally on-campus, in an in-person environment. This makes it much easier for today's students to find educational options that fit their busy lifestyles. What were once thought of as "traditional" students, that is, those who are fresh out of high school, is no longer the norm in American colleges and universities.
Here, we will examine the details of getting a baccalaureate degree in an area of nutrition. You will discover what such a degree can do to help you start a career in nutrition.
What Nutrition Jobs are Available to Bachelor's Degree Holders?
As mentioned above, for many years, getting a bachelor's degree was the key to becoming an RDN. That is no longer the case, however. It is still possible to become an RDN if you get a bachelor's and then complete a master's degree program (and pass the CDR exam and any state licensure or certification requirements). There are many other choices of career possibilities when it comes to careers in nutrition and dietetics that are available to bachelor's degree holders, such as:
Health and Wellness Product Sales Representative
Health Promotion Specialist
Nutrition Counselor
Accreditation for Bachelor's Degree Programs in Nutrition
When you are selecting a nutritional bachelor's degree program, above all else, you must be sure that the school at which the program is hosted is properly accredited. You may also seek programs that have their own accreditation.
Institutional Accreditation
Institutional accreditation occurs when an entire university or college is accredited by a regional or national accreditation group. Such accreditation provides the public with assurance about the quality of the institution, as well as a way for institutions to self-evaluate and make improvements. Common regional and national accreditation agencies to look for when researching nutrition programs at schools include:
WASC Senior College and University Commission (WASC)
Southern Association of Colleges and Schools Commission on Colleges (SACSCOC)
Northwest Commission on Colleges and Universities (NWCCU)
New England Commission of Higher Education (NECHE)
Middle States Commission on Higher Education (MSCHE)
Higher Learning Commission (HLC)
Distance Education Accrediting Commission (DEAC)
Accrediting Council for Independent Colleges and Schools (ACICS)
Programmatic Accreditation
Programmatic accreditation makes sure that an academic program meets the rigorous educational quality standards of an organization. Programmatic accreditation may apply to a single degree program or an entire school within an institution. Among bachelor's degree programs in nutrition, look for the following programmatic accreditations:
Accreditation Council for Nutrition and Dietetics (ACEND)
Accrediting Bureau of Health Education Schools (ABHES)
American Association of Family and Consumer Sciences, Council for Accreditation (AAFCS)
Commission on Accreditation of Athletic Training Education (CAATE)
Titles of Bachelor's Degrees in Nutrition
Some of the most commonly seen names of bachelor's degrees in nutrition and dietetics are:
Bachelor of Arts in Nutrition and Food Science
Bachelor of Science in Holistic Nutrition
Bachelor of Science in Human Nutrition and Foods
Bachelor of Science in Integrative Nutrition
Bachelor of Science in Nutrition and Food Science
Bachelor of Science in Nutrition and Foodservice Management
Bachelor of Science in Nutrition Science
Classes in a Bachelor's Degree in Nutrition Program
The classes that you are required to pass in a nutrition baccalaureate degree program will vary depending upon the program's focus and/or specialization, as well as whether you plan to go on to get a master's degree to become an RDN. Some general nutrition courses that you can expect to find in most nutrition bachelor's degree programs include:
Community Nutrition
Food Science and Safety
Foods and Nutrition of World Cultures
Introduction to Human Nutrition
Nutrition Assessment
Nutrition: Weight Management and Wellness
Nutritional Biochemistry
Nutritional Biology and Metabolism
Professional Issues in Nutrition and Foods
Statistics for Health Sciences
Therapeutic Diets
Certifications for Bachelor's Degree in Nutrition Holders
In addition to a bachelor's degree, some students pursue further certification to increase their marketability or to showcase their interests in certain specializations. These are many and varied. Some of them include:
Certified Nutrition Coach (NASM-CSC) of the National Academy of Sports Medicine
Nutrition and Wellness Consultant (NWC) of the American Fitness Professional and Associations
ACE Fitness Nutrition Specialist of the American Council on Exercise
Salaries for Jobs Requiring a Bachelor's Degree in Nutrition
Jobs for nutritional professionals with a baccalaureate degree vary widely. Accordingly, salaries for nutrition jobs that are attainable with a bachelor's degree vary as well. Some recent examples of nutrition jobs attainable with a baccalaureate degree and their corresponding salaries, per Indeed.com, are:
Nutrition Coach: $30,000 per year
Public Health Nutritionist: $42,300 per year
Community Nutrition Specialist: $45,905 per year
Nutrition Educator: $52,200 per year
Community Outreach Representative, Sustainability & Nutrition: $31,852 per year
Youth Nutrition Specialist: $62,000 per year
Weight Loss Nutritionist: $52,000 per year
Health/Nutrition/Wellness Coach: $58,240 per year
Health and Nutrition Specialist: $50,000 per year
Community Health Educator: $46,800 per year
Coordinator, Expanded Food and Nutrition Education Program: $40,500 per year
Lead Director of Food and Nutrition: $65,000 per year