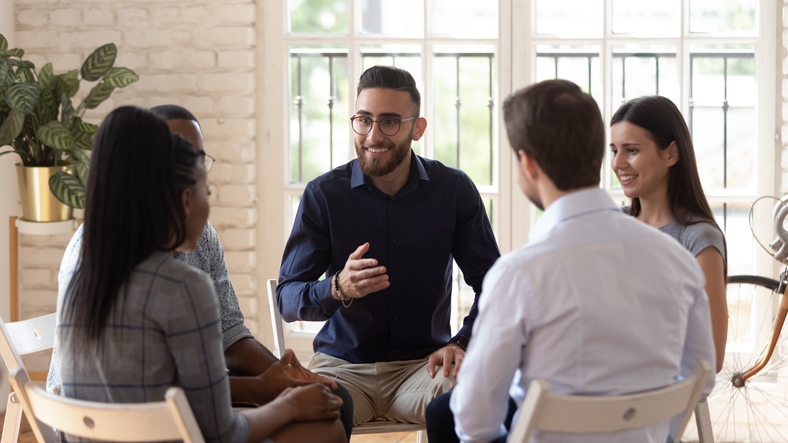 Another profession that is concerned with overall wellness and well-being is that of life coach. While some might think of a life coach as a mental health therapist, the two professionals are vastly different. Mental health therapists will diagnose and treat mental conditions, while life coaches strive to motivate clients to change something within their lives, behaviors or situations.
The International Coaching Federation (ICF) notes that as of 2021, there are 34,000 credentialed life coaches working worldwide. Life coaches may work in a general capacity or may specialize and target a certain population of clientele. Life coaches commonly work with career changers, young adults, executives, single mothers, small business owners, those in the midst of marriage or divorce, those looking to improve health and wellness, persons wishing for better productivity or performance in an area of their lives, and those seeking spiritual guidance.
Life coaches work in a variety of settings, including but not limited to private practice, group practice with other practitioners, health and wellness organizations, corporations and businesses, community organizations, residential facilities, colleges and universities, church organizations, and on a freelance or consulting basis. Here, we will further examine what is involved in becoming a life coach.
What Are Some of the Job Responsibilities of a Life Coach?
Depending upon their specialization (or lack of) and clientele, the job duties of a life coach may vary. They may include: Assessing clients to determine their personal goals
Helping clients to define goals they wish to reach
Working with clients to create plans to attain goals
Helping clients with productive action to attain goals
Helping clients in identifying and eliminating obstacles to reaching their goals
Helping clients to get rid of negative mindsets and habits that are hindering them from reaching their goals
Providing motivation to clients
Helping clients embrace rather than resist change
A life coach usually meets with a client in 30-minute to an hour and a half-long-sessions, in-person, via phone or via telehealth/video. Because life coaches are not mental therapists, they are not bound by HIPAA health privacy laws. Their services are also not typically reimbursable by insurance.
What Type of Person Makes a Good Life Coach?
If you are a naturally curious, positive person, you might make a good life coach. Other skills and traits that effective life coaches have include:
Excellent active listening skills
Excellent interpersonal skills
Excellent oral and written communication skills
Empathy
Compassion
Ambition
Intuition
Excellent at motivating others
Excellent at marketing their own services
What Type of Education Do I Need as a Life Coach?
Because a life coach is not considered to be a health practitioner, no particular education beyond a high school diploma is required. It is recommended, however, that prospective life coaches complete an in-person or online course that leads to life coach credentialing. We will examine these further in the next section.
Do I Need a Professional Credential or Certification to Work as a Life Coach?
As there are no standards for life coaches, nor are there any state licensure or certification requirements, all certification is optional and voluntary. However, some clients will seek out life coaches who are credentialed over those who are not. There are two main life coaching credentialing organizations: the International Coaching Federation (ICF) and the Center for Credentialing and Education (CCE).
International Coaching Federation (ICF)
In order to earn credentials through the ICF, you must complete online or in-person training courses. These are offered through colleges and universities as well as within stand-alone settings.
Associate Certified Coaches (ACC) must complete 60 hours of courses and 100 hours of coaching experience with eight different clients (70 of the 100 hours must be paid experience)
Professional Certified Coaches (PCC) must complete 125 hours of courses and 500 hours of coaching experience with 25 different clients (with five of those hours in the two years prior to credentialing)
Master Certified Coaches (MCC) must complete 200 hours of courses and 2500 hours of coaching experience (with 2200 of those hours paid experience) with 35 clients over a period of five years
Prerequisites for the training programs vary, as some of the college and university certification programs are at the undergraduate level while others are considered graduate-level programs, and still others are stand-alone certificate programs.
The ICF also offers specialty certifications including:
Career Development Coach
Christian Coach
Healthcare Leadership Coach
Non-Profit Leadership Coach
Relationship Coach
Technology Leadership Coach
Wellness Coach
Center for Credentialing and Education (CCE)
If you wish to become a life coach through the CCE, training requirements will differ depending upon your educational level.
Board Certified Coach (BCC) – In order to be eligible to begin training for this credential, you must have a bachelor's degree in any field, a graduate degree in a social or behavioral science, or be a State-Licensed Counselor or National Certified Counselor. Experience requirements also vary depending upon your educational level, but start at 2500 hours over five years.
The CCE offers specialty certifications such as:
Career Coach
Executive/Corporate/Business/Leadership Coach
Health and Wellness Coach
Personal/Life Coach
How Much Can I Expect to Earn as a Life Coach?
As the U.S. Bureau of Labor Statistics (BLS) does not gather salary or employment data about life coaches, statistics on this profession can be difficult to pinpoint. The ICF's 2020 Global Coaching Study found that the average life coach in North America earns $62,500 per year. The average global life coach salary is $47,100 per year. Some life coaches charge hourly rates of $128 to $321 per hour.