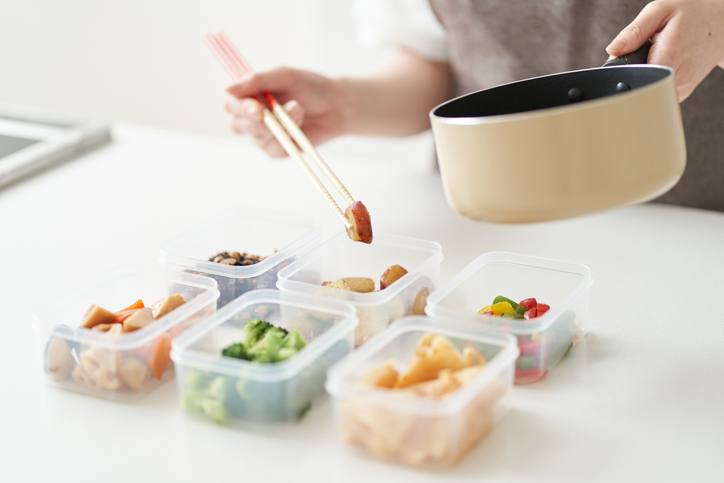 There are many specialties in which nutritionists can practice, and some are more challenging than others. One of the most challenging yet rewarding specialties upon which nutritionists may focus is that of eating disorders. The Academy of Nutrition and Dietetics defines disordered eating as various irregular eating behaviors. Each behavior might, or might not, contribute to the diagnosis of an eating disorder. The most common eating disorders are:
Anorexia Nervosa (AN)
Bulimia Nervosa (BN)
Binge Eating Disorder
Eating Disorder Not Otherwise Specified (EDNOS)
Many people have disordered eating, but not everyone develops an eating disorder. Eating disorders affect nine percent of the U.S. population, per the National Association of Anorexia Nervosa and Associated Disorders (ANAD). It can be tricky to diagnose, however, as under six percent of those with eating disorders are medically termed "underweight." These patients may consult with eating disorder nutritionists for help in determining if they have a problem and with managing their disordered behaviors or disease.
Eating disorders are a serious problem, and the second deadliest mental illness, with only opioid overdose being more deadly. It is estimated that 10,200 deaths each year are the result of an eating disorder, and that 26 percent of people with eating disorders attempt suicide.
It is clear that eating disorder nutritionists are vital to the survival of persons with disordered eating and eating disorders. These types of nutritionists work to help those with disordered eating and eating disorders to change their thinking and behaviors regarding food and eating. Let's take a closer look at the career option of becoming an eating disorder nutritionist.
Duties and Responsibilities of an Eating Disorder Nutritionists
In order to become an eating disorder nutritionist, you must be a licensed nutritionist (LN), or registered dietitian nutritionist/registered dietitian (RD/RDN). Your professional goals are dependent upon the state in which you wish to practice and their laws or lack of regulation. Most eating disorder nutritionists also hold specialty certification, which we will discuss in a section below.
Some of the job duties and responsibilities an eating disorder nutritionist carries include:
Build and maintain a patient caseload
Providing nutrition counseling and/or medical nutrition therapy to clients with disordered eating, eating disorders, body image issues, and chronic dieting issues
Integrate support from a patient's family and support network for eating disorder recovery
Maintain documentation of each patient's case
Coordinate patient care with other providers, treatment team, and provide referrals to other health professionals as needed
Create and maintain professional relationships with other health professionals
Requirements to Become an Eating Disorder Nutritionist
If you want to become an eating disorder nutritionist, you will first need to complete the requirements to become a registered dietitian nutritionist or a licensed nutritionist (link to each career profile). You should have a bachelor's degree (although a master's degree is preferable) in a food, nutrition and dietetics-related area. You should also have specialized education and experience in eating disorders, which requires certification. This will be discuss in further depth below.
Education
RDs/RDNs need a minimum of a bachelor's degree (as of January 1, 2024, that requirement of the Commission for Dietetic Registration (CDR) will change to a master's degree). Licensed nutritionists must hold a minimum of a bachelor's degree, depending upon the organization from which they receive certification (the two most common are Clinical Nutrition Certification Board (CNCB) which requires a bachelor's degree and some graduate studies, and the Board for Certification of Nutrition Specialists (BCNS), which requires a master's degree.
Experience
RDs/RDNs must complete 1000 hours of supervised practice in nutrition and dietetics. Nutritionists who are certified by the CNCB or BCNS must also complete 1000 hours of supervised practice.
Examination/Certification and Licensing
All registered dietitians and licensed nutritionists must pass an initial certification exam, given by their certification organization (CDR, BCNS or CNCB).
Eating Disorder Nutritionist Certification
Specialty certification for eating disorder nutritionists is not mandated but is recommended, as it will make you a more attractive job applicant for many eating disorder nutritionist positions. After fulfilling the requirements to become a RD/RDN or LN, you will complete requirements to become an eating disorder nutritionist. The most common certification agencies for eating disorder nutritionists are:
International Association of Eating Disorder Professionals (IAEDP) – The preeminent certification organization for eating disorder nutritionists, this organization offers various pathways to become an eating disorder nutritionist, depending on your prior education, experience and certification. The most common certification for nutritionists is the Registered Dietitian Certified in Eating Disorders (CEDRD). This requires RD/RDN certification, completion of 2500 supervised practice hours in eating disorder nutrition, completion of four courses the IAEDP requires (Intro to Eating Disorders, Psychological Treatment of Eating Disorders, Nutrition Treatment for Eating Disorders, and Medical Treatment for Eating Disorders), and passing a certification exam. You must complete 20 continuing education hours every two years to maintain your CEDRD credential.
Intuitive Eating Pros – This organization offers a Certified Intuitive Eating Counselor program for nutritionists. To qualify, you must be an allied health professional, have a bachelor's degree or higher in a related field, complete their Intuitive Eating Pro Skills Webinar Series, Helm Self Study Course, and Group Supervision, and pass a certification examination.
Eating Disorder Intuitive Therapy (EDIT)– This newer organization offers the Eating Disorder Treatment Clinician certification for those with a master's degree or higher in dietetics and nutrition. You must complete their online training courses and practice supervision, and pass a certification exam to be bestowed this credential.
Salaries and Jobs for Eating Disorder Nutritionists
The U.S. Department of Labor's Bureau of Labor Statistics (BLS) predicts that jobs for nutritionists and dietitians will rise by 11 percent nationwide from 2021 to 2031, faster than the average projected growth rate for all other jobs. As of May 2021, dietitians and nutritionists earn a mean annual wage of $65,520. It is expected that eating disorder nutritionists will continue to be in demand for some time to come, as disordered eating is on the rise among a wide variety of demographic groups in the U.S.