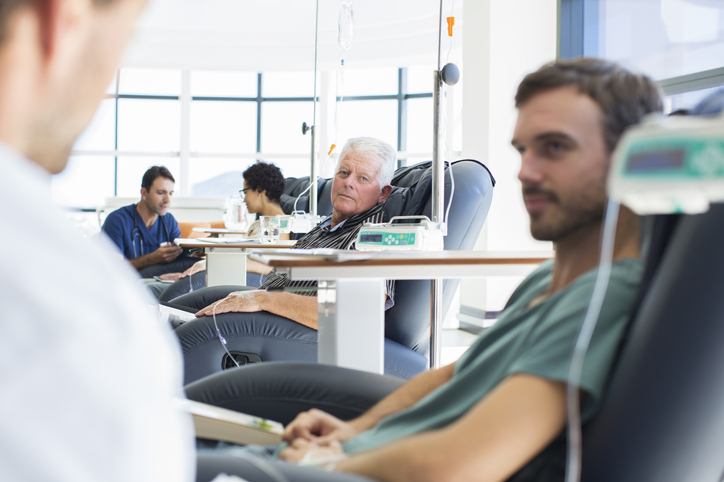 Nutrition can be an integral part of treating cancer and that requires the skill and expertise of a trained professional. Oncology nutritionists work as part of a medical team in an effort to defeat all forms of cancer. This is a job of high importance and can be very rewarding in terms of job fulfillment and financial compensation. Beginning a career as an oncology nutritionist starts at the college level and continues in a medical setting.
Oncology Nutritionist Education
The educational pathway to becoming an oncology nutritionist is very detailed. Because of the health implications involved, nutritionists working in this specialty area must undergo extensive training. That begins at the undergraduate level and will lead into actual practice as a nutritionist. Here is a look at the educational pathway to becoming an oncology nutritionist:
Bachelor's Degree – Students are required to achieve an undergraduate degree in Nutrition, Dietetics or health-related field. The degree will have to cover the necessary materials to allow graduates to become registered dietitians. That is the first step towards advancing their career to a specialty area of nutrition.
Registered Dietitian – The Academy of Nutrition and Dietetics offers a test for graduates looking to become registered dietitians. Before graduates can take this exam, they must also complete an approved internship, which will give them practical experience. Passing the test is the final step to becoming an R.D.
This will allow nutritionists to begin practicing, presuming they satisfy their licensing requirements in states where they are mandated. Leading up to the time that nutritionists begin practicing, they will learn vital concepts, which include the following:
Food Science
Disease and Nutrition
Food Allergies
Human Anatomy
Nutrient Deficiencies
Microbiology
Nutrition Counseling
Curriculums differ according to each university or college. The labeling of the prescribed major also differs, as some schools offer Nutrition as a major while others title their program as Dietetics. There are even Health and Wellness or Food Science majors at the undergraduate level. The basic principles and core concepts remain relatively the same in these programs.
The Accreditation Council for Education in Nutrition and Dietetics (ACEND) approves certain educational programs as a way of verifying they meet the necessary educational standards in Nutrition. An ACEND-approved program is intended to teach the concepts and skills students will need to become a registered nutritionist.
Students also have the option of pursuing a Master's Degree of Science in Nutrition. This builds on the foundation of knowledge acquired at the undergraduate level and generally takes two years to complete.
Oncology Nutritionist License and Certification
The licensing process for nutritionists varies on a state-to-state basis. Each state has the authority to institute a licensing process or forgo it altogether. Half the states in the country have some type of license required for nutritionists. However, the practice of oncology nutrition typically requires advance certification. Checking on whether the state of your residence requires a license to operate as a nutritionist is one of the first steps. Earning that license requires educational and practical experience in most instances. Many states will ask that nutritionists become certified through the Clinical Nutrition Certification Board (CNCB).
The certification process to becoming an oncology nutritionist leads to earning a CSO which essentially means that a nutritionist is a Certified Specialist in Oncology. This is a higher-level certification and is also known as being a Board Certified Oncology Nutritionist. There are several steps to earning that certification.
Once a bachelor's degree is earned, aspiring nutritionists will have to pass a certification with the Commission on Dietetic Registration to become a Registered Dietitian. This R.D. certification must be maintained for at least two years while practice hours need to be accumulated. Nutritionists will need to show at least 2,000 practice hours in the oncology area before being eligible for Board Certification. They will also need to earn continuing education credits.
The Commission on Dietetic Registration is part of the Academy of Nutrition and Dietetics, which is a nationally recognized and respected organization. A Board Certification denotes that a nutritionist is skilled in the advanced practice of oncology nutrition. That is supported by practice hours over a two-year period. That process is as follows:
Bachelor's Degree in Nutrition
Registered Dietitian Status
2,000 practice hours and continuing education
Passing Score on Board exam
Oncology Nutritionist Job Description and Skills
Oncology nutritionists work directly with cancer patients, in addition to corroborating with physicians and medical teams. Patients who are diagnosed with cancer may actively seek out treatment through their nutritional habits. Others will use nutrition as a supplement in the effort to defeat their particular form of cancer. The exact situation of each patient differs and the kind of cancer they have will determine different nutritional tactics used when fighting the disease. Oncology nutritionists devise nutrition plans that typically aim to achieve the following results:
Improve energy
Build strength
Maintain body weight
Reduce risk of infection
Accelerate recovery time
Eliminate nutrient deficiencies
In some settings, oncology nutritionists work under supervision of a clinical nutritionist. They also work with physicians and oncology departments to create a nutritional care plan for each patient. The duties of and oncology nutritionist extend to the following areas:
Assessment of patient response to therapy
Keeping track of nutrient intake
Identifying food tolerance levels
Monitoring tube feeding
Modifying prescribed diets
There is often a lot riding on the treatment of patients in an oncology department. This also extends to the decisions made by an oncology nutritionist. This is more than just a preventative measure. In some instances, it is an effort to defeat the disease altogether and in other cases, it is a last attempt to find a remedy. This requires a sound understanding of how metabolism impacts clinical nutrition.
Along with utilizing clinical knowledge, there is also a demand for interpersonal skills among oncology nutritionists. They are required to detail all the nutritional procedures to each patient and how each one will affect them. Analytical skills are required, particularly when it comes to the interpretation of data obtained from a lab. The work environment can be ever-changing and the need to adjust nutrition plans promptly may be required of an oncology nutritionist.
Oncology Nutritionist Salary
The U.S. Bureau of Labor Statistics lists the median pay for nutritionists and dietitians at $60,370 annually. That is a broad amount that does not specify specialty areas of practice. The BLS also revealed statistics on where nutritionists earn the most in annual salary amounts. Those settings are as follows:
Outpatient facilities ($66,420)
Hospitals ($61,390)
Government sector ($59,600)
It should be noted that oncology nutritionist is generally considered an advanced practice. Because it is a specialty area, oncology nutritionists can expect to earn more than the average salary that represents the general practice by a licensed nutritionist. ZipRecruiter compiled an annual salary amount for those defined as clinical oncology nutritionists. In the United States, ZipRecruiter revealed that the average salary for an oncology nutritionist is $120,272 per year. This amount was calculated by analyzing various online salaries from all over the United States.
Level of experience plays a key role in determining the annual salary of an oncology nutritionist. Those who have accumulated more credentials may also stand to earn more on an annual basis. There are some oncology nutritionists who are paid per diem while others are on salary.
Oncology Nutritionist Job Outlook
Across the United States, there is an increasing need for nutritionists in all types of specialty areas. In the decade between 2016 and 2026, BLS estimations show that there expects to be a 15% growth in the number of nutritionists in the U.S. There is also an expanding the need for oncology nutritionists because of the high rate of cancer. According to the National Cancer Institute, there were more than 1.7 million new cancer cases in 2018. More than 1/3 of those patients are expected to perish from the disease. That unfortunate statistic emphasizes the need for oncology nutritionists in the ongoing fight against cancer of all types.
The development of new cancer treatment centers and oncology units also indicates the need for more oncology nutritionists. And with the recent trend of individuals moving towards alternative health and wellness practices, the emphasis on nutrition is growing. Oncology nutritionists work with patients based on medical precedence, although some patients believe this is a form of holistic healing. That duality bodes well for future oncology nutritionists as there appears to be plenty of jobs available to fulfill that high demand.