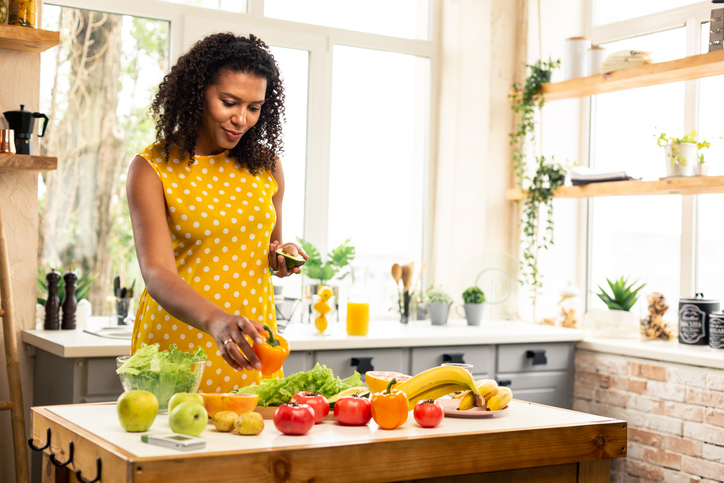 When you hear the term "nutritionist," it may mean very different things, depending upon the context and the professional it describes. Nutritionists may be licensed or non-licensed. Licensed nutritionists are health care professionals specializing in nutrition and dietetics who have received credentials from a nationally-recognized organization that licenses nutritionists. Some states require nutritionists to be licensed, and others do not, which is how some nutritionists are known as non-licensed. However, most health insurance companies won't reimburse expenses for a nutritionist unless that nutritionist is licensed, regardless of a state's licensing requirements.
Licensed Nutritionists
Licensed nutritionists have completed education, experiential and examination requirements of certain credentialing agencies. A licensed nutritionist will have a minimum of a bachelor's degree in a field related to nutrition and dietetics. If you seek the help of a licensed nutritionist, you can be sure that that person has been vetted by an organization that maintains the highest standards for nutritionists.
Nutritionists may be licensed, certified or credentialed through a variety or recognized organizations. These include, but are not limited to:
Commission on Dietetic Registration (CDR) of the Academy of Nutrition and Dietetics – Registered Dietitian Nutritionist (RDN)

Requires a master's degree (as of Jan. 1, 2024), completion of 1000 hours of supervised practice, and passing an examination

Board for Certification of Nutrition Specialists (BCNS) of the American Nutrition Association – Certified Nutrition Specialist (CNS)

Requires a master's degree, 1000 hours of supervised practice, and passing an examination

Clinical Nutrition Certification Board (CNCB) – Certified Clinical Nutritionist (CCN)

Requires a bachelor's degree, completion of Post-Graduate Studies in Clinical Nutrition, and passing an examination

National Commission for Health Education Credentialing (NCHEC) – Certified Health Education Specialist (CHES)

Requires a bachelor's degree, and passing an examination

National Board of Nutrition Support Certification (NBNSC)- Certified Nutrition Support Clinician (CNSC)

Requires that you are a RDN through CDR, an RN, or NP, or MD, or pharmacist, or PA, or DDS and have two years of experience, and pass an examination
After receiving this national credentialing, it depends on the state in which you wish to practice whether or not you need to be licensed as a nutritionist. State licensure or state certification is entirely separate from national credentialing. States will have Boards of Nutrition and Dietetics, Boards of Nutrition, and Agencies that control licensing and certification for nutritionists wishing to practice within each state. According to the Academy of Nutrition and Dietetics (AND), as of 2021, the following states require licensure or certifications in order for nutritionists to legally practice within those states:
Nebraska (Medical Nutrition Therapists must be licensed)
Puerto Rico
Non-Licensed Nutritionists
Other states do not require nutritionists to hold licensure or certification in order to practice legally within that state. Credentials such as RDN, CCN or CNS are not necessary for nutritionists to have in order to practice legally within the following states, nor do these nutritionists need to register with any state agency or board, per the AND (2021):
Which Will Insurance Cover – Licensed or Non-Licensed Nutritionist?
A nutritionist's services will not always be covered by a patient's insurance company. Much insurance coverage for nutrition services is dependent upon the reason why a patient needs these services. Under the Affordable Care Act, nutrition services (in the form of nutritional counseling) are available to all adults over age 18 who are at risk for chronic diseases. No copayment is charged to a patient under the terms of this act. However, most insurance companies will require that nutritionists are licensed or credentialed through a national credentialing agency in order to reimburse for their services. Many private insurance companies will also only cover a certain number of visits with a nutritionist, and the nutritionist will charge a copay to the patient for each visit.
Are Jobs Available for Licensed and Non-Licensed Nutritionists?
As you can probably imagine, there are more job opportunities for licensed nutritionists than there are for non-licensed nutritionists. If you are looking for a nutritionist job in a state in which licensure is not required, you might be more likely to find a job that doesn't mandate that applicants be credentialed through a national organization.
Even in states that license nutritionists, however, it is possible to find job listings for nutritionists that do not specify that a license is necessary. A recent search of online job openings for nutritionists found the following jobs, which do not require nutritionist licensure or credentials:
Nutritionist, WELLNOX Studio, Philadelphia, PA

Requires a bachelor's degree and 2-3 years of experience
Certification preferred but not required
Salary: $23 to $41/hour (or $47,840 to $85,280/year)

WIC Nutritionist, Meeting Street, Providence, RI

Requires a bachelor's degree and experience in providing support to high-need populations
Salary: $57,400 to $72,600/year

SNAP-Ed Nutritionist, Cornell Cooperative Extension of St. Lawrene County, Canton, NY

Requires a bachelor's degree and two years of experience
Salary: not specified

Assistant Community Nutritionist, Baltimore County, MD

Requires an associate degree and driver's license
Salary: $20.70/hour (or $43,056/year)

Nutritionist, SOTA Weight Loss, Frisco, TX

Requires a bachelor's degree
Salary: $25 to $27/hour (or $52,000 to $56,160/year)
Which Should I Pursue – Becoming a Licensed or Non-Licensed Nutritionist?
The decision is entirely up to you. Advantages a licensed nutritionist has over a non-licensed nutritionist include the fact that more jobs are typically available for licensed nutritionists, insurance companies are more likely to reimburse licensed nutritionists, and many patients will seek out licensed nutritionists over non-licensed nutritionists. Another alternative, however, is to take a job as a non-licensed nutritionist while you are completing the educational, experiential and examination requirements to become a licensed nutritionist.