Perhaps you know that you want to work in nutrition and dietetics, but you have no idea what career pathway to pursue? If this is the case, you've come to the right place! A wide variety of career options are available in the nutrition and dietetics field. The option that you choose depends upon many factors, such as your specialty interests, if any; where you want to work; how much education you want to undertake; and whether you want to become a Registered Dietitian Nutritionist (RDN) or another type of nutritionist.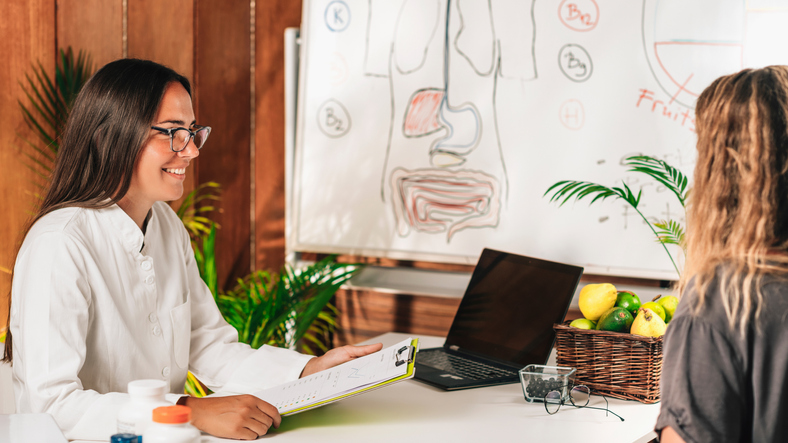 Here, we will provide a brief overview of some of the most popular careers in nutrition. You can read more detailed information about each individual career option on its career page.
Registered Dietitian Nutritionist (RDN), also known as Registered Dietitian (RD)
A Registered Dietitian may also be referred to as Clinical Dietitian. This type of dietitian is highly trained and educated and has earned credentials from the Commission on Dietetic Registration (CDR) of the Academy of Nutrition and Dietetics (AND). As you will see below, there are many types of specialty areas available in which interested RDNs may choose to work.
Registered Dietitians are clinical nutrition care professionals, and, although they are not doctors and cannot diagnose medical conditions, they may order tests and provide medical nutrition therapy (MNT) to patients. The Centers for Disease Control and Prevention (CDC) defines medical nutrition therapy as "nutrition-based treatment provided by a registered dietitian nutritionist."
Nutrition and Dietetic Technician, Registered (NDTR)
This career option may also be called, simply, Dietetics Technician. NDTRs are commonly supervised by an RDN, and require less education and training than an RDN. They still maintain close contact with patients, however, and must pass a CDR exam before credentials will be bestowed.
Licensed Nutritionist and Non-Licensed Nutritionist
You might wonder, what is the difference between a licensed nutritionist and a non-licensed nutritionist? A licensed nutritionist has received credentials from a regulating organization such as the American Nutrition Association or the Clinical Nutrition Certification Board, and may also have been licensed or certified by the state in which they practice. A non-licensed nutritionist may work in a non-medical setting or within a state that does not require licensure for nutritionists. They may or may not be credentialed by an organization.
In general, unlike RDNs, unless they are a credentialed CNS or CCN, nutritionists typically focus on the whole person, also known as holistic nutrition, rather than medical or clinical nutrition. The treatment a nutritionist provides might not be deemed "medically necessary" by insurance and therefore, a nutritionist's services are not always covered by insurance.
Specialties in Nutrition Careers
Once you decide upon whether you want to become an RDN, a NDTR, a licensed nutritionist, or a non-licensed nutritionist, all sorts of specialties will become available. A few of the most common specialties within nutrition and dietetics careers include, but are not limited to:
Food Technologist
Nutrition Assistant
Nutrition Consultant
Nutrition Writer
Nutritional Aide
Health and wellness product sales rep
Health promotion specialist
Nutrition counselor
Community Nutrition Worker
Dietary Manager
Food service associate
Nutrition Assistant
Nutrition Product Sales Representative
Nutritional Aide
Weight Loss Counselor
Nutrition Project Manager
Food Scientist
Food Technologist
Wellness Consultant
Educational Requirements and Differences Among Nutrition and Dietetics Careers
Another determining factor in deciding which nutrition and dietetics career option you wish to pursue is the amount of education necessary. This will be explained in greater detail within these pages. Generally, however, the following rules apply:
RDNs must complete a master's-degree program that has received approval from ACEND, the Accreditation Council for Education in Nutrition and Dietetics. This program must also include an internship. RDNs must pass the CDR's Registered Dietitian Nutritionist exam before being given credentials. They must also earn a state license in each state in which they wish to practice. Finally, RDNs must meet continuing education requirements to maintain their credentials and their state licensure.
Nutritionists, however, have less stringent educational requirements. In many states, nutritionists need no license in order to practice. Educational requirements depend upon the credentials that you strive to earn. In general, if you wish to be a licensed nutritionist, you will need a minimum of a bachelor's degree in nutrition, dietetics or a related field. You must also complete an internship or field-based experience. You may wish to earn certification through a certifying body. If the state in which you work requires you to become licensed, you must follow that process as well. Continuing education can also be beneficial to nutritionists, not only in maintaining current certifications and licensure, but also to pursue more advanced certification and credentials. 
Industries and Job Settings in Which Nutritional Careers Can Be Found
Depending upon your credentials and the state in which you work, you may be able to find nutrition and dietetics jobs in a variety of settings and industries.
According to the Bureau of Labor Statistics (BLS), the most popular industries in which Dietetic Technicians work are:
General Medical and Surgical Hospitals
Skilled Nursing Care Facilities
Local Government
Continuing Care Retirement Communities
Special Food Services
The most popular industries in which Registered Dietitian Nutritionists work include:
General Medical and Surgical Hospitals
Outpatient Care Centers
Offices of Other Health Practitioners
Special Food Services
Skilled Nursing Care Facilities
Nutritionists of all types may also work in many other settings, including, but not limited to:
Manufacturing and Industry
Private Practice
Non-Profit Organizations
International Relief Organizations
K-12 Schools
Colleges and Universities
Corporate Wellness Departments
Fitness and Wellness Centers and Retreats