One might think that in a state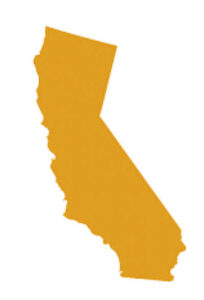 like California, with its warmer year-round temperatures and abundant sunshine, obesity would be less prevalent in the population. According to the Centers for Disease Control, however, this assumption is false. As of 2016, 35 percent of California's adult population is classified as overweight, and 24.7 percent are obese. 
Nutritionists in California need not be licensed, nor are they regulated by any body or agency. California's nutritionists are required to post the following notice regarding their practice of nutrition:
"State law allows any person to provide nutritional advice or give advice concerning proper nutrition–which is the giving of advice as to the role of food and food ingredients, including dietary supplements. This state law does NOT confer authority to practice medicine or to undertake the diagnosis, prevention, treatment, or cure of any disease, pain, deformity, injury, or physical or mental condition and specifically does not authorize any person other than one who is a licensed health practitioner to state that any product might cure any disease, disorder, or condition." (As required by the California Code, Business and Professions Code – BPC § 2068)
Nutritionists in California may practice nutrition consultation relating to food, intake of nutrients, meal planning, and nutritional assessment. They may not, however, practice medicine or try to diagnose, prevent, treat or cure any disease or condition, as they are not licensed health care practitioners. Nutritionists may order laboratory tests that are classified as "nondiagnostic general health" tests. 
If you are interested in becoming a nutritionist in California, keep reading, as we will discuss, in further detail, what it takes to work as a nutritionist in the Land of Milk and Honey. 
Recommended Education for Nutritionists in California
As there is no regulatory body controlling the practice of nutritionists in California, education for prospective nutritionists in California is largely up to each individual. Most nutritionists earn a minimum of a bachelor's degree in food, nutrition, or a related area. This can be helpful if you wish to become professionally certified in nutrition later. Examples of undergraduate degrees in nutrition abound in the Golden State, and include:
Bachelor of Science in Nutrition Science at University of California Davis
Bachelor of Science in Nutrition and Food Science at California Baptist University, Riverside
Bachelor of Science in Food Science at California State University Northridge
Bachelor of Science in Nutritional Science at Pepperdine University, Malibu
If you want to aim a bit higher, you can earn a graduate degree in nutrition or a related area. This will also make you eligible for more professional certifications in the field. Some examples of graduate degrees in nutrition and related areas in California are:
Master of Science in Human Nutrition at California State University, Northridge
Master of Science in Food Science at Chapman University, Orange
Master of Science in Nutrition, Health Span and Longevity at University of Southern California Online
Master of Science in Nutritional Biology at University of California Davis
Courses that you will likely encounter in a nutrition degree program at the undergraduate or graduate level include, but are not limited to:
Food and Nutrition Policies and Regulations
Carbohydrates, Lipids and Proteins
Nutrigenomics and Nutrigenetics
Research Methods for Nutrition Research
Ethics and Social Justice in Human Nutrition
Epidemiology
Nutritional Counseling Fundamentals
Sports Nutrition
Geriatric Nutrition
Lactation Education for the Health Care Professional 
Popular Certifications for Nutritionists in California
Although not necessary in order to work as a nutritionist in California, earning one (or more) of the following certifications can be a boon to marketing your nutrition services and finding more clients or jobs:
Certified Nutrition Specialist (CNS) of the Board for Certification of Nutrition Specialists: requires a master's degree, supervised experience, and passing a certification examination
Functional Diagnostic Nutrition (FDN) Practitioner of the FDN: requires completing online courses and passing a certification exam
Certified Holistic Nutrition Consultant of the American College of Healthcare Sciences: requires completion of online courses and passing a certification exam
Functional Nutrition and Lifestyle Practitioner (FNLP) of the Functional Nutrition Alliance: requires completion of online courses and passing a certification exam
Applied Clinical Nutrition (ACN) certification of the Whole Food Practice: must have a degree, be a practicing health care practitioner, complete coursework and pass exam
Certified Nutrition Coach (CNC) of the National Academy of Sports Medicine: must complete coursework and pass examination
Jobs for Nutritionists in California
Because nutritionists need not be licensed or certified in order to work in California, many of them simply "hang a shingle" and offer services to the public. They might also work in tandem with other health care practitioners. Recent job openings for nutritionists in California include:
Nutritionist, San Manuel Band of Mission Indians – Highland, CA
Degreed Nutritionist, Planned Parenthood of Orange and San Bernardino Counties – Costa Mesa, CA

Bachelor's degree in food and nutrition, public health or related field required

Nutritionist, Fresnos Chaffee Zoo Corp- Fresno, CA

Bachelor's degree in animal nutrition, zoology or applicable field required
Three years of animal nutrition work experience preferred

Nutritionist, Monterey Pain & Spine Institute – Monterey, CA
Functional Medicine Nutritionist, Hoag Memorial Hospital Presbyterian – Newport Beach, CA
(Also, take a look at the information to Become a Registered Dietitian in California here).