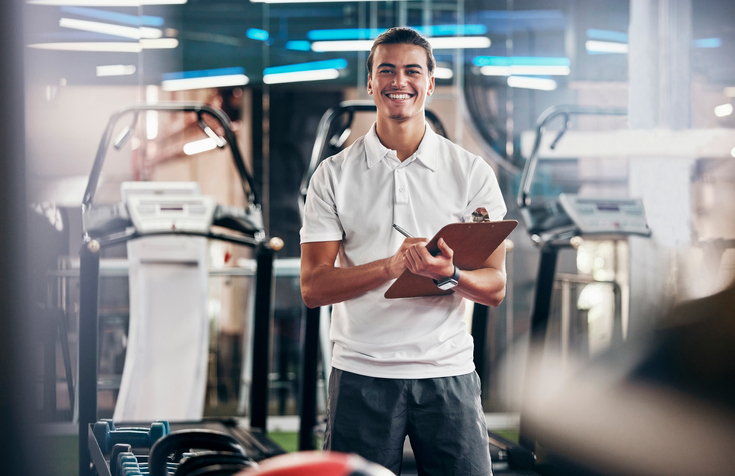 Becoming a health coach is another option that is closely related to careers in the nutrition field. A health coach is different from a life coach. Life coaches motivate clients to change something about their lives. Health coaches, on the other hand, mentor clients on health and wellness journeys to meet goals relating to their individual health.  
According to a 2021 report, in the United States, health coaching is now a $7 billion service market with very strong growth potential. There are an estimated 128,000 health coaches and health educators nationwide working to motivate and advise clients on adopting healthier lifestyle habits and changing behaviors to manage chronic health conditions.
A 2017 study published in the American Journal of Lifestyle Medicine found that health coaching can result in clinically relevant improvements in risk factors for health conditions and diseases. It can help to improve patients' quality of life and reduce hospital admissions in patients with chronic disease. Some private health insurers are now offering coverage for health coaching as they have found it a viable method to help prevent disease.
If you would like to learn more about becoming a health coach, keep reading.
What Are Some of the Job Responsibilities of a Health Coach?
People seek out health coaches for all sorts of problems, not just to improve their outcomes if they have chronic health conditions or diseases. Health coaches can also help those who want to improve their physical fitness, improve their interpersonal relationships, create healthier diet and lifestyle habits, and weather important life changes. Health coaches are trained in health, wellness, human behavior, and communication, and combine all of this knowledge into an effective profession.
Some of the duties that a health coach may have include:
Meeting with clients in person, virtually or by phone/online video to discuss their goals, progress and challenges
Helping clients to understand their personal motivation for change
Empowering clients to see themselves as experts on their own health and wellness
Providing clients with support and accountability for goal-setting and reaching those goals
Using their broad knowledge of health and wellness to help clients navigate health concerns
What Type of Person Makes a Good Health Coach?
In order to be an effective health coach, you should:
Be a good listener
Be able to motivate others
Have a true passion for health and wellness
Have excellent oral and written communication skills
Have mindfulness skills
Have an ability to build strong, trusting relationships with clients
Have empathy
Possess a deep understanding of positive psychology and behavior change
Where Do Health Coaches Work?
Health coaches work in a variety of settings, including but not limited to:
Private practice
Functional medicine clinics, wellness programs, primary care clinics, outpatient clinics
Partnering with practitioners and clinics on a contracted basis
Working with private corporations to improve employee health
Working with public organizations to improve community health
What Education Do I Need to Become a Health Coach?
Because health coaches do not need to be licensed or certified in order to work, no education is mandated. However, a thorough background in health and wellness is necessary to work effectively as a health coach. You may opt to get an associate or bachelor's degree in health, wellness, health promotion and education, nutrition, exercise science, or a related field. Many colleges also offer health coach certificate programs at the undergraduate and graduate levels. Or, you may explore professional certification options and decide to complete the studies necessary to become a certified health coach. We will discuss certification options further in the next section.
Do I Need Professional Certification to Work as a Health Coach?
Health coaching does not require professional certification. However, some clients will seek out health coaches who are certified, and certification might be required in order to get health insurance to reimburse your services. There are a variety of credentials that may be obtained from organizations that certify health coaches, including, but not limited to:
What Salary Can I Expect as a Health Coach?
The U.S. Bureau of Labor Statistics (BLS) does not maintain salary or employment data on health coaches. A 2021 report on the U.S. health coaching market that analyzed 127,100 health coaches and educators working nationwide found that health coaches working in the U.S. can make from $50,000 to $100,000 per year, or $25 to $100 per hour.
A recent perusal of online job sites found the following job openings, and corresponding salaries, for health coaches:
Digital Health Coach, NuvoAir, Remote

Salary: $42,600 to $54,000/year

Must have experience in health coaching

Must live in MA, NJ, PA, GA, FL, TX, CA or NH

Health Coach, Farmina Pet Foods, Wilmington, DE

Salary: $35,000 to $37,000/year

Must have one year of customer service experience

Health Coach (Wellness), Medicare, Peach State Health Plan, Georgia
Work Wellness Coach, Amazon.com Services LLC

Salary: $48,000 to $85,000/year

Must have a bachelor's degree in psychology, vocational rehabilitation counseling, social work or related field

Must have two years of experience