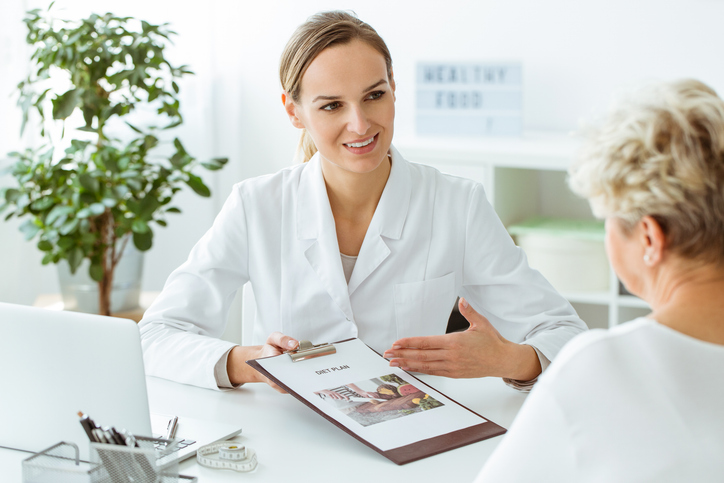 If you want to become a Registered Dietitian Nutritionist (RDN), which is the same as a Registered Dietitian (RD), according to the Academy of Nutrition and Dietetics (AND), you must have a degree in food and nutrition. Right now, that degree can be a bachelor's degree. As of January 1, 2024, however, the Commission on Dietetic Registration (CDR) is changing the eligibility requirement for RDs and RDNs to a master's degree. 
Whether you get an undergraduate or graduate degree, the major courses you study will pertain to food and nutrition. Your degree program will be followed by a period of supervised practice, then you will be eligible to take the CDR's RD exam. 
Earning an RD or RDN credential will make you eligible for state licensure (if required in the state in which you intend to practice). Once licensed, you will find job opportunities within many different settings. Some of these include health care facilities, long term care facilities, rehabilitation centers, colleges and universities, community health centers and facilities, research institutions, and private practice.
All your hard work will pay off in a lucrative position as an RD or RDN. Per the Bureau of Labor Statistics (BLS), jobs for RDNs and RDs pay a mean annual wage of $64,150 as of May 2020. And you should feel secure in knowing that job opportunities for RDs and RDNs are expected to increase by 11 percent, much faster than the average projected increase for all other occupations, between 2020 and 2030.
Let's delve further into the components of a Registered Dietitian Nutritionist degree.
What Accreditation Must My College or University Have?
Institutional Accreditation
When you are choosing a college or university at which to pursue your food and nutrition studies, you must first look at its accreditation. The U.S. Department of Education's Council for Higher Education Accreditation (CHEA) recognizes certain accreditations at the institutional level – which means, first and foremost, your school must be accredited by one of the following agencies:
Accrediting Commission for Community and Junior Colleges, Western Association of Schools and Colleges (ACCJC)
Higher Learning Commission (HLC)
Middle States Commission on Higher Education (MSCHE)
New England Commission of Higher Education (NECHE)
Northwest Commission on Colleges and Universities (NWCCU)
Southern Association of Colleges and Schools, Commission on Colleges (SACSCOC)
WASC Senior College and University Commission (WSCUC)
Association for Biblical Higher Education (ABHE)
Association of Advanced Rabbinical and Talmudic Schools (AARTS)
Association of Theological Schools, The Commission on Accrediting (ATS)
Transnational Association of Christian Colleges and Schools (TRACS)
Distance Education Accreditation Commission (DEAC)
Programmatic Accreditation
You've found a school that is institutionally accredited – great! Next comes the programmatic accreditation. The food and nutrition degree program you choose MUST by accredited by the Accreditation Council for Education in Nutrition and Dietetics (ACEND) of the Academy of Nutrition and Dietetics. A link to ACEND's Accredited Programs Directory is here.
Are There Different Types of Degree Programs for RDNs?
You might notice, as you are browsing the ACEND directory, that different types of degree programs exist for RDN students. There are also undergraduate and graduate level accredited programs. ACEND programs are classified in the following ways:
Coordinated Program in Dietetics (CP)
This category of ACEND-accredited program may be at either the bachelor's or graduate level, and includes coursework plus a minimum of 1000 hours of supervised experiential practice.
Didactic Program in Dietetics (DPD)
This type of ACEND-accredited program is offered at the bachelor's or graduate level, and consists of coursework only. A Dietetic Internship (DI) must be completed at the conclusion of this program.
Future Graduate Program (FG)
This is a newer category of ACEND-accredited programs, consisting of graduate degree courses and a minimum of 1000 hours of supervised experiential practice.
If I Choose an Undergraduate Program, What Degree Will I Get?
Some examples of undergraduate degree titles of ACEND-accredited programs are:
Bachelor of Science in Nutrition – Dietetics Option
Bachelor of Science in Nutrition and Dietetics
Bachelor of Science in Family and Consumer Sciences – Nutrition and Hospitality Management
Bachelor of Science in Nutrition, Food Science and Packaging
Bachelor of Science in Nutrition and Food Science – Dietetics and Nutrition Management
If I Choose a Graduate Program, What Degree Will I Get?
Examples of titles of graduate degrees in ACEND-accredited programs include:
Master of Science in Nutritional Science – Nutrition and Dietetics
Master of Science in Nutrition
Master of Science in Dietetics and Nutrition
Master of Public Health Nutrition
Professional Science Master in Applied Nutrition-Dietetics Emphasis
What Coursework Will I Take in a Registered Dietitian Nutritionist Degree Program?
If you choose to study for an undergraduate registered dietitian nutritionist degree, you will take courses such as:
Fundamentals of Chemistry
Nutrition and Health
Principles of Biology
Anatomy and Physiology
Nutritional Biochemistry
Nutrition Education
Macronutrients
Medical Nutrition
Food Systems Operations
Nutritional Counseling
If you opt to study for a graduate registered dietitian nutritionist degree, you will take courses such as:
Principles of Biostatistics
Advanced Behavior Change Counseling
Medical Nutrition Therapy
Nutrition Across the Life Cycle
Bioenergetics and Metabolism
Nutrition and Disease
Micronutrients
Nutritional Epidemiology
Nutrigenomics
Public Health Nutrition
What Will My Dietetic Internship Look Like in Any Program?
Whether you choose undergraduate or graduate; CP, DPD or FG; you will need to complete a supervised experiential practice known as a Dietetic Internship. This consists of a minimum of 1000 hours of supervised practice that is given at various locations. Some internships allow you to rotate from one location to the next. Topics that you may cover in your dietetic internship include:
Medical nutrition therapy
Community nutrition
Foodservice systems management
Child nutrition program management
Settings that you could be placed in during your internship include:
Hospital
School
Community health center
Long-term care facility