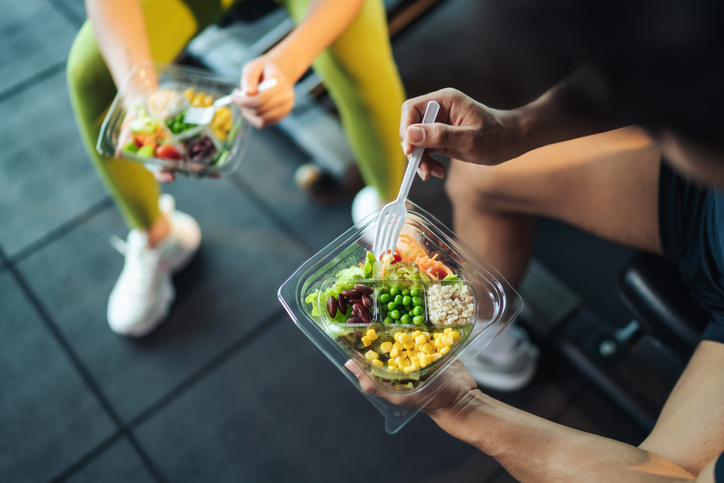 Sports nutritionists work directly with athletes to help them become more conscious about the foods, drinks, and supplements that they are putting into their bodies. Nutrition has been proven to enhance athletic performance. Sports nutritionists focus on three basics:
Fueling the body with food that will help to enhance stamina, clarity and strength
Hydrating the body in order to prevent dehydration and fatigue and optimize muscle performance
Recovery, or helping a person recover after exercise
Sports nutritionists do not only work with athletes, however. Anyone who is interested in their overall health, fitness, and wellness can benefit from working with a sports nutritionist.
What are the Job Responsibilities of a Sports Nutritionist?
Sports nutritionists, or sports dietitians, may provide individual and/or group/team nutritional counseling and education. Depending upon where they work, their goal will be to enhance the performance of athletes, or to improve an individual's fitness through nutrition. Job duties of a sports nutritionist may include:
Assessing and analyzing a person's dietary practices, body composition, and energy balance
Counseling athletes/individuals on optimal nutrition for exercise training, competition, exercise recovery, weight management, hydration, disordered eating, travel, supplementation, and immunity
Providing personalized meal plans to promote achieving long- and short-term goals
Addressing nutritional challenges to performance, such as bone mineral disturbances, food allergies, iron depletion
Provide medical nutrition therapy to help treat or manage medical conditions
Coordinate nutritional care with an interdisciplinary team
Collaborate with the person's coach, family, and health professionals when necessary
Educate individuals and teams on nutrition for performance
Helping to develop menus to ensure ongoing nutritional needs are met when athletes must travel
What Education is Needed for Sports Nutritionists?
The type of education that you will pursue if you want to become a sports nutritionist depends upon many things. One is the requirements in the state in which you wish to practice. If your state requires sports nutritionists to be registered dietitians, you must get a master's degree, pass the Commission on Dietetic Registration (CDR)'s exam and seek licensure or certification in your state (if required). If you are taking this route, you must choose a school that has received accreditation from the Accreditation Council for Education in Nutrition and Dietetics (ACEND). A listing of such schools may be found here. You should also be certain that the program you choose prepares you to take the CDR's exam to become a Board-Certified Specialist in Sports Dietetics (CSSD).
If your state does not require you to be a dietitian in order to work as a sports nutritionist, check their regulations regarding non-dietitian nutritionists. You may still need to earn a graduate degree and seek certain certifications (which we will discuss further below).
What Types of Certification(s) Do Sports Nutritionists Need?
Certifications for sports nutritionists vary depending upon your state's requirements. If you earn your RDN, you should also sit for the CDR's CSSD exam. The CSSD is the only nutrition credential that has earned accreditation from the National Commission for Certifying Agencies (NCCA). In order to take the CSSD Exam, you must document 2000 hours of sports dietetics practice as a RDN in the past five years. Alternatively, you may earn 500 hours through the following education and experience:
Complete 300 hours of graduate studies (master's degree) or 400 hours of graduate studies (doctoral degree) in exercise physiology, sports nutrition, exercise science, nutrition with sports emphasis, kinesiology or a related program
Have completed one of the following professional experiences within five years of applying to take the exam:

Authored an article in a peer-reviewed publication (20 hours)

Co-authored such an article (10 hours)

Author a published sports dietetics textbook or manual (100 hours)

Author of a chapter in such a textbook/manual (15 hours/chapter)

Conduct sports research as a sole investigator (20 hours)

Complete sports-related continuing education (75 hours)

Earn the International Olympic Committee Diploma in Sports Nutrition (500 hours)
Other sports nutritionist certifications that you may seek, whether you have an RDN or not, include, but are not limited to:
International Sports Sciences Association (ISSA) Nutritionist- Available to anyone with a high school diploma or GED who completes online study and passes examination. Average time for completion is two to six months.
American Fitness Professionals and Associates (AFPA) Nutrition and Wellness Consultant – Available to anyone with a high school diploma/GED who completes online study and passes examination. Average time for completion is one to three months.
National Exercise and Sports Trainers Association (NESTA) Sports Nutrition Specialist (SNS)- Available to anyone with a high school diploma/GED who completes online study and passes examination. Average time for completion is one to three months.
What Kinds of Jobs and Salaries are Available to Sports Nutritionists?
Job opportunities for sports nutritionists are available in areas such as:
Athletic performance companies
Colleges and universities
Corporations
Health care organizations
Military bases
Online nutritional coaching
Private practice
Professional sports organizations
US Olympic Committee/training facilities
Some examples of recently advertised positions for sports nutritionists, along with their estimated salaries, include:
Sports Nutrition Fellow- Strength & Conditioning/Performance, East Rutherford, NJ

Undergraduate degree in nutrition or dietetics required

Prefer candidates who have RDN/are RDN eligible

Salary: $43,800 to $55,400 annually

Sports Dietitian – University of Kentucky, Lexington, KY

Requires RDN certification

Salary: $46,806 to $77,226 annually

Sports Nutrition Dietitian – Akron Children's Hospital, Akron, OH

Sports nutrition specialty certification preferred

Salary: $44,800 to $56,800 annually

Assistant Sports Dietitian – Brigham Young University, Provo, UT

Undergraduate degree in nutrition or dietetics required

RDN certification or eligibility preferred

Salary: $ 41,400 to $52,500 annually

Adjunct Faculty Sports Nutrition – Dean College, Franklin, MA

Sports nutrition certification preferred
Resources for Sports Nutritionists
The following resources should be useful to those who are wishing to become sports nutritionists: