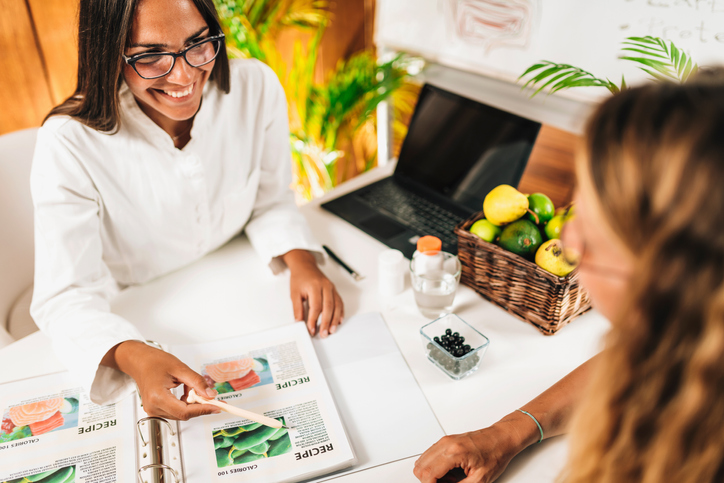 A clinical dietitian is a registered dietitian (RD) or a registered dietitian nutritionist (RDN) who practices within health care (clinical) settings. Clinical dietitians are specialized RDNs/RDs who help to design nutritional programs in order to improve or maintain the health and wellness of their clients. Clinical dietitians work directly with clients, also referred to as clients, as well as other medical professionals working with the client and the staff of the health care facility in which they work. They also provide counseling and education to clients to ensure that their nutritional needs are met. Let's take a closer look at the work of a clinical dietitian.
What Are Some of the Job Duties of a Clinical Dietitian?
Clinical dietitians work in clinical (medical) settings and typically carry responsibilities such as:
Determining the nutritional and health needs of clients
Providing counseling to clients on healthy eating habits, food choices, lifestyle changes, and nutritional issues
Developing meal and nutrition plans, taking clients' preferences, health issues, and budgets into account
Promoting better health by speaking to groups on nutrition, diet, and the relationship between food and eating habits and prevention and management of disease
Creating educational materials about what are and are not healthy food choices
Contributing to or staying abreast of the latest food and nutritional science research
Documenting the progress of clients they are treating
What Skills Do I Need to Become a Clinical Dietitian?
Some skills lend themselves to becoming an effective clinical dietitian. They include, but are not limited to:
Good analytical skills – Clinical dietitians must be able to stay on top of the latest food and nutrition research, interpret scientific findings and translate nutritional science into practical advice they can pass on to their clients.
Compassion – Clinical dietitians must be caring, empathetic and wish to help clients deal with health and dietary issues, along with emotions that may arise.
Listening skills – Clinical dietitians must be good listeners to fully understand a client's concerns and goals. They must work with other healthcare providers to help the client reach those goals.
Organizational skills – Clinical dietitians must be able to manage appointments, staff, insurance companies and client files.
Problem-solving skills – Clinical dietitians must be able to evaluate a client's health status and determine the best food choices for them in order to manage their disease or improve their health.
Communication skills – Clinical dietitians must be able explain complex topics in a way that clients can understand. They must also be able to explain food plans to clients and associated healthcare professionals involved in the client's care.
What Education and Experience Do I Need to Become a Clinical Dietitian?
Clinical dietitians must earn a RDN credential from the Commission on Dietetic Registration (CDR). This requires completion of education, experience and passing an examination. As of January 1, 2024, all RDNS must have a master's degree in food, nutrition, dietetics or a related field. In addition, they must complete a minimum of 1000 hours of a supervised practice program, and pass a credentialing examination. 
You must also become licensed to practice in most states. Check this page to see what your state requires and how to go about the licensure/certification process.
If you choose to specialize in a field of clinical dietetics, you may opt for further education beyond the RDN/RD credential. Some of those options may be examined in further depth here
Where Do Clinical Dieticians Work?
Clinical dietitians work in clinical or medical settings, such as:
Hospitals
Inpatient medical clinics
Long term care facilities
Universities and colleges
Veterans hospitals
Outpatient clinics
Public schools
Private practices
Medical practices with other medical practitioners
How Much Do Clinical Dieticians Earn?
The U.S. Bureau of Labor Statistics notes that the annual mean wage for clinical dietitians as of May 2021 is $65,620. Job opportunities are expected to remain good, with an increase of 11 percent from 2020 to 2030 (higher than the average expected increase for all other occupations).
What Are Some Examples of Jobs for Clinical Dietitians?
A recent check of internet job sites found the following availabilities for clinical dietitians nationwide:
Senior Clinical Dietitian Specialist, TriHealth, Inc., Cincinnati, OH

Salary: $59,000 to $74,880/year

Requires: Master's degree, RDN credential, ten years of clinical dietetics experience

Clinical Dietitian, Penn Medicine, Philadelphia, PA

Salary: $64,300 to $81,500/year

Requires: RDN credentialing, state of PA dietetic licensure, minimum of bachelor's degree

Clinical Dietitian Specialist I, Howard County General Hospital, Columbia, MD

Requires: RDN credentialing, MD state licensure, minimum of bachelor's degree

Clinical Specialist, Abbott Nutrition, Abbott Laboratories, North Chicago, IL

Requires: RDN credentialing, minimum of bachelor's degree, five years of clinical dietetics experience

Clinical Dietitian, Ambulatory Oncology, Stanford Health Care, Palo Alto, CA

Requires: RDN credentialing, minimum of a bachelor's degree, three years of clinical dietetics experience