In 2021, the Robert Wood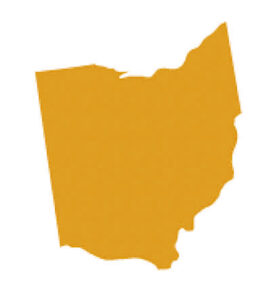 Johnson Foundation reported that Ohio's obesity rate among youth and children is above the national average. They reported that Ohio's average obesity rate among 10-to-17-year-olds is 17.2 percent, higher than the national average of 16.2 percent. For those in Ohio in grades 9-12, the obesity rate is 16.8 percent, higher than the national average of 15.5 percent. It is believed that the COVID-19 pandemic has worsened many risk factors for childhood obesity, such as food insecurity, inconsistent access to healthier school meals, and increased sedentary time. 
Ohio's State Board of Dietetics was dissolved in 2017, with the control of the dietetic professions being moved under the control of and regulation by the State Medical Board. Per the Council of Holistic Health Educators, Ohio's nutrition and dietetics laws are among the most restrictive in the nation. Only dietitians may be licensed, and you may not offer nutrition care services without having a license in Ohio. If you are a licensed dietitian (Becoming a Licensed Dietitian in Ohio), you may call yourself a dietitian or a nutritionist, but if not, using either term is illegal. As there is no licensure possible for nutritionists, this article will deal with the ways in which non-licensed "nutritionists" (as long as they do not call themselves that) may practice in Ohio. 
What Are Unlicensed Nutritionists Not Permitted to Do in Ohio?
Under Ohio's law, you cannot:
Advertise yourself or call yourself a nutritionist or dietitian 
Assess the nutritional needs of individuals and groups
Give anyone the impression that you are licensed or registered 
What Are Unlicensed Nutritionists Permitted to Do in Ohio?
There are things that you may do without a nutrition license in Ohio, so long as you do not call yourself a nutritionist:
Provide a general program for weight control, as long as it is reviewed by a licensed or registered dietitian
Market or distribute food, food materials and dietary supplements and explain how to use them. If you do this, you are also allowed to:

State a benefit related to a disease that is commonly caused by nutrient deficiency and reveal how prevalent that disease is in the U.S. 
Explain how a nutrient or dietary supplement is supposed to affect how the human body functions or its structure 
Describe the known ways in which a nutrient or dietary supplement acts in order to maintain the human body's function or structure 
Explain how individuals will feel a sense of general well-being if they consume this dietary supplement or nutrient 

Distribute literature related to nutrition
You may practice nutrition or dietetic services without a license in Ohio if this is part of your duty of serving in the armed forces, Veterans Administration, or public health
You may practice nutrition or dietetic services without a license in Ohio if you work under the direct supervision of a licensed dietitian or other licensed health practitioner
You may provide services and information related to non-medical nutrition without a license in Ohio if you are a nutrition educator working for a:

Federal, state, municipal or county agency or other political subdivision
Elementary or secondary school or accredited higher education institution
Nonprofit organization that is Board-approved
Should I Pursue Education or Certification as a Non-Licensed Nutritionist in Ohio?
This might cause you to wonder, should you even try to become a non-licensed nutritionist in Ohio? This depends upon what you want to ultimately do in your profession. If you plan to work as a holistic health practitioner, it is possible to do so, as long as you work under the supervision of a licensed health practitioner and do not violate any of the rules above. 
Educational options for those wishing to study nutrition in Ohio include, but are not limited to:
Bachelor of Science in Human Nutrition – The Ohio State University, Columbus 
Bachelor of Science in Nutrition – Applied Nutrition – Environmental Nutrition – Ohio University, Athens
Master of Science in Food and Nutrition Sciences – Ohio University, Athens (online degree)
You may pursue any certification you wish, provided that you do not call or refer to yourself as a nutritionist (even if that is in the title of your certification). Some examples include:
Functional Medicine and Certified Health Coach (FMCHC)– This credential is available when you study in a year-long online program 
Certified Nutrition Coach (CNC) of the National Academy of Sports Medicine- This credential is also available through completing online study
Certified Holistic Nutritionist (CHN) of the American Fitness Professional Association -This credential is available through completing online study and passing an examination
Certified Nutrition Professional (CNP) of the National Association of Nutrition Professionals – This credential is available to those who have completed a bachelor's degree or higher in a nutrition-related field, and completed 1200 hours of supervised practice
What Jobs/Salaries are Available for Non-Licensed Nutritionists in Ohio?
There are jobs being advertised for those without a license who wish to work in the nutrition field in Ohio. Some advertised positions as of September 2022 include:
Project Manager, School Nutrition – Cleveland Metropolitan School District, Cleveland

Salary: $49,980/year
Bachelor's degree required
Two years of management experience required

Program Coordinator, College of Allied Health, Dept. of Rehab, Exercise and Nutrition Sciences – University of Cincinnati, Cincinnati

Salary: not specified
Bachelor's degree required
Five years of relevant work experience may be used in lieu of bachelor's degree
One year of program coordination experience required

Health Educator – Northeast Ohio Neighborhood Health Services, Cleveland

Salary: $38,700 to $49,100/year
Bachelor's degree required
Three years of experience required

Health and Wellness Coach – Quantum Health, Dublin

Salary: not specified
Bachelor's degree required

Retail Development Specialist, Abbott Nutrition – Abbott Laboratories, Columbus

Salary: not specified
Bachelor's degree required
Experience in sales or customer service preferred