Utah's Public Health Data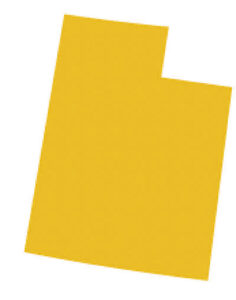 Resource reports that, as of 2020, 62.4 percent of Utah's adults classified as being overweight or obese. Over the past few decades, they note, the percentage of Utah adults who are overweight or obese has increased steadily, from 39.7 percent in 1989. 
The Utah Department of Health has created a Healthy Environments Active Living (HEAL) program to combat the high rate of overweight and obesity among Utah's population. They are encouraging physical activity in schools, implementing school-based nutrition strategies, working on employee health and fitness programs, increasing access to fresh fruits and vegetables for everyone, among many other strategies they are taking. 
Nutritionists in Utah are a large part of fighting the obesity and overweight problem. They are specially trained to provide nutrition care services to Utah residents. In Utah, nutritionists need not be licensed or certified (only dietitians must be certified, and you can read more about the process of becoming a registered dietitian in Utah here (Becoming a Registered Dietitian in Utah). If you think becoming a Utah nutritionist could help you to make a difference in the health of its residents, please read on.
Nutritionists Need No License or Certification in Utah
The state of Utah certifies dietitians and protects the titles of "dietitian," "certified dietitian," "registered dietitian nutritionist," as well as the initials "C.D.," "D.," and any other title or insignia specifying that a person is a certified, registered dietitian. Nutrition professionals who do not wish to become registered, certified dietitians, need not seek licensure or certification in Utah. They may provide nutrition care freely and work within their scope of practice, as long as they are not using the protected titles/initials listed above. 
Nutritionist Education in Utah
Because nutritionists need fulfill no mandates for certification or licensure in Utah, the type of and level of education that you seek is completely up to you. You should make sure that you have a good knowledge and foundation in nutrition before deciding to work as a Utah nutritionist. Here are some examples of potential educational tracks you might take in order to work as a non-licensed nutritionist in Utah:
Master of Science in Nutrition (on campus or online)- University of Utah, Salt Lake City
Bachelor of Science in Nutrition Education – Weber State University, Ogden
National Nutrition Certification Program (NNCP)- Utah State University SNAP-Ed program- education for nutrition educators
Expanded Food and Nutrition Education Program (EFNEP) of Utah State University – free training for people with limited resources to learn about nutrition
Certificate in Sports Nutrition and Performance – University of Utah, Salt Lake City
Nutritionist Certification in Utah
You might be thinking, "I thought nutritionists did not need to be certified in Utah?" This is true – they do not need to be certified by the state. However, professional certification is certainly an option for anyone wishing to work as a nutritionist. The level or type of certification you may seek depends upon your educational level and the setting in which you wish to work as a nutritionist. Some examples of possible certifications for nutritionists in Utah are:
NASM Certified Nutrition Coach (NASM-CNC) – This certification by the National Association of Sports Medicine blends general nutrition knowledge with sports nutrition knowledge. It focuses on diet, nutrition and physical training. The cost of this certification is $799.
Fitness Mentors Fitness Nutrition Specialist (FM-CNS) – This certification emphasizes understanding nutrition strategies to help clients reach their health goals. Individualized mentoring is a large part of this certification. The cost of this certification is $499.
ACE Fitness Nutrition Specialist Certification – This certification by the American Council on Exercise teaches the basics of nutrition and fitness, but also how to run your business and the best business practices you can use to market your services. The cost of this certification is $699.
ISSA Certified Nutritionist – This certification by the International Sports Sciences Association educates you in nutrition and emphasizes the importance of psychology in maintaining a good diet and making good dietary choices. The cost of this certification is $799.
Nutritionist Employment and Salaries in Utah
Positions for Utah nutritionists are usually abundant statewide. As you can see from this sampling of the online classified ads from October 2022, there are diverse opportunities for non-licensed Utah nutritionists who want to work:
Adjunct, Exercise Science, Nutrition – Salt Lake Community College, Salt Lake City

Pay: $900 per contact hour
Master's degree in nutrition science or related needed
Certification in nutrition preferred
Prior teaching experience preferred

Health Educator – Tooele County, Tooele

Pay: $24.03 per hour
Bachelor's degree in public health, education or related field needed
One year of related work experience needed
A master's degree may be substituted for the year of work experience

Nutritional Health Coach – Natural Grocers, Heber City
Field Supervisor – Child Nutrition, Salt Lake City School District, Salt Lake City

Pay: $56,203 to $65,232 per year
Two years of college courses in food and nutrition or related field needed
In lieu of college, five years of experience as a supervisor of multiple kitchen sites needed
Must be able to pass a criminal background check
Must have valid Utah driver's license and evidence of insurability
Must be able to obtain ServSafe certification and School Nutrition Associate certification after employment
Two years of job-related experience with increasing levels of responsibility needed
Prefer credentialed School Nutrition Specialist (SNS)

Health & Wellness Coach – Jenny Craig, Salt Lake City

Pay: $17.25 per hour
High school diploma or GED needed
Must have retail and/or sales experience