The Oregon Board of Licensed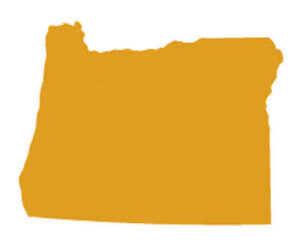 Dietitians regulates the practice of registered dietitians in the state. According to their definition, a dietitian is a health care practitioner who integrates and applies standards obtained from the various sciences of nutrition, biochemistry, food, management, physiology and social and behavioral sciences to achieve and maintain the public's health through various approaches. Dietitians must first become registered with the national Commission on Dietetic Registration (CDR) and then licensed through the Oregon Board of Licensed Dietitians before they may legally practice in the state. Read on to discover how you can plan to be a registered, licensed dietitian in Oregon.
Dietitian Education in Oregon 
Oregon's Legislature, Chapter 691, Dietitians states that anyone who wants to become a licensed dietitian must hold a bachelor's or higher degree with a major in food systems management, foods and nutrition, dietetics, or human nutrition; log at least 900 hours of supervised dietary experience, and pass an examination. These requirements line up with those of the CDR, the national registration organization for dietitians. They mandate that you complete an education program that has been approved by ACEND, the Accreditation Council for Education in Nutrition and Dietetics; fulfill a supervised dietary practice program of at least 1000 hours, and pass the CDR's Registration Examination for Dietitians. Although as of this writing, the CDR will accept candidates who have a bachelor's degree, as of January 1, 2024, all registered dietitian examination candidates must have at least a master's degree. 
There is one ACEND-accredited program in Oregon as of Oct. 2022:
Bachelor of Science in Nutrition – Dietetics Option- Oregon State University, Corvallis – this is a Didactic Program in Dietetics (DPD), meaning that it offers coursework only, and you must pursue a Dietetic Internship on your own after completing the DPD
The state offers two ACEND-accredited Dietetic Internships:
Oregon State University- offers a stand-alone DI as well as a combined Master of Science in Nutrition-Professional Dietetics with a DI incorporated into the program
Oregon Health & Science University – offers a DI with a Master of Science in Nutrition and Dietetics, as well as a DI with a Graduate Certificate
Dietitian Exam in Oregon 
A representative from your college program will give you the Registration Examination for Dietitians Handbook for Candidates at the conclusion of your dietetic education and experience programs. This manual is helpful in teaching you how to prepare yourself for the CDR's Registration Exam for Dietitians. Pearson VUE handles the registration for the exam and accepts the $200 payment. You may take the exam in any Pearson VUE center. In Oregon, these may be found in Salem, Medford, Portland, and Beaverton. When you finish the test, your score will display on screen. The CDR will send you your dietetic registration card within a few weeks if you pass the test.
Dietitian License in Oregon
Passing the CDR examination means that you are ready to apply for dietitian licensure in Oregon. Complete the Dietitian License Application, submitting the application and licensure fees totaling $110 and additional documentation as required. Send this to Oregon Health Authority Health Licensing Office, Board of Licensed Dietitians, 1430 Tandem Avenue NE, Ste. 180, Salem, Oregon 97301-2192. For more information about the application process, contact the Board at (503) 378-8667 or [email protected]. 
After licensure, you must log 15 credits of continuing education annually in order to keep your license active. You must also renew your license annually and pay applicable renewal fees ($60 as of Oct. 2022).
Dietitian Salaries in Oregon
Oregon's dietitians make an hourly median wage of $35.90 and an annual median wage of $74,660 circa May 2021, according to the Bureau of Labor Statistics (BLS). Dieticians practicing in various parts of the state earn wages that may be greater or lesser than this average. As an example, dietitians in Portland/Vancouver/Hillsboro earn an hourly median wage of $36.98 and an annual median wage of $76,920. Those in the Salem area make $36.83 per hour and $76,600 per year. Those working in the coastal nonmetropolitan area make $35.76 hourly and $74,730 yearly. Dietitians in Medford earn $34.19 per hour and $71,120 per year. Finally, dietitians working in the Eugene metropolitan area make an hourly median wage of $28.23 and a yearly median wage of $58,730.
Dietitian Jobs in Oregon
A better way to learn what real registered, licensed dietitians are earning in Oregon is to examine the classified ads. As of October 2022, the following jobs for registered, licensed dietitians were advertised in Oregon as being available:
Nutrition Interventionist – University of Oregon, Portland

$51,900 to $65,700 yearly
Must be a Registered Dietician and a Licensed Dietician in Oregon
Must have experience working with adolescents, interacting with families, and providing dietary feedback to adolescents and parents

Lead Health Coach – Moda Health, Portland

$66,600 to $84,400 yearly
Must be a Registered Dietician and a Licensed Dietician in Oregon
Must have four years' experience

Sports Dietician – University of Oregon, Eugene

$60,600 to $76,800 yearly
Must be a Registered Dietician and a Licensed Dietician in Oregon
Must have at least a bachelor's degree in dietetics and nutrition or a related field
Must have one year of experience in providing performance nutrition support to athletes

Registered Dietitian – Willamette Valley Medical Center, LLC, McMinnville

$74,700 to $94,700 yearly
Must be a Registered Dietician and a Licensed Dietician in Oregon
Must have at least a bachelor's degree
Certified Diabetes Educator preferred
Two years of experience as a clinical dietitian in acute care preferred

Dietitian – Adelphi Medical Staffing, Coos Bay

$66,300 to $83,900 yearly
Must be a Registered Dietician and a Licensed Dietician in Oregon
Must have a bachelor's degree in food and nutrition or dietetics
Must have a current driver's license
Must have or be able to obtain Oregon Food Handler, Food Manager Certification, or ServSafe Certification within 30 days of hire
One year of experience in clinical or community nutrition preferred