Colorado does not regulate nor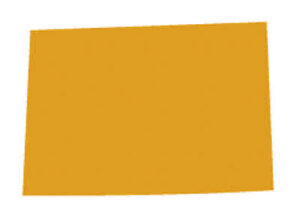 license nutritionists who wish to work in the state. While there is no law that limits who can practice nutrition, there is a statute stating that one may not claim to be a dietitian or use those abbreviations unless they have met educational and credentialing requirements. 
Colorado is the least obese state in the nation and its residents have some of the best health and wellness statistics of all Americans. Many Coloradans believe that this is largely due to the beautiful outdoor environment encouraging physical activity. It could also be due to the vast number of farmer's markets, local produce and encouragement of farm-to-table practices in the state. 
There are still opportunities for those who wish to become nutritionists in Colorado, however, to work with persons who may be nutritionally challenged in various ways and for various reasons. We will discuss ways to become a nutritionist in Colorado and advantages to working in the state. If you would like to learn more about becoming a nutritionist in Colorado, keep reading. 
Education for Nutritionists in Colorado
Education is not mandated for nutritionists in Colorado, as there is no licensing agency or organization that regulates nutritional practice. Although it is possible to become a nutritionist with just a high school diploma and completion of some online classes, most nutritionists have at least a bachelor's degree in nutrition and foods.  Types of undergraduate degrees available in Colorado include:
Associate of Applied Science in Food, Nutrition, and Wellness- Community College of Denver, Denver
Bachelor of Science in Nutrition – University of Northern Colorado, Greeley
Bachelor of Science in Nutritional Science – Western Colorado University, Gunnison
Bachelor of Science in Nutrition and Food Science – Colorado State University, Fort Collins
Alternative degrees are available both online and in the classroom for nutritionists who wish to specialize in certain areas of nutrition. Some of the most popular degrees and certifications among Colorado nutritionists include, but are not limited to:
Nutrition Therapist Master Certification – Nutrition Therapy Institute, Arvada
Certificate of Nutrition – Colorado School of Clinical Herbalism, Lafayette
Master of Science in Functional Nutrition – Parker University, online
Holistic Nutrition and Approaches to Wellness Diploma – Auguste Escoffier School of Culinary Arts, Boulder
When it comes to education for nutritionists in Colorado, the sky's the limit. You should have some type of education if you wish to practice as a nutritionist in the state, but as it is not mandated, you can feel free to sculpt your nutrition education to fit your interests and intended client base. 
Certifications for Nutritionists in Colorado
Again, as nutritionists in Colorado are not regulated, certification is not required in order to practice nutrition. However, many clients will be more responsive to a nutritionist who has credentials behind their name than to one who does not. Some commonly seen certifications for nutritionists who practice in Colorado include:
Certified Nutritional Therapy Practitioner (NTP) – of the Nutritional Therapy Association: requires completing online studies and passing an assessment
Board Certified in Holistic Nutrition (BCHN)– of the National Association of Nutrition Professionals: requires education in holistic nutrition and passing an examination
Ideal Protein Coach – of Ideal Protein: requires completing coursework and passing an examination
Colorado School Nutrition Specialist (SNS)-of the Colorado Department of Education: requires an associate degree and work experience in school nutrition, plus passing an examination
National Board Certified Health & Wellness Coach (NBC-HWC)- of the National Board for Health & Wellness Coaching: requires completing approved health and wellness training and passing a board certification exam
Jobs for Nutritionists in Colorado
You could opt to start your own private nutrition practice in Colorado, as long as you do not call yourself a "dietitian," or you could find a job as a nutritionist through the classified ads. Some examples of openings for nutritionists in Colorado as of July 2022 include:
WIC Nutritionist, Valley-Wide Health Systems, Alamosa, CO

Salary: $16.50 to $21.25/hour
Requires bachelor's degree in nutrition or related field 
Requires prior experience in public speaking or classroom teaching

Nutrition Programs Senior Consultant, State of Colorado, Denver, CO

Salary: $59,002 to $68,000/year
Requires bachelor's degree in nutrition or related field 
Requires three years of related work experience
School Nutrition Specialist (SNS) certification preferred

Wellness Coach and Trainer, Mental Health Partners, Broomfield, CO

Salary: $42,328 to $52,921/year
Requires bachelor's degree in nutrition, psychology or related field
Requires health coaching certification
Requires two years of health coaching experience 

Nutrition and Wellness Coach, PHD Weight Loss, LLC, Durango, CO

Salary: $23/hour
Requires bachelor's degree
Requires one year of health coaching experience 

Nutrition Technician, Acute Center for Eating Disorders, Denver Health, Denver, CO

Salary: $18.70/hour
Requires associate or bachelor's degree in nutrition or related field
Requires one year of experience in hospital/long term care food service 
(Also, take a look at the information on Becoming a Registered Dietitian in Colorado here).