If someone were to tell you that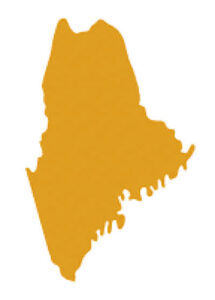 Maine only licenses dietitians, not nutritionists, would you think that nutritionists cannot practice in Maine? You'd be wrong. In June 2019, Maine passed a Complementary and Alternative Health Care Act which provides exemptions for unlicensed practitioners such as nutritionists.  Holistic nutritionists and other nutritionists without a license may work within their scope of practice as long as they do not use the title "dietitian" to describe themselves or what they do. 
(Here is information on a Registered Dietitian in Maine)
So, while licensed nutritionists do not exist in Maine, non-licensed nutritionists can, and do, exist. We will dive into the rules and regulations surrounding unlicensed nutritionists in Maine further in this article. 
What Rules Must Non-Licensed Nutritionists Follow in Maine?
Maine's statutes were revised in 2019 for the purpose of allowing unlicensed practitioners to be able to practice alternative and complementary medicine. Under the law, as long as you do not call yourself a "dietitian," you may practice in Maine. You also may not legally:
Perform surgery, set fractures, or perform any procedure that punctures skin
Administer or provide radiation
Prescribe or administer medication, devices or drugs requiring a prescription from a licensed practitioner
Recommend that prescribed medications or drugs be discontinued
Perform chiropractic adjustments
Portray themselves as or implying that they are a licensed health practitioner
If you are a non-licensed nutritionist in Maine, before you provide any services that you are advertising or charging a fee for, you must disclose in writing to your clients:
The name, business address and telephone number of the person (you) who will be providing alternative/complementary health care services
The fact that you are not a licensed health care professional
The nature of the alternative/complementary health care services you are providing
Any degrees, training, experience, credentials or other qualifications that you have
Additionally, you must receive back from your client a written acknowledgement that they have received these disclosures. 
What Training, Experience or Credentials Should Non-Licensed Nutritionists Have in Maine?
Under the Maine Complementary and Alternative Health Care Act, it notes that you must provide clients with any degrees, credentials, training, and/or experience that you have in nutrition. Because there are no laws or regulations to follow, however, the state does not specify what, if any, training, degrees, experience or credentials you need. This decision is up to you and should be based upon the area of nutrition in which you wish to work. 
Holistic Nutrition
If you wish to work as a holistic nutritionist, for example, you could pursue Holistic Nutritionist Certification through the AFPA (American Fitness Professionals & Associates). This is a 100 percent online program, and can be completed in six months. It is also accredited by the National Association of Nutrition Professionals (NANP).
You could also pursue Nutrition Consultant certification through Bauman College online. This also adds holistic certification in the state of Maine, and once you finish their 15-month program, your credentials are Nutrition Consultant, Board Certified in Holistic Nutrition. 
Sports Nutrition
If you are interested in working in sports nutrition, on the other hand, the American Sports & Fitness Association (ASFA) offers an online Sports Nutrition Certification program. Certifications are available at standard and advanced levels. 
One of the most highly regarded sports nutrition certifications is through the National Academy of Sports Medicine (NASM). If you want to become a Certified Sports Nutrition Coach (NASM-CSNC), you may complete their program entirely online, at your own pace. 
General Nutrition
If you'd rather work with clients of various ages and needs in a one-on-one situation, you could pursue the ISSA (International Sports Sciences Association) and Precision Nutrition's Certified Nutrition Coach program. This online program covers all facets of nutrition coaching. It can be completed within six months.
If a college degree is what you seek, check out the Associate of Science in Nutrition and Dietetics program at Southern Maine Community College. This 64- credit hour program can be completed in four semesters, full-time. Ninety-two percent of the college's graduates find employment in their field within one year of graduation.
The University of New England in Maine offers a Bachelor of Science in Nutrition degree if you want to take your education a step further. It allows students to build their own curriculum and choose courses that interest them. Graduates of the program have become nutrition educators, health coaches, nutrition program managers, nutrition research assistants, and sports nutritionists. 
What Types of Jobs are Available for Non-Licensed Nutritionists in Maine?
Taking a look at job openings in Maine posted in August 2022, the following positions suitable for non-licensed nutritionists are available in Maine:
Food and Nutrition Program Coordinator – Bangor Area Staffing Solutions, Belfast, ME
On-Site Health Coach – HealthFitness, Bath, ME

Salary: $47,600 to $60,200 per year
Bachelor's degree in nutrition or a health-related field required, master's degree preferred
Two years of health coaching experience required
Registered dietitian credentials preferred but not required

Nutrition Counselor II – Western Maine Community, Auburn, ME

Salary: $18.95 to $26.30 per hour
Associate or bachelor's degree in nutritionrequired

Nutrition Manager – Alfond Youth & Community Center, Waterville, ME

Salary: $40,000 to $45,000 per year
Degree in nutrition is preferred
Three years of experience in food distribution, cooking or related required
Teaching experience required

WW Studio Wellness Coach – WW International, Bangor, ME

Salary: $29,300 to $37,100 per year
College degree preferred
Experience in coaching preferred
Experience in retail or customer service preferred