New Jersey enacted a licensure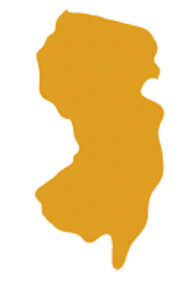 requirement for nutritionists in 2019. Now, there are two categories of nutritionists in the state: licensed and non-licensed. New Jersey has set forth regulations for both categories of nutritionists, stating what you must do to become a licensed nutritionist, what you must do (or must not do) if you work as an unlicensed nutritionist, and clarifying the situation a bit for aspiring nutritionists and other interested professionals. If you would like to discover what education and training you need to work as a nutritionist in New Jersey, either as a licensed or unlicensed one, please read on.
Licensed Nutritionists in New Jersey
In January 2020, the Governor of New Jersey sighed a bill into law that will create a licensure path for Certified Nutrition Specialists (CNS) and other nutritionists who have advanced degrees to become licensed nutritionists in the state.
As of September 2022, the State Board of Dietitians and Nutrition is not yet issuing licenses. The pathway for licensure of nutritionists has been defined, but the licensure requirement has not become part of the law yet. When it does, if you want to be a licensed New Jersey nutritionist, you must meet these criteria:
18 years of age or older
Have excellent moral standing
File a completed licensure application (which is not yet available) with the Board, including any required fees
Send proof to the Board that you have met all of the following requirements:

You have a master or doctorate nutrition degree majoring in one of these areas:

Nutrition and integrative health
Nutritional biochemistry
Nutrition and functional medicine
Nutrition counseling
Applied clinical nutrition
Clinical nutrition
Nutrition science
Nutrition
Nutrition education
Public health nutrition
Community nutrition
Foods and nutrition
Human nutrition

You have completed a minimum of 15 credit hours of life sciences or clinical sciences, with a minimum of three credit hours in human physiology and anatomy 
You have completed a minimum of 15 credit hours of the metabolism and nutrition, with a minimum of six credit hours of biochemistry
You have accomplished a documented, supervised nutritional practice experience in giving services in nutrition care and the provision of medical nutrition therapy lasting a minimum of 1000 hours, including:

200 hours in nutrition intervention, counseling, education or management
200 hours in nutrition assessment
200 hours in nutrition evaluation or monitoring 
Your experience is required to be supervised by a Diplomate of the American Clinical Board of Nutrition, a Certified Nutrition Specialist, a Registered Dietitian Nutritionist, a licensed nutritionist, or a licensed dietitian nutritionist, or a health practitioner licensed by the state whose scope of practice includes providing nutrition care services

You must pass one of the following examinations:
As a side note, meeting the registered dietitian mandates of the Commission on Dietetic Registration (CDR) of the American Dietetic Association will fulfill New Jersey's licensure requirement to be a licensed, registered dietician. You may read more about this process here (Becoming a Registered Dietician in New Jersey).
Even though the licensure requirement is not written into New Jersey law yet, it would be in your best interest, if you intend to become a licensed nutritionist in the state, to pursue a graduate degree in one of the above-mentioned areas, and study for one of the above-mentioned certification examinations. That way, you'll be prepared when the licensure requirement does go into effect.
Non-Licensed Nutritionists in New Jersey
When the Governor of New Jersey signed the bill in January 2020 creating a licensure path for nutritionists, it also created exemptions that allow other nutrition practitioners to work as unlicensed nutritionists. Under the law, unlicensed nutritionists may:
Provide individualized nutritional counseling and recommendations that do not target a medical condition
Provide nutrition information, guidance, and encouragement that does not constitute medical nutrition therapy/does not target a medical condition
Provide behavior change management, coaching, assessments, or other nutrition care services that do not constitute medical nutrition therapy/does not target a medical condition
Provide medical weight control services as long as the program has been approved in writing by a licensed dietician or licensed nutritionist in the state
Additionally, a person who is a nutritionist employed by the federal government, Armed Forces, or state institution or facility does not need a license to perform their official nutritional duties. A New Jersey unlicensed nutritionist may not hold themselves out as a licensed nutritionist or as a provider of medical nutrition therapy.
As of September 2022, of course, all New Jersey nutritionists are unlicensed, since the licensure procedures have not been set in stone yet. If you do intend to work as a non-licensed New Jersey nutritionist, you should still pursue some type of education in nutrition. Some educational options in the state are:
Bachelor of Science in Nutritional Sciences, Community Nutrition – Rutgers University
Bachelor of Science in Nutritional Science, Food Service Administration- Rutgers University
Associate in Science in Nutrition – Rowan College of South Jersey 
Certificate in Food Nutrition and Health – New Jersey City University (online)
Nutritionist Jobs in New Jersey
You might wonder, since the licensure requirement has not yet been fully enacted, what types of jobs are being posted for New Jersey nutritionists? The following jobs were advertised as available circa September 2022: 
Nutritionist – Unilever, Englewood Cliffs
Nutritionist III – Rutgers University, Newark
Centercourt Sports Nutritionist – Centercourt Sports, New Jersey

Salary: $51,800 – $65,600/year
College degree in nutrition preferred
Experience preferred

Nutritionist with Management Skills – Miller's of Wyckoff, Wyckoff

Salary: $57,500 – $72,700/year
College degree in nutrition required
Supervisory experience required
Customer service experience required
Retail experience preferred 

Wellness Coach – Wellness Coaches, Red Bank