Although New Mexico requires a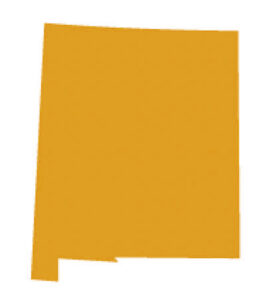 license for licensed nutritionists to work, it also has a provision for non-licensed nutritionists to practice. Called the Unlicensed Health Care Practice Act, this law provides exemptions for non-licensed nutritionists, alternative and complementary health care practitioners to practice in New Mexico. So, you have a choice if you want to be a nutritionist in New Mexico – follow their procedures to become a licensed nutritionist, or work as a non-licensed nutritionist. We will explore both options here. 
Becoming a Licensed Nutritionist in New Mexico
The State of New Mexico Board of Nutrition and Dietetics Practice Act specifies, very clearly, what you must do in order to become a licensed nutritionist. 
Education for Licensed Nutritionists in New Mexico
If you want to obtain a nutritionist license in New Mexico, you must have a graduate degree in a field such as:
Public health nutrition
Foods and nutrition
Nutrition education
Human nutrition
Alternatively, in lieu of having one of the above-mentioned degrees, if you are a member of the American Clinical Board of Nutrition (ACBN) or the American Society for Nutrition (ASN), the Board will consider the education requirement fulfilled.  
Examination for Licensed Nutritionists in New Mexico
New Mexico's law also states that you must pass an entry-level nutrition practice and nutrition care services examination which has been received Board approval. Part 5 of the Act spells out which examinations the Board will accept. For nutritionists, the only examination approved for licensure is the Registered Dietitian Examination of the Commission on Dietetic Registration (CDR). For more information about this examination and the process of taking it, please see Becoming a Registered Dietitian in New Mexico. 
Things That Could Prevent You from Becoming a Licensed Nutritionist in New Mexico 
The Nutrition and Dietetics Practice Act also names some things that could prevent you from being able to become a licensed nutritionist in New Mexico. They include:
Having been declared mentally incompetent by an authority
Being convicted of one of the following crimes:

Homicide or manslaughter
Manufacturing, trafficking, or distributing controlled substance, 
Driving while under the influence of drugs or intoxicating liquor        
Kidnapping, false imprisonment, simple assault, simple battery, aggravated assault or aggravated battery or domestic violence offenses
Rape, criminal sexual penetration, criminal sexual contact, incest, indecent exposure, or other related felony sexual offenses
Crimes involving adult/elder abuse, neglect, endangerment or financial exploitation
Crimes involving child abuse or neglect, child endangerment  
Crimes involving robbery, larceny, extortion, burglary, tampering with evidence or receiving stolen property
Crimes involving fraud (including but not limited to insurance, Medicare, Medicaid and prescription), forgery, embezzlement, credit card fraud or misappropriation of funds 
Committing any other offense which, if committed in New Mexico, would be considered a felony under federal or state law

The Board notes in the law that it may not disclose any of the following when you are applying for a license:

Any arrest not followed by a valid conviction
Any conviction that has been sealed, expunged or dismissed
A juvenile adjudication
A conviction for any crime except the felonies listed above
Getting a Nutritionist License in New Mexico
If you have met all of the above requirements, you are ready to apply for nutritionist licensure in New Mexico. Complete the Nutrition and Dietetics Practice Board Licensure Application. Along with your completed application, you must submit official transcripts of your graduate degree in nutrition (these should be mailed straight from your school to the Board) or proof of your membership in the ACBN or ASN. You must also submit an application fee of $50. Mail everything to:
New Mexico Regulation and Licensing Department
Boards and Commissions Division
Nutrition and Dietetic Practice Board
Toney Anaya Building
2550 Cerrillos Road
Santa Fe, NM 87505
Once the Board has reviewed your application, it will notify CDR that you are eligible to take the next Registration Examination for Dietitians and you will receive information on that from CDR. You will also be asked to pay a licensure fee of $150 at that time.
Your nutritionist license must be renewed annually. You must complete a minimum of 15 clock hours of continuing education each renewal period, or meet the CDR's requirements for RD continuing education.
If you have any questions about the licensure process, contact the Board at (505) 476-4622 or [email protected] .
Becoming a Non-Licensed Nutritionist in New Mexico
Passed in 2009, the Unlicensed Health Care Practice Act allows for non-licensed nutritionists to practice in New Mexico. A complementary or alternative health care practitioner who is not licensed may practice under this law. It includes the following complementary and alternative healing methods and treatments:
Anthroposphy
Aromatherapy
Ayurveda
Culturally traditional healing practices
Detoxification practices and therapies
Energetic healing
Folk practices
Gerson and colostrum therapy
Healing practices using food, dietary supplements, nutrients and the physical forces of heat, water, cold, light and touch
Healing touch
Herbology
Homeopathy
Meditation
Mind-body healing practices
Naturopathy
Nondiagnostic iridology
Noninvasive instrumentalities
Polarity therapy
Holistic kinesiology and other muscle testing techniques
If you are planning to work as a non-licensed nutritionist in New Mexico, you must disclose an informational document to your patient stating the following before any treatment:
Your name, title, business address and telephone number
A statement that you are not a health care practitioner licensed in New Mexico
A statement that the treatment you will provide is complementary or alternative to health care services provided by licensed practitioners
The nature and expected results of your treatment/services that you will provide
Your degrees, education, training, experience and other qualifications
Your fees and method of billing
A notice that the patient has the right to complete, current information concerning your assessment and recommended services that are to be provided, including duration of the services and the patient's right to receive written records
A statement that the patient's records are confidential and may not be released unless authorized in writing by the patient
A statement that the patient has a right to coordinated transfer if a change in non-licensed nutritionist occurs
The name, address and telephone number of a department where a patient may file complaints
Additionally, you must obtain a written acknowledgement from the patient stating that the patient has received the above information in writing. This acknowledgement is valid for three years. 
You will need some type of education and training if you want to work as a non-licensed nutritionist in New Mexico, but what you decide upon is completely up to you. You could choose a Bachelor of Science in Nutrition at New Mexico State University, an Associate of Science in Nutrition at Central New Mexico Community College, or something else. As long as your degree or certificate is related to nutrition, or you study and obtain a certification as a nutritionist online, you will have some training and education to list in the statement you give to your patients.
The following are some resources designed specifically with complementary and alternative health care practitioners in mind, that might help you to plan your education, training and/or certification pathway:
Jobs for Non-Licensed Nutritionists in New Mexico
Jobs for licensed nutritionists and registered dietitians are easy to find in New Mexico. What about jobs for unlicensed nutritionists? They might be a bit tricker to find, but these jobs for nutritionists that do not require a license were posted as of September 2022:
WIC Nutritionist – State of New Mexico, Alamogordo, NM

Salary: $49,668 to $79,479 annually
Bachelor's degree necessary
Two years of experience necessary
Driver's license necessary

Coordinator, Food Service – Central Consolidated School District, Shiprock, NM

Salary: $94,000 to $103,000 annually
Bachelor's degree preferred
One year of food service management experience necessary
Level III School Nutrition Association certification preferred
Driver's license preferred

Nutrition Educator – New Mexico State University, Albuquerque, NM

Salary: $15 hourly
High school diploma or GED necessary
Two years of related experience necessary

Health and Wellness Coach – New Mexico Highlands University, Las Vegas, NM

Salary: $45,510 annually
Bachelor's degree necessary, master's degree preferred
One year of experience working in a college/university setting necessary

Nutritionist, A- First Choice Community Health Care Inc., Albuquerque, NM

Salary: $52,700 to $66,700 annually
Bachelor's degree necessary
Bilingual (Spanish) preferred