North Carolina's governor signed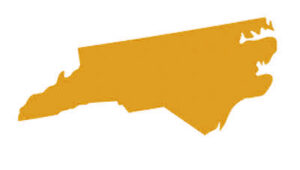 a new law, H.B. 357, in June 2018 that establishes an exemption allowing unlicensed nutritionists to offer nutrition advice. This law effectively creates two categories of nutritionists in the state – licensed nutritionists and unlicensed nutritionists. Before this law was signed, only licensed nutritionists could provide medical advice. We will examine how you can train to be a licensed nutritionist and how you can become an unlicensed nutritionist in the Tar Heel State. 
How to Become a North Carolina Licensed Nutritionist 
The State of North Carolina Dietetics/Nutrition Practice Act spells out exactly what criteria you must meet to be a licensed nutritionist. Chapter 90-357.5, (c) states the education, experience and examination requirements necessary for the licensure of nutritionists.
Education Regulations for North Carolina Licensed Nutritionists 
A master's or doctorate degree with a major in a below area is required if you want to apply for North Carolina nutritionist licensure:
Applied clinical nutrition
Clinical health care
Clinical nutrition
Community nutrition
Dietetics
Foods and nutrition
Human nutrition
Nutrition
Nutrition & functional medicine
Nutrition & integrative health
Nutrition counseling
Nutrition education
Nutrition science
Nutritional biochemistry
Public health nutrition
Regardless of the major that you choose, your coursework must include the following: 
15 credit hours of life or clinical sciences, with a minimum of 3 credit hours in human physiology and anatomy. The remainder must include courses such as:

Applied statistics
Biology
Biostatistics
Biotechnology
Biotransformation pathways and imbalances
Botany
Chemistry
Energy production
Epidemiology
Experimental science
Genetics
Genomics
Hormone and transmitter regulations and imbalance
Immunotherapy
Molecular biology
Molecular pathways
Neuroscience
Organic chemistry
Oxidative/reductive dynamics
Pathology
Pathophysiologic basis of disease
Pharmacology
Research methods
Toxicology

15 credit hours of metabolism and nutrition, with a minimum of 6 credit hours in biochemistry. The remainder must include courses such as:

Clinical nutrition
Developmental nutrition
Functional medicine nutrition 
Human nutrition 
Macronutrients 
Micronutrients 
Molecular metabolism 
Nutrition and digestive health 
Nutrition assessment 
Nutritional aspects of disease
Nutritional biochemistry 
Public health nutrition
Vitamins and minerals 
Experience Regulations for North Carolina Licensed Nutritionists 
Along with education, North Carolina mandates that all licensed nutritionists have completed a minimum of 1000 hours of an internship or documented supervised nutrition practice. This must include:
200 hours of nutrition monitoring
200 hours of nutrition intervention, management, education, counseling
200 hours of nutrition assessment
Your experience is required to be supervised by a licensed nutritionist, a licensed dietitian/nutritionist, a Registered Dietitian Nutritionist, a Diplomate of the American Clinical Board of Nutrition, a Certified Nutrition Specialist, a practitioner of health care who is licensed in NC and whose practice scope includes nutrition or dietetics, or someone who has a doctorate in nutrition or a related field.
Examination Regulations for North Carolina Licensed Nutritionists 
You have a few choices of examinations that you must pass in order to become a North Carolina licensed nutritionist:
Certified Nutrition Specialist of the Board for Certification of Nutrition Specialists
Diplomate of the American Clinical Board of Nutrition
Applying for a North Carolina Nutritionist License 
Once you have fulfilled the criteria above, you may apply for a North Carolina nutritionist license. You will be applying online for Category F: Licensed Nutritionist (LN) Application, and paying a fee of $233. You must provide a completed application, official transcripts, a copy of your photo ID, your supervised practice experience form and report from your supervisor, and a coursework worksheet (all documents can be found at the North Carolina Board of Dietetics/Nutrition website). After you are licensed, your license will be valid for one year, renewing on March 31 each year at a cost of $75.
How to Become a North Carolina Non-Licensed Nutritionist 
The exemption for unlicensed providing of nutrition advice that Governor Roy Cooper signed into North Carolina law in 2018 opened the doorway for holistic nutritionists, without a license, to provide services to residents. The law states that you do not need to be licensed if you do any of the following, as long as you do not hold yourself out as a licensed nutritionist:
Provide nutrition information
Provide nutrition guidance
Provide nutritional encouragement
Provide individual nutrition recommendations
Provide weight control services that do not constitute medical nutrition therapy
What you may not do as an unlicensed nutritionist is provide medical nutrition therapy. This means you cannot provide nutrition care services for the purpose of managing or treating a medical condition. If you are working with a client who has a previously diagnosed medical condition, you must make it clear to them that you are not providing medical nutrition therapy, nor will you attempt to diagnose, treat or cure any diseases. 
Unlicensed nutritionists may also provide teletherapy, but may not order lab tests. You may not call yourself a nutritionist at all, even if you are certified as one. For example, if you are board-certified by the National Association of Nutrition Professionals, you cannot say you are a NANP Certified Holistic Nutritionist. You can say that you are NANP Certified in Holistic Nutrition. The title "nutritionist" is restricted to those who are licensed. 
NANP is just one of the certifications you may seek as a non-licensed nutritionist. Others, most of which can be obtained through online study, include:
American Fitness Professionals Association Holistic Nutritionist
American College of Healthcare Sciences Holistic Nutrition Certificate
Nutritional Therapy Association Nutritional Therapy Practitioner Certificate
Institute for Integrative Nutrition Integrative Nutrition Health Coach Certificate
Employment Opportunities for North Carolina Non-Licensed Nutritionists 
There are many job opportunities for non-licensed nutritionists in North Carolina, under the new exemption. You may work on a freelance basis, or open your own business to offer services. Or, you may pursue a job such as:
Certified Health Coach – UpLevel HR Solutions, Raleigh

Salary: $42,300-$53,500/year
Must have a bachelor's degree
Must be a Certified Health Coach (NBC-HWC)
Experience in weight management preferred

Public Health Educator I – Davidson County, Lexington

Salary: $34,700-$43,900/year
Must have a bachelor's degree
Must have a valid NC driver's license

Public Health Education Specialist – Johnson County, NC, Smithfield

Salary: $45,302-77,013/year
Must have a bachelor's degree
Must have one to two years of experience in public health education

WIC Nutritionist I – Guilford County Government, High Point

Salary: $36,270-42,618/year
Must have a bachelor's degree in nutrition/related field

School Nutrition Manager – Lexington City Schools, Lexington

Salary: $29,100 – $36,900/year
Must have a high school diploma
Must have two years' food service experience and two years' managerial experience
Also here is some useful information on Becoming a Registered Dietitian in North Carolina.