If you want to practice nutrition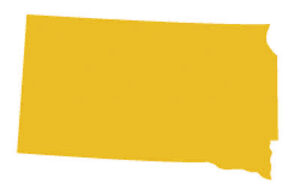 in the state of South Dakota, you must have a license. There are certain things that you can legally do without a license, but many things that cannot be done by non-licensed practitioners. In this article, we will delve into the differences between licensed and unlicensed nutritionists in the state of South Dakota and describe how you may become either an unlicensed or a licensed nutritionist there.
You Must Have a Nutrition License in South Dakota In Order To….
If you wish to practice certain nutrition and dietetics services in South Dakota, a license is necessary. The following instances require a nutrition license in South Dakota:
If you wish to call yourself a licensed nutritionist or licensed dietitian, or refer to yourself as a nutritionist or a dietitian, you need a license
If you wish to offer nutrition care services including any of the following, you need a license:

Assessing nutritional needs of individuals or groups
Establishing priorities, goals and objectives to meet nutritional needs
Offering nutritional counseling for normal needs and therapeutic needs
Developing, implementing and managing nutrition care services
Evaluating, adjusting and maintaining appropriate standards of quality nutrition care
You Do Not Need a Nutrition License in South Dakota To…
If you do not have a South Dakota nutritionist license, you may still do many things, under exemptions in the law. For example, you may do the following without a license:
Provide a general program for weight control if it is reviewed by a licensed or registered dietitian
Market or distribute food, materials relating to food, or food supplements and detail how they are used or prepared
Practice nutrition under the supervision of a licensed dietitian or licensed nutritionist
Serve as a dietitian in the Armed Forces, the Public Health Service of the U.S., or Veterans Affairs
Provide information and advice related to nutrition if you are a nutrition educator working for a federal, state, county or municipal agency; another political subdivision; elementary or secondary school; accredited degree-granting institution; or nonprofit agency
Advise patients on nutrition practices if you are a licensed health care provider and the advice is related to your practice
Requirements for Licensed South Dakota Nutritionists 
If you aspire to be a licensed South Dakota nutritionist, the law states that you must complete a master's or doctoral degree in foods and nutrition, human nutrition, community nutrition, public health nutrition, nutrition education, or clinical nutrition, and successfully pass a comprehensive nutrition competence examination approved by the state. The law does not specify which examination, but most likely it is the Board for Certification of Nutrition Specialists' Certified Nutrition Specialist exam. After completing these steps, you must email [email protected] including your full legal name and the type of licensure you wish to apply for to get information on how to apply for a nutritionist license. 
Requirements for Non-Licensed South Dakota Nutritionists 
Non-licensed nutritionists, who may not refer to themselves as nutritionists by law, need fulfill no requirements, as they are not regulated. Still, you should obtain nutrition education of some sort. A few examples of nutrition school options in South Dakota are: 
Bachelor of Science in Nutrition and Dietetics – South Dakota State University
Master of Science in Nutrition and Dietetics – South Dakota State University
Nutrition Consultant degree – Baumann College, online
Certifications for Non-Licensed Nutritionists in South Dakota 
If you want to be an unlicensed nutrition practitioner in South Dakota (because you cannot legally call yourself a nutritionist), you might opt to seek professional certification, although this is not mandatory either. There are some valuable certifications for holistic nutrition practitioners and other unlicensed nutrition practitioners in South Dakota, such as:
Employment for Non-Licensed South Dakota Nutrition Practitioners 
Unlicensed nutrition practitioners in South Dakota should not have difficulty in finding employment, if the online classified ads are any indication. The following jobs were posted as available as of October 2022:
Nutritional Health Coach – Natural Grocers, Sioux Falls

Salary: $21 per hour
Need to have a minimum of a bachelor's degree
Must have excellent public speaking skills
Professional certification is preferred but not required

Family & Community Health Educator –South Dakota Board of Regents

Salary: $18.73 to $23.41 per hour
Must have knowledge of nutrition programs, nutrition needs, food safety, and basic methodologies and teaching practices for youth, families and adults
Must have a valid driver's license

Child Nutrition Manager – Washington High School, Sioux Falls School District, Sioux Falls

Salary: $31,400 to $39,800 per year
Must have a high school diploma or equivalent
Must have one to three years of nutrition management experience

Food Service Director – Aberdeen Public School District, Aberdeen

Salary: $50,000 to $60,000 per year
Need a bachelor's degree in nutrition and food, culinary arts, business or a related field
Must have a valid driver's license
Previous experience in commercial or school food service industry preferred

Nutrition Youth Program Supervisor – Boys & Girls Club of the Northern Plains, Inc., Brookings

Salary: $31,000 to $39,200 per year
Must have experience working with youth of all ages and in behavioral management
Must be able to sit and stand for long periods of time during a shift
Also, here is some useful information on Becoming a Registered Dietitian in South Dakota.