In its report, the State of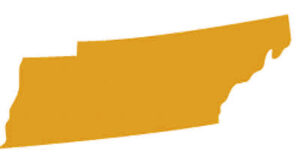 Childhood Obesity, the Robert Wood Johnson Foundation notes that 20.8 percent of Tennessee's youth ages 10 to 17 are obese. This ranks Tennessee sixth among the 50 states and DC in terms of prevalence of childhood obesity. Among high school students, 20.9 percent are obese, giving Tennessee a ranking of fourth among all states and DC. 
Food insecurity fuels much of the obesity epidemic nationwide, and the picture is no different in Tennessee. Among Tennessee households with children, 24 percent experience food insecurity, which means that they have limited or uncertain access to nutritious foods necessary to lead a healthy lifestyle. Food insecurity has been associated with a higher rate of diabetes, decreased performance in school and cognitive development among children, and increased risk of hospitalization among children. 
Dietitians and nutritionists can help to educate Tennesseans about healthy foods and the importance of a nutritious diet. The Tennessee Board of Dietitians/Nutritionist Examiners licensed dietitians to work in Tennessee. Technically, in Tennessee licensed nutritionists are the same as licensed dietitians, as they are termed "dietitian/nutritionists" This means that becoming a licensed nutritionist in Tennessee entails following the steps to become a registered dietitian in Tennessee (Becoming a Registered Dietitian in Tennessee). 
In Tennessee, a licensed nutritionist is really a licensed dietitian. You might wonder, does this indicate that non-licensed nutritionists cannot work in Tennessee? It depends what you mean by "practice." Unlicensed nutritionists may practice non-medical nutrition and educate others about nutrition. In this article, we will examine the differences between licensed and non-licensed nutritionists in Tennessee and how you can train to be either one of them. 
A Licensed Nutritionist is a Licensed Dietitian/Nutritionist in Tennessee
If you want to become a licensed Tennessee nutritionist, you must become a licensed dietitian/nutritionist. This involves meeting the mandates of the Commission on Dietetic Registration (CDR): attaining a degree (bachelor's as of this writing, changing to a master's by Jan. 1, 2024), logging 1000 hours of supervised experience, and passing the Registration Examination for Dietitians. 
Then you must apply online for dietitian/nutritionist licensure in Tennessee. You will be instructed on how to pay fees online and to submit any requested documentation.
For more information, see this article, which further delineates the process involved in becoming a registered, licensed dietitian in Tennessee.
Unlicensed Nutritionists in Tennessee
Even though Tennessee law requires a license to be a dietitian/nutritionist, there are some nutritional services that may be provided without a license. Let's get out of the way what you cannot do without a license first:
You cannot advertise that you provide nutrition care services that are outlined in the Rules of the Board of Dietitian/Nutritionist Examiners
You cannot call yourself a nutritionist or dietitian or a dietitian/nutritionist, licensed dietitian, licensed nutritionist, or LDN, LN or LD
Non-medical nutrition is defined as nutrition that involves practice not constituting the practice of medicine, osteopathy, chiropractic, dentistry or podiatry. Unlicensed nutritionists in Tennessee may provide services and information related to non- medical nutrition under the following circumstances:
You are a nutritional educator employed by a federal, state, county or municipal agency; another political subdivision; a program helping to prevent disease and maintain good nutritional health; an elementary or secondary school; or an accredited degree-granting institution
You work for or run a health, fitness or weight loss program
You work for or run a health food store
You work for or run a business selling health products, dietary supplements, or nutritional literature or that provides nonmedical nutritional information
You conduct classes or provide information related to nonmedical nutrition
You are employed by a hospital or nursing home and subject to licensure by the Tennessee Board for Licensing Health Care Facilities
You are a dietitian serving in the Armed Forces, the Public Health service of the U.S., or Veterans Affairs, and the nonmedical nutrition services and information is related to that employment or service
You are licensed to practice in another health profession and practicing nutrition and dietetics is incidental to the practice of that profession
Education and Certification for Unlicensed Nutritionists in Tennessee
Since you have no regulations to go by and no mandates to fulfill as an unlicensed nutritionist, the sky is the limit when it comes to education and certification options. You should have some education in nutrition, but whether that is a certificate or degree is up to you. You might also seek professional certification, but again, this is dependent upon the job you will be seeking and is also optional. 
Some examples of nutrition education you might pursue in Tennessee include:
Bachelor of Science in Nutrition and Dietetics – University of Tennessee Knoxville
Master of Science in Clinical Nutrition and Dietetics – University of Tennessee Knoxville
Associate of Science in Nutrition and Food Science – Nashville State Community College
Graduate Certificate in Sport Nutrition – East Tennessee State University
Potential professional certifications that unlicensed nutritionists in Tennessee might seek include:
Precision Nutrition – Level 1 Nutrition Coach Certificate, five-month online program, costs between $100 and $200
eCornell Plant Based Nutrition Certificate – 6-week online program $1260
Institute for Integrative Nutrition Health Coach Trainer Certificate – 6-month to one year online program, $7000
National Academy of Sports Medicine Certified Sports Nutrition Coach Certificate – 4 weeks to one year online program, $900
Employment Opportunities for Tennessee's Unlicensed Nutritionists
There is a multitude of job opportunities for nutrition practitioners in Tennessee who are not licensed, as evidenced by a quick scan of the online classified ads (circa Oct. 2022):
Nutrition Educator – Sullivan County Regional Health Dept., Kingsport

Salary: $17.97 an hour
Need a minimum of a bachelor's degree in nutritional sciences, community nutrition, clinical nutrition, home economics/nutrition, or public health nutrition
Coursework completed must include 9 credits of human nutrition, 4 credits of human anatomy/physiology, and 4 credits of education, psychology or counseling

Health Coach – Ballad Health, Johnson City

Salary: $58,500 to $74,100 a year
Need a bachelor's degree, or an associate's degree with three years of work experience 

Nutritionist – Shelby County Government, Memphis

Salary: $3624 a month
Need a bachelor's degree in dietetics, health promotion, human performance or a related field
Need three years of experience in nutritional counseling
Need a valid Tennessee driver's license

Nutrition Coordinator – TurningPoint, Chattanooga

Salary: $43,160 a year
Need a bachelor's degree in nutrition or closely related field; if closely related field, need at least 12 credits in nutrition
Need a valid Tennessee driver's license

Nutrition Advocate – Tennessee Justice Center, Nashville

Salary: $40,170 a year
Bachelor's degree in nutrition or related area preferred
Knowledge about policy issues involving food and nutrition preferred
Two years of experience in working with non-profit organization preferred
Experience working with individuals and families preferred