A study by the Robert Wood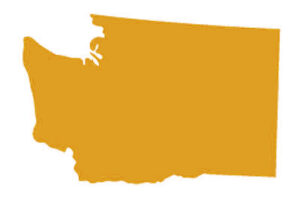 Johnson Foundation reported that as of 2018, Washington state's children ages 10-17 have the fifth lowest obesity rate in the nation, and the 13th lowest adult obesity rate in the nation. The study did note disparities by race and ethnicity, with black youth obesity rates at 22.2 percent and Hispanic youth obesity rates at 19.0 percent (compared to white youth obesity rates of 11.8 percent and Asian youth obesity rates of 7.3 percent). In families making less than the federal poverty level, obesity among youth is 21.9 percent. 
Nutritionists are one of the health care professionals who may work with Washington's youth and adults to help them to make better choices and live healthier lifestyles. Washington State requires that those who wish to call themselves nutritionists obtain state certification. Furthermore, the state also protects the title "certified nutritionist" as well as the initials "C.N.," restricting their usage to those nutritionists who have been certified by the state. However, this does not mean that you must be certified in Washington in order to practice nutrition. You must be certified if you are going to call yourself a certified nutritionist, C.N., or nutritionist. If you simply plan to provide nutrition care services without the title, you may practice as a non-certified nutritionist in Washington. Here, we will discuss how you may become either type of nutritionist in Washington state: certified or uncertified.
Education Necessary for Washington Certified Nutritionists
The Washington State Legislature has mandated education for those who wish to become certified nutritionists. They have stated that all nutritionists must include coursework at the college level within these subject matter areas:
Science, including physiology and biochemistry
Foods, including their selection, composition, and food science
Nutritional science
Applied nutrition, including diet therapy, nutrition over the life cycle, cultural/anthropological nutrition, and public health nutrition
Counseling and education, including psychological counseling, educational psychology, communication, psychology and education
Washington state law also specifies that all applicants for nutritionist certification either have registered, certified dietitian credentials (see Becoming a Registered Dietitian in Washington for more information on this process) or possess a master's or doctoral degree in one of these subject matter areas:
Public health nutrition
Foods and nutrition
Nutrition education
Human nutrition
Certification Process for Washington Certified Nutritionists
If you possess the necessary credentials as listed above, you may apply online or via paper application for certification as a nutritionist in Washington. Be sure to have official transcripts from all schools you attended sent directly to the state department of health. You must also enclose the application fee of $81 and answer all personal data questions on the application. You must undergo a background check and will be formally notified if any problems exist with your application. Mail everything to Department of Health, P.O. Box 1099, Olympia, WA 98507-1099. If you have questions about the application process, contact the Health Systems Quality Assurance Call Center at (320) 236-4700.
Becoming an Uncertified Nutritionist in Washington State
If you do not have the necessary education to become a certified nutritionist in Wahington, you may work as an uncertified nutritionist. Just make sure not to refer to yourself as a nutritionist, certified nutritionist, or with the initials "C.N." You should also obtain education, and possibly professional certification, in order to make yourself more employable. Some educational pathways that many uncertified nutritionists pursue in Washington state include (but are not limited to):
Associate of Arts in Nutrition Science – South Seattle College, Seattle
Bachelor of Arts in Food Systems, Nutrition and Health – University of Washington, Seattle
Bachelor of Science in Nutrition and Exercise Physiology – Washington State University, Spokane
Master of Science in Integrative Nutrition – Bastyr University, online
Professional certifications that can benefit non-certified nutritionists in Washington include (but, again, are not limited to):
Nutritional Therapy Practitioner (NTP) or Functional Nutritional Therapy Practitioner (FNTP) – Nutritional Therapy Association
Fitness Nutrition Specialist – American Council on Exercise (ACE)
Nutrition Certification – National Personal Trainer Institute (NPTI)
Jobs and Salaries for Nutritionists in Washington
There are many jobs for both certified nutritionists and uncertified nutritionists in Washington. Some recent examples of job openings within both classifications include:
Fat Positive Nutritionist- Have Heart Healing and Wellness, Seattle

Salary: $60/hour
Certified Nutritionist in Washington required
Experience working with queer and trans clients preferred

Health Nutrition Compliance Specialist – Inspire Development Centers, Sunnyside

Salary: $56,000 to $71,000/year
BA in nutrition required
Five years' experience required
Current knowledge of human nutrition and food service programs required
Certified Nutritionist in Washington preferred but not required
Washington driver's license required
Experience with and knowledge of Head Start preferred
English/Spanish bilingual ability preferred

Nutrition Ambassador – Confluence Health, Wenatchee

Salary: $37,000 to $46,800/year
High school diploma/GED required
AA preferred
One year of related work experience in health care or nutrition required
Must be able to obtain a valid Washington Department of Health Food Handler's Permit

Early Care and Education Child Nutrition & Licensing Specialist – Educational Service District 112, Vancouver

Salary: $45,386/year
AA in nutrition required
BA or BS in nutrition preferred
Knowledge of the Child and Adult Care Food Program required
Experience working in preschool or childcare setting preferred
Experience facilitating groups preferred

Manager of Food & Nutrition – Whitman Hospital & Medical Clinics, Colfax

Salary: $39,000 to $49,400/year
AA in nutrition or higher preferred
Five years of related experience required 
Hepatitis A vaccination required 
One year of previous leadership in food service preferred
Must be able to obtain certification from the Association of Nutrition & Foodservice Professionals