"The State of Obesity: Better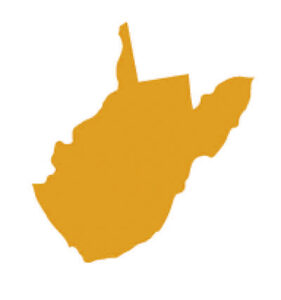 Policies for a Healthier America," an annual report that analyzes obesity rates in every state, reported in 2020 that West Virginia has the second highest adult obesity rate of all the states, at 39.7 percent. (Only Mississippi, at 40.8 percent, is higher). Astonishingly, this rate is still less than the national obesity rate for adults, which is now 42.2 percent. This rate has increased by 26 percent from 2008. 
Public health officials note that high obesity rates are a serious health issue as they are associated with cardiovascular disease and diabetes. The COVID-19 pandemic only increased obesity rates nationwide among all age groups, and ironically, obesity is also a risk factor that could cause a person to develop a more serious COVID-19 case, if infected with the virus.  
Nutritionists are just one category of health care practitioners in West Virginia who are dedicated to improving obesity rates among all age groups. No license is needed in West Virginia if you want to be a nutritionist, but there are other things that you should consider before entering the profession. Read on to learn all about becoming a nutritionist in West Virginia.
Nutritionist Education in West Virginia
West Virginia does not require nutritionists to be licensed, just dietitians. They have instituted no licensure requirements for nutrition professionals to furnish nutrition care services. This does not include medical nutrition therapy, which only licensed dietitians may practice. Nutritionists in West Virginia may also provide nutritional information about food, dietary supplements, and food materials in connection with their distribution and marketing, as long as they do not call themselves dietitians or licensed dietitians. 
Even though there are no regulations to fulfill in West Virginia if you want to be a nutritionist, you should still obtain education in the field. A few of the potential educational routes that aspiring nutritionists may take in West Virginia are:
West Virginia Nutrition Consultant Certificate – Bauman College, online study
Certificate in Food, Nutrition and Health – West Virginia Northern Community College, online study
Associate of Science in Biology leading to Bachelor of Science in Human Nutrition and Food – Westmoreland Community College (PA) & West Virginia University partnership
Bachelor of Science in Human Nutrition and Food – West Virginia University, Morgantown
Bachelor of Science in Health & Human Performance – Wesleyan University, Buckhannon
Master of Science in Dietetics – Marshall University, Huntington
Nutritionist Certification in West Virginia 
Some nutritionists in West Virginia seek certification in at least one specialty. Certification or credentials can provide you with more marketable skills and make you more competitive when it comes to job seeking in West Virginia. Examples of some possible certifications West Virginia's nutritionists may seek include:
Certificate in School Nutrition, Levels 1-4 – School Nutrition Association- each level requires a different amount of nutrition, food safety and sanitation courses to be completed. Higher levels also require courses in operations, administration, communications and marketing
School Nutrition Specialist (SNS) Credential – School Nutrition Association – you must have 60 college credits or an associate degree, and work experience to qualify to sit for the SNS exam
Master Certified Nutrition and Wellness Coach– Health Coach Institute- earning this credential requires six months of online training in the Nutritious Life Studio, accredited by the American Association of Drugless Practitioners
Certified Nutrition & Wellness Educator (CNWE)– American Association of Family & Consumer Sciences/West Virginia Association of Family & Consumer Sciences- you must be an educator and pass a competency exam to earn this credential
Certified Nutrition Coach (CNC)– International Sports Sciences Association/Precision Nutrition- you must complete an online training course and pass an examination to earn this credential
Nutritionist Employment in West Virginia
Nutritionists in West Virginia have varied opportunities when it comes to employment, based upon each person's educational status, credentials, and unique skill set. Recent examples of openings for nutritionists in West Virginia are:
Nutrition Educator – Marshall University, for Putnam County School District, Huntington

Salary: $35,700-$45,300 per year
Requires BS in Nutrition, Dietetics or related field
Must have volunteer or paid experience related to food and nutrition education 
Must have volunteer or paid experience with families living on limited incomes and resources
Must have group leadership and/or informal teaching experience 
Prefer residents of Putnam County

Nutrition Associate – State of West Virginia, various WIC clinics statewide

Salary: $30,502-$56,428 per year
Requires associate degree in nutrition or related field, or 60 college credits with a minimum of 12 credits in nutrition

Nutrition Services Unit Coordinator – West Virginia DHHR- Bureau for Public Health, Charleston

Salary: $42,898 – $79,358 per year
Requires Master's degree in Nutrition or related field
Requires three years professional experience, one of which is in an administrative capacity

WIC Nutritionist I/Certified Professional Authority– Valley Health Systems, Inc., Charleston

Salary: $43,600-$55,200 per year
Requires BS in foods and nutrition, dietetics, public health nutrition, or a related field with at least 12 credit hours in nutrition courses

Assistant Food Service Director – Aladdin by Elior North America, West Liberty

Salary: $38,300 – $48,500 per year
Requires BS in food and nutrition or related field
Requires two years of food services operations experience 
Requires valid West Virginia driver's license

Supervisor of Nutrition Services – West Virginia University Hospitals, Morgantown

Salary: $25,400-$32,200 per year
Requires high school diploma or GED
Requires two years of high-volume food service experience and one year of supervisory experience 
Requires current Monongalia County Food Handler Card
Prefer candidates with Certified Dietary Manager certification (or obtain within first 90 days of hire)
Must complete Monongalia County Board of Health Person in Charge Training within first 30 days of hire
Must pass WV DHHR Protected Services Record Check and WV CARE's fingerprint-based criminal background check
See this other useful information on Becoming a Registered Dietitian in West Virginia.