The Wisconsin Department of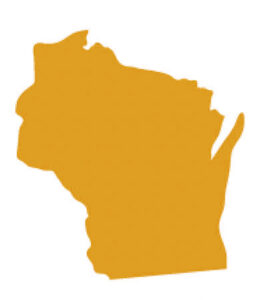 Health Services, Division of Public Health reports that as of 2016, 69 percent of the state's adults are overweight or obese. Breaking it down, 37 percent are overweight and 32 percent are obese. When we look at the prevalence of overweight and obesity in the population, more males fall into this category than females; Native Americans are the ethnicity with the highest rates of overweight and obesity; and adults ages 45-64 are the most overweight and obese in the state. 
The health department goes on to note that obesity and overweight is a risk factor for a number of chronic conditions. The percentage of people who have diabetes and are overweight or obese, for example, is 89 percent. Eighty-two percent of those with heart disease and kidney disease are overweight or obese. Among adults who have had a heart attack, 77 percent fall into the obese or overweight category. 
The state is actively working with hospitals and health care professionals to help prevent, screen for, manage, and treat obesity. One group of health care professionals who can help in this endeavor are nutritionists. Wisconsin nutritionists need not become certified or licensed, as do dietitians in the state [for more information on becoming a registered dietitian in Wisconsin, click here (Becoming a Registered Dietitian in Wisconsin)]. If the idea of helping your fellow Wisconsin residents become healthier and maintain good health, read on to discover how you can become a nutritionist in Wisconsin. 
Studying to Become a Wisconsin Nutritionist
You do not need to meet any educational mandates in the state of Wisconsin if you want to become a nutritionist there, as there is no regulating board overseeing nutritionists and their practice. You have many options, then, when it comes to what educational track you wish to pursue in becoming a nutritionist in Wisconsin. Some of them include:
Certified Nutritional Wellness Counselor Diploma – New Eden School of Natural Health and Herbal Studies, online
Bachelor of Science in Nutritional Sciences– University of Wisconsin, Madison
Master of Science in Nutrition and Dietetics – University of Wisconsin, Stout
Master of Science in Holistic Nutrition – American College of Healthcare Sciences, online
Post-Graduate Capstone Certificate in Clinical Nutrition – University of Wisconsin Madison, online
Certification for Wisconsin Nutritionists
Before you wonder why we have included a section on certification for Wisconsin nutritionists when we just told you they do not need to be certified or licensed, this is a different type of certification. This type of certification is through various professional agencies and organizations, not by the state. Obtaining a professional certification demonstrates to the public that you are educated in the profession's highest standards. Some examples of potential professional certifications for nutritionists in Wisconsin, which can be narrowed down further by the career path you want to take, include:  
SNS: School Nutrition Specialist of the School Nutrition Association of Wisconsin. This credential may be earned in stages, including Level 1 certificate, Level 2 certificate, and Level 3 certificate, before moving on to the SNS credentialing exam. Each involve taking various courses in nutrition and food safety. This certification is often required for nutrition professionals working in school districts or school systems. 
CHC: Certified Health Coach of the National Society of Health Coaches. You must already be an allied health provider or other type of health care professional to pursue this credential.  Earning this credential involves passing an online examination.
CNS: Certified Nutrition Specialist of the Board of Certification for Nutrition Specialists. In order to be eligible for this credential, you need a minimum of a master's degree in nutrition, must have completed 1000 supervised nutritional practice hours, and must pass an exam.
CHES: Certified Health Education Specialist of theNational Commission for Health Education Credentialing. To be eligible for this credential, you must possess a bachelor's degree that includes coursework in education, and pass a credentialing examination. 
CLT: Certified Leap Therapist of Oxford Biomedical Technologies. Earning this credential involves obtaining online training in lifestyle eating and performance and passing an examination.
Salaries and Employment of Wisconsin Nutritionists
Nutritionists in Wisconsin need not be state certified in order to obtain a job. However, when you are looking at the classified ads, you might notice some nutritionist jobs say that they require state certification. These jobs are really for certified dietitians, but they have been misnamed nutritionists. The following are jobs recently posted for Wisconsin nutritionists or nutrition professionals for which state certification is not mandated:
Health Educator – La Crosse County, Wisconsin

Pay rate: $48,087 per year
You must have a minimum of a bachelor's degree
You must have experience working in community health education or public health
Certified Health Education Specialist (CHES) preferred
You must have a valid Wisconsin driver's license

Nutrition Specialist – Epic, Madison

Pay rate: $42,300 – $53,500 per year
You must have professional or academic experience in dietetics and nutrition 
You must live within 45 minutes of Verona, Wisconsin
You must be vaccinated against COVID-19

Technical Nutrition Liaison – Standard Process, Inc, Palmyra

Pay rate: $43,200 to $54,600 per year
You must have a minimum of a bachelor's degree in nutrition, clinical nutrition or nutrition education
Prefer candidates with CNS (Certified Nutrition Specialist) credential
You must have a valid Wisconsin driver's license
Prefer candidates with two to three years of experience in nutritional supplements or herbs
Prefer candidates with two years of experience with Standard Process or MediHerb supplements

Certified Health Coach – Healing Tree LLC, Burlington

Pay rate: not specified
You must be a Certified Health Coach (CHC)
You must have one year of coaching experience
You must carry your own liability insurance
You must be certified in CPR/AED

Nutrition Education Program Director – Great Lakes Inter-Tribal Council, Inc., Lac du Flambeau

Pay rate: $24.70-$26.75 per hour
You must have at least a bachelor's degree in dietetics, nutrition or related field
You must have three years of experience in nutrition management or public health nutrition
You must have a valid Wisconsin driver's license
Prefer candidates with grant writing and funding experience
Prefer candidates with experience in planning and teaching
Prefer candidates with experience with Native American Tribal organizations or non-profit organizations