Registered Dietitians in Arizona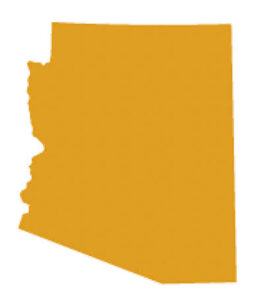 need not be licensed to legally be allowed to practice there. If you want to legally call yourself a Registered Dietitian, however, you must meet the benchmarks set by the Commission on Dietetic Registration (CDR), the national organization of the American Dietetic Association (ADA) that regulates registered dietitians nationwide. Here, we will further discuss how to become a registered dietitian in Arizona through fulfilling the CDR mandates. 
Education and Experience Required of Registered Dietitians in Arizona
If you want to become a registered dietitian and you live in Arizona, you have many choices of educational programs to help you to reach your goal. You must choose a program that has received accreditation from the Accreditation Council for Education in Nutrition and Dietetics (ACEND).  A listing of such programs can be found here (link to Registered Dietitian Schools page). Keep in mind when you are selecting a program that, as of January 1, 2024, the CDR will mandate that all registered dietitians must possess a master's degree.  
Programs that are ACEND accredited in Arizona include:
Didactic Programs in Dietetics (DPD), which offer dietetic coursework only and must be followed by a Dietetic Internship (DI) of at least 1000 hours
Graduate Programs (GP), which offer both the coursework and experience necessary to fulfill the requirements and culminate in a graduate degree
Educational programs are available in Arizona in in-person, online, and hybrid formats, to fit your lifestyle. 
Commission on Dietetic Registration Examination in Arizona
After completing your education and experience in Arizona, your program liaison will give you information on how to begin the process of applying to take the CDR's Registration Examination for Dietitians. Be sure to study the Registration Examination for Dietitians Handbook for Candidates so that you know how the process works.  
You will select a Pearson VUE testing center in Arizona at which to take the test. Centers in Arizona may be found in Tempe, Phoenix, Chandler, and Tucson. You must pay the examination fee of $200 online by credit card when you register to take the exam.  Once you pass the examination, you will be a registered dietitian through the CDR and may practice in Arizona. 
Consider Becoming a Member of the Arizona Academy of Nutrition and Dietetics (AZAND)
Although Arizona does not currently regulate or license its dietitians, that does not mean that you will be left out in the cold. The Arizona Academy of Nutrition and Dietetics (AZAND), an affiliate of the Academy of Nutrition and Dietetics, provides networking and professional education and opportunities for registered dietitians in Arizona. If you become a member of the national AND organization, you are automatically a member of the state affiliate, which entitles you to take advantage of their programs and services. Additionally, you might want to become a member of a regional district in Arizona. The state association is divided into four districts:
Salaries for Registered Dietitians in Arizona
The Bureau of Labor Statistics (BLS) notes that there are 1430 dietitians and nutritionists working in Arizona as of May 2021. They earn an annual median wage of $60,530.  Registered dietitians working around the state of Arizona earn similar wages, as you can see from the statistics below:
Phoenix-Mesa-Scottsdale $60,950
Arizona nonmetropolitan area $60,570
Prescott $60,110
Flagstaff $59,280
Tucson $59,280
Jobs for Registered Dietitians in Arizona
Another good way to see how much registered dietitians are making each year in Arizona is to peruse the online classifieds. Here are some recent job openings for registered dietitians in Arizona, with salaries noted where available:
Dietitian, Mayo Clinic – Scottsdale, AZ

Salary: $57,000 to $86,400 per year
Requires bachelor's degree, one year of experience and Registered Dietitian credentials

Registered Dietitian Long Term Care, Crandall Corporate Dietitians – Globe, AZ

Salary: $52,400 to $66,400 per year
Requires bachelor's degree, Registered Dietitian credentials

Dietitian, Neighborhood Outreach Access to Health – Glendale, AZ

Salary: $65,700 to $83,300 per year
Requires bachelor's degree, Registered Dietitian credentials

Dietitian, Chandler Regional Medical Center – Chandler, AZ

Salary: $54,900 to $69,500 per year
Requires bachelor's degree, one year of experience, Registered Dietitian credentials

Dietitian/Nutritionist, Washington Elementary School District – Glendale, AZ

Salary: $58,200 to $73,800 per year
Requires bachelor's degree, three years of experience
Registered Dietitian credential preferred
Resources for Registered Dietitians in Arizona
The following are some resources that should be helpful to registered dietitians, or students planning to become registered dietitians, in Arizona: