The Georgia Department of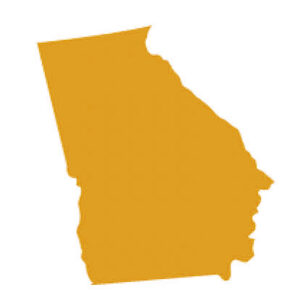 Public Health reports that the prevalence of cardiovascular disease, diabetes and related chronic disease is at an all-time high, but nutritious food consumption is the lowest it's ever been. One in five high school students and one in four adults eat the minimum recommendation of 5 or more servings of fruits or vegetables daily. Good nutrition and healthy food choices can help to prevent and control these chronic diseases.  
Registered dietitians (also known as RDs or RDNs) in Georgia are trained medical professionals who can help Georgians to make healthier food choices, whether their goal is to improve wellness, control or prevent a chronic condition, lose weight, or just to live more healthily. Becoming a licensed and registered dietitian in the state of Georgia involves a series of steps, both at the national level and at the state level. Let's examine the criteria you must fulfill in order to be a registered, licensed dietitian in the state of Georgia. 
Education and Experience Needed by Registered Dietitians in Georgia
Starting on January 1, 2024, the CDR is mandating that all RDNs possess a minimum of a master's degree. When you are choosing a dietetic education program to become a registered dietitian, you should remember this. Some programs still offer bachelor's degrees. The program you choose must hold accreditation through the Accreditation Council for Education in Nutrition and Dietetics (ACEND). link to Registered Dietitian Schools list – Georgia section. Courses are available online, in-person and hybrid. The following types of educational programs are ACEND-accredited in Georgia:
Coordinated Program in Dietetics (CP)– A CP includes courses leading to a degree, plus a 1000 hour supervised practice experience. As of 2022, Georgia offers one CP. 
Didactic Program in Dietetics (DPD)– In a DPD, you will take courses and receive a degree in nutrition. Then, you must follow up the DPD with a Dietetic Internship (DI) of at least 1000 hours. Georgia has three DPDs as of 2022 and eight DIs.
Passing the Commission on Dietetic Registration Examination in Georgia
Then, you must prepare for and succeed at taking the CDR's Examination for Registered Dietitians. A representative of your school will provide you with the necessary information on preparing for and applying for this important examination. Closely read the Registration Examination for Dietitians Handbook for Candidates, as it possesses a wealth of vital information you will need. 
Pearson VUE, the exam center, will issue you an Authorization to Test once your application has processed. You will pay the $200 exam fee online via credit card. You may select a testing center of your choice, where you will be taking the exam. Exam centers in Georgia are in the following cities: Macon, Albany, Savannah, Augusta, Stockbridge, and Atlanta.
You will be tested on your knowledge of dietetic principles, nutrition care for groups and individuals, managing nutrition and food services and programs, and foodservice systems. 
After you complete the test, you will receive a printed score report immediately. The CDR will mail your registration card to you. 
Becoming Licensed as a Registered Dietitian in Georgia
You may now apply for a license to practice dietetics in Georgia. Use the Application for Licensure, and enclose an $85 application fee. Send it, along with all necessary supporting documentation, to:
Georgia Board of Examiners of Licensed Dietitians
237 Coliseum Dr
Macon, Georgia 31217
Your application should be processed within 20 days. You may check your application status at any time using this link. 
Your RD license in Georgia must be renewed every other year, on even years. You must accumulate 30 clock hours' worth of continuing education during each licensure period. The renewal fee must also be paid, which is currently as of 2022 $50. 
Salaries of Registered Dietitians in Georgia
The annual median wage of dietitians and nutritionists in Georgia, per the U.S. Bureau of Labor Statistics, is $48,000 as of May 2021. Those in the top 25 percent make $66,720 annually, while those in the top 10 percent earn $78,380 per year. 
Some Georgia cities pay their RDNs higher than the state median wage. The Atlanta/Sandy Springs/Roswell area pays $57,400 to its registered licensed dietitians. Dietitians working in Gainesville make $56,620 annually. Dietitians in Augusta/Richmond County make $56,160 per year. Those in Albany earn $54,150 per year. 
Jobs for Registered Dietitians in Georgia
A better way to examine the salaries of registered, licensed dietitians in Georgia is to look at current job openings. Some examples of jobs open for RDs/RDNs as of July 2022 in Georgia are:
Private Practice Dietitian – Nourish Family Nutrition, Atlanta, GA

Salary: $57,000 to $72,200 per year
Requires RD credential and Georgia licensure
Requires minimum of bachelor's degree

Registered Dietitian – Harmony Nutrition, Alpharetta, GA

Salary: $40 to $50 per hour
Requires RD credential and Georgia licensure

DJJ Regional Manager, Registered Dietitian – Augusta University, Augusta, GA

Salary; $85,000 per year
Requires bachelor's degree
Requires RD credential and Georgia licensure
Requires one year of clinical experience 

Clinical Dietitian – Hamilton Medical Center, Inc., Dalton, GA

Salary: $55,000 to $70,100 per year
Requires bachelor's degree
Requires RD credential and Georgia licensure
Oncology experience preferred

Community Dietitian Nutritionist – Open Hand Atlanta, Inc., Atlanta, GA

Salary: $54,300 to $68,700 per year
Requires bachelor's degree, master's degree preferred
Requires RD credential and Georgia licensure
Requires one to two years of experience in dietetics
Experience counseling and educating clients in Spanish preferred