According to the Iowa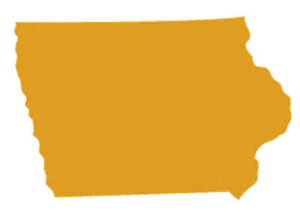 Department of Public Health Bureau of Nutrition and Physical Activity, in 2020, the prevalence of obesity in Iowa was higher than the prevalence of obesity in the entire United States. Thirty-six and a half percent of Iowans classify as obese, while just 31.9 percent of Americans are. Iowa has the seventh highest rate of obesity in the United States. From 2019 to 2020, obesity in the state increased by 2.6 percent.
While this is not the only thing that registered dietitians can help with, it is one problem for which they are well-trained. Many Iowans do not eat nutritionally because they cannot afford to purchase nutritional foods. Others may not know what healthy choices to make when they purchase food. Although dietitians cannot help with the first problem, they can assist individuals and groups in making better food choices. If you would like to learn how to become a licensed dietitian in Iowa, keep reading.
What Education and Experience Do Registered Dietitians Need in Iowa?
The Accreditation Council for Education in Nutrition and Dietetics (ACEND) approves schools that offer educational programs in dietetics, at the undergraduate and graduate degree levels. The Commission on Dietetic Registration (CDR) sets the rules and regulations for becoming a registered dietitian in the United States, and has determined that as of January 1, 2024, all registered dietitians must have at least a master's degree. Some ACEND-accredited programs are still offering bachelor's degrees, so keep this in mind when you are selecting a program from this list. (link to Registered Dietitian Schools list – Iowa section). You will find these types of ACEND-accredited programs in Iowa: 
Didactic Program in Dietetics (DPD)– DPDs include just the coursework you need to become a registered dietitian. After completion of a DPD, you must go on to complete a Dietetic Internship (DI) lasting at least 1000 hours. Iowa offers one DPD as of 2022 and no DIs (but you may take a DI in any state).
Graduate Program (GP)- This program includes both coursework and supervised practice of at least 1000 hours, and culminates in a graduate degree. Iowa offers 2 GPs as of 2022.
When Do I Take the Commission on Dietetic Registration Examination in Iowa?
After you complete your educational program, you are ready to sit for the CDR's Examination for Registered Dietitians. An associate at your school will give you information on registering for this exam, as well as provide you with the crucial Registration Examination for Dietitians Handbook for Candidates, which explains the process fully.
The test is administered by Pearson VUE test centers, and they will handle your registration and accept your $200 payment for the exam fee. You can choose from centers in West Des Moines, Coralville, and Davenport to take the exam, or go to neighboring Rochester, Minnesota or Omaha, Nebraska. 
Your score report will be made available to you as soon as you finish taking the test. Your CDR registration card will arrive by mail a few weeks later. 
How Do I Apply for Licensure as a Registered Dietitian in Iowa?
Now, you are set to apply for licensure as a dietitian in Iowa. Use the Iowa Department of Public Health's Bureau of Professional Licensure's online portal. You will pay the application fee of $120 online and must also provide the Board with a copy of your CDR registration card. Your application should be reviewed within five days of submission. You will then receive an email from the Board with a letter attached indicating what additional information is still needed, if any, to approve your license. 
If you have questions about the application for licensure process, contact the Bureau at [email protected] or (515) 281-0254.
Your RD license in Iowa is renewable biennially. During each licensure term, you are expected to complete 30 hours' worth of continuing education. The renewal process is also handled through the online portal, where you will pay the $120 renewal fee.
What Can I Expect to Earn as a Registered Dietitian in Iowa?
The U.S. Bureau of Labor Statistics says that as of May 2021, the 660 dietitians and nutritionists working in Iowa make an annual median wage of $60,570. Those earning in the top 25th percentile make $68,950 annually, while those in the top 10th percentile bring home annual median wages of $76,920.
Registered dietitians working in certain cities in Iowa make wages higher than the state average. For example, dietitians working in the Northwest nonmetropolitan area of Iowa earn $61,830 annually. Those working in the Iowa City area make $61,530 per year. Those working in the Waterloo-Cedar Falls area earn $61,370 per year. Dietitians employed in the Des Moines-West Des Moines metropolitan area average $60,850 annually.
What Jobs are Available for Registered Dietitians in Iowa?
There are many jobs posted as of August 2022 for registered, licensed dietitians in Iowa. They include, but are not limited to:
Clinical Dietitian, Nutrition Services, Pella Regional Health Center – Pella, IA

Salary: $61,800 to $78,200 per year
Iowa licensure and RD registration required
Bachelor's degree required
Experience in a dietetic role required

Consultant Dietitian, J. Evans Nutrition Consulting, LLC – Iowa City, IA

Salary: $38 to $39/hour
Iowa licensure and RD registration required
Bachelor's degree required

Registered Dietitian Nutritionist, RD Nutrition Consultants, LLC – Fort Madison, IA

Salary: $32 to $38 per hour
Iowa licensure and RD registration required
Bachelor's degree required
One year of clinical experience preferred

Clinical Dietitian, U.S. Veterans Health Administration – Knoxville, IA

Salary: $44,740 to $66,214 per year
Iowa licensure and RD registration required
Bachelor's degree required

Clinical Dietitian, General and Bariatric Surgery Clinics, Mercy Hospital – Iowa City, IA

Salary: $21.98 to $32.22 per hour
Iowa licensure and RD registration required
Bachelor's degree required
One year of dietetics experience preferred
Certification by the National Certification Board for Diabetes Educators preferred