The New Hampshire Office of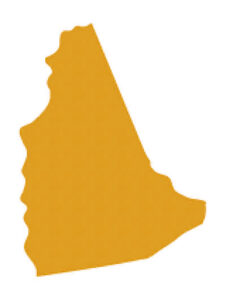 Professional Licensure and Certification requires that all registered dietitians become licensed before they can work in the Granite State. The process of developing into a registered, licensed dietitian in New Hampshire is twofold: first, you must fulfill national requirements to be a registered dietitian; then, you must meet New Hampshire's licensing requirements. Here, we will take a closer look at the procedures involved in becoming a registered, licensed dietitian in New Hampshire. 
Dietitians Who Do Not Need a State License in New Hampshire
There are a few exceptions to the New Hampshire Dietitians Licensure Act, permitting certain individuals to practice dietetics without a license in the state. This includes registered dietitians who:
Serve in the U.S. Armed Forces
Work for a state or federally funded public health program
Work for the U.S. Veterans Administration, as long as the dietetic services they provide are related to their employment
Are licensed, certified or registered under other laws of the state of New Hampshire and are performing services within their scope of practice
Education for Registered, Licensed Dietitians in New Hampshire
The New Hampshire Dietitians Licensure Act states that, in order to be eligible for licensure in the state of New Hampshire, one needs at least a bachelor's degree from a Board-approved school, majoring in nutrition education, human nutrition, dietetics, food and nutrition, public health nutrition, or food systems management. One must also complete a dietetic internship lasting a minimum of 900 hours total, and pass the Commission on Dietetic Registration (CDR)'s Registration Examination for Dietitians. 
In order to be a nationally-recognized Registered Dietitian, one must fulfill the requirements of the CDR. This involves completing a dietetic education program that has received accreditation by the Accreditation Council for Education in Nutrition and Dietetics (ACEND). One must also complete at least 1000 hours of ACEND-accredited supervised dietetic practice
There are various types of dietetic education programs you may take. In New Hampshire, you may choose from two Didactic Programs in Dietetics (DPDs). These are programs that include just the coursework you need in a dietetic education program, and must be followed by a Dietetic Internship (DI) (for which New Hampshire also offers two choices). Of course, you may take any ACEND-accredited program from any state, not just New Hampshire. 
Examination for Registered, Licensed Dietitians in New Hampshire
The next step along the route to becoming a licensed, registered dietitian in the state of New Hampshire is to pass the CDR's Registration Examination for Dietitians. Thoroughly read the Registration Examination for Dietitians Handbook for Candidates, which provides updated information on the entire process. 
Register online to take the test, and pay the $200 examination fee to Pearson VUE, the examination center that administers the test. The exam is administered at Pearson VUE testing centers. The only center in New Hampshire is in Concord. However, you may also register to take the exam in nearby states such as Massachusetts, Rhode Island, Maine and Connecticut.  
You will learn your score as soon as you finish the exam. The CDR will mail your registration card to you some weeks later.
Applying for Licensure as a Registered Dietitian in New Hampshire
Finally, the time has arrived to apply for licensure as a registered dietitian in New Hampshire. Use the Online Licensing Portal to apply. You will be instructed to pay an application fee of $110 and to either upload or mail in any supporting documentation required. Questions about the licensing process may be directed to (603) 271-2152 or [email protected]. 
Licenses are renewed on a biennial basis. During each licensure period, you must complete 20 hours of approved continuing education to renew your New Hampshire dietitian license. 
Registered, Licensed Dietitian Salaries in New Hampshire
Per the Bureau of Labor Statistics (BLS), wages for dietitians and nutritionists in New Hampshire, as of May 2021, are as follows:
Hourly mean wage: $31.93
Hourly median wage: $30.60
Annual mean wage: $66,420
Annual median wage: $63,650
Wages may vary depending upon in which part of the state you work. For example, take a look at the average wages for cities listed in the table below:
| | | | | |
| --- | --- | --- | --- | --- |
| Metro area | Hourly mean wage | Annual mean wage | Hourly median wage | Annual median wage |
| Portsmouth | $33.57 | $69,830 | $37.31 | $77,600 |
| Manchester | $34.62 | $72,000 | $36.06 | $75,000 |
| W Central/SW nonmetro | $31.45 | $65,410 | $29.91 | $62,220 |
| Central nonmetro | $31.87 | $66,300 | $29.26 | $60,850 |
Registered, Licensed Dietitian Jobs in New Hampshire
There are ample professional opportunities for licensed and registered dietitians in New Hampshire, as of September 2022. Some examples include:
Medical Nutritionist – Evergreen Technologies, LLC, Portsmouth

Salary: $64,900 – $82,100/year
Bachelor's degree necessary, Master's degree preferred
RD/LD in New Hampshire necessary
Basic Life Support certification necessary
One year of experience required

Nutrition Support Registered Dietitian Lead, Clinical Nutrition Services – D-H Medical Center, Lebanon

Salary: $75,400 – $95,400/year
Bachelor's degree necessary
RD/LD in New Hampshire necessary 
Five years' experience in parenteral nutrition management required

Nutrition Consultant – State of New Hampshire, Concord

Salary: $47,873 – $67,509/year
Master's degree necessary
RD/LD in New Hampshire necessary
Three years' experience in human nutrition/dietetics necessary

Diabetes Educator/Dietitian – Concord Diabetes Center, Concord Hospital, Concord

Salary: $47,000 – $59,400/year
Bachelor's degree necessary
RD/LD in New Hampshire necessary 
Certified Diabetes Educator certification preferred
Two years' experience in diabetes education required

Outpatient Registered Dietitian – Cheshire Medical Center, Keene

Salary: $54,500 – $69,100/year
Bachelor's degree necessary, Master's degree preferred
RD/LD in New Hampshire necessary 
Three to five years' experience in nutrition counseling necessary