Iowa state law requires that you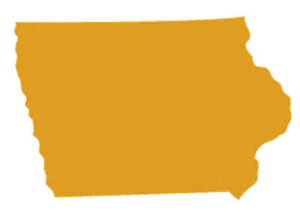 have a license to provide nutrition care and services to groups and individuals. This includes nutrition counseling and advice, nutrition assessment, and goal setting. The only nutrition professionals who may become licensed in Iowa are dietitians, so "licensed nutritionists" are really licensed dietitians. 
Iowa's dietetics law is very short and to the point, stating that you must have a license in order to practice dietetics. It does not define exactly what dietetics is, however. There are some exemptions that allow non-licensed nutritionists to practice in Iowa. Here, we will examine how both licensed and non-licensed nutritionists can legally practice in the state of Iowa. 
Becoming a Licensed Nutritionist in Iowa
The Iowa Board of Dietetics sets regulations regarding the licensure of dietitians in Iowa. In practice, there is no such thing as a "licensed nutritionist," unless you want to stretch the definition to a licensed dietitian.  If you want to become a licensed nutritionist/dietitian, under Iowa law, you must first become a Registered Dietitian through the Commission on Dietetic Registration (CDR). More information is provided on this procedure in this article (Becoming a Registered Dietitian in Iowa). 
In short, the CDR requires that you complete an accredited education program that combines coursework and supervised practice of at least 1000 hours. This coincides with Iowa's regulations for dietetic licensure, which state that you need a minimum of a baccalaureate degree in food and nutrition, human nutrition, dietetics or food systems management, along with a supervised experience program approved by the CDR. 
You must also pass the CDR's Registration Examination for Dietitians (link to page) before you can become a registered dietitian as well as a licensed dietitian in Iowa.
After passing the CDR examination, you must apply for licensure through the Iowa Department of Public Health's Bureau of Professional Licensure online portal.  More information on the application for licensure process is available by contacting the Bureau at [email protected] or (515) 281-0254. Applications are generally reviewed within five days of receipt.
License renewal occurs biennially and requires that you complete 30 hours of continuing education and pay a renewal fee. Renewal can also be done through the online portal. 
The Practice of Non-Licensed Nutritionists in Iowa
What if you do not want to become a registered, licensed dietitian, but would rather work as a non-licensed nutritionist in Iowa? This is possible under the few exemptions that do exist to Iowa's regulations. Under Iowa law, a non-licensed nutritionist can:
Marketing and distribution of weight loss programs/nutritional products– Providing that you do not call yourself a dietitian, you may market or distribute weight loss programs or sell nutritional products and provide explanations for customers on how to use these programs or products, relating to their normal nutritional needs.
Education and advice – As long as you do not call yourself a dietitian, you may provide routine education and advice about normal nutritional needs, requirements and sources. This includes providing information on the use and sale of food and food materials, including dietary supplements. 
Unfortunately, those are the only two exemptions under Iowa law that allow non-licensed nutritionists to practice. What non-licensed nutritionists cannot do, is practice dietetics. By law, this means that, as a non-licensed nutritionist, you cannot:
Provide nutrition assessment, or evaluate the nutritional needs of individuals and groups using biochemical, anthropomorphic, physical and dietary data to determine nutrient needs and to recommend nutritional intake
Provide nutritional counseling, or advising and assisting individuals or groups about appropriate nutritional intake, integrating information from a nutritional assessment with information about food and sources of nutrients and how to prepare meals
Education for Non-Licensed Nutritionists in Iowa
If you decide that becoming a non-licensed nutritionist in Iowa is the career pathway you wish to pursue, what education should you obtain? Since Iowa does not license nutritionists, there are no mandates as to education you "must" obtain. It is always recommended that you get some type of degree or certificate in nutrition, particularly in an area in which you wish to work. Some examples in Iowa include, but are not limited to:
Board Certification in Holistic Nutrition (BCHN) from the National Association of Nutrition Professionals (NANP)– This requires completing a NANP approved holistic nutrition education program and passing an examination. A listing of approved programs can be found here. Subjects covered in the curriculum must include:

Anatomy and physiology
Biochemistry
Macronutrients
Micronutrients
Life cycle nutrition (men's and women's)
Sports nutrition
Nutrition and pathophysiology
Nutritional counseling
Herbology
Business
Legal issues surrounding nutrition practice
Research

IFNCP Certification through the Integrative and Functional Nutrition Academy – Attainable through various ways depending upon your prior education and background, involves completing coursework and passing a board exam. Courses include:

Introduction to integrative and functional nutrition
Food as medicine
Conventional labs and functional blood chemistry interpretation
Functional diagnostic labs and interpretation
Dietary supplements
Jobs for Non-Licensed Nutritionists in Iowa
When searching for a job as a non-licensed nutritionist in Iowa, remember not to look for anything that requires a dietetic license. A recent search of job openings in Iowa found the following availabilities:
Nutrition Services Supervisor, Bettendorf Community School District – Bettendorf, IA

Salary: $38,500/year
Requires three to five years' experience in PK-12 nutrition service
ServSafe certification preferred

Correctional Food Service Coordinator, State of Iowa Talent Gateway – Fort Madison, IA

Salary: $45,635 to $67,101/year
Requires two years of full-time experience in mass food production, or a combination of education in nutrition or related field and experience

Quality Assurance Coordinator, Food & Nutrition, Roquette – Keokuk, IA

Salary: $69,300 to $87,700/year
Requires bachelor's degree in nutrition or related field
Requires experience in quality assurance management in food industry

Youth Nutrition Associate Educator, Iowa State University Extension and Outreach – Altoona, IA

Salary: $20 to $21/hour
Requires bachelor's degree
Requires driver's license

Onsite Wellness Coach, United Healthcare – Des Moines, IA