In 2020, during the midst of the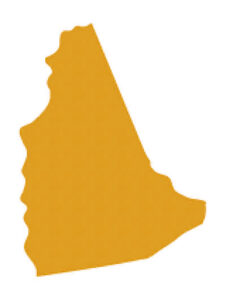 COVID-19 pandemic, a researcher at Dartmouth's Geisel School of Medicine wrote an opinion piece in the New Hampshire Union Leader on how COVID-19 was worsening food insecurities that many households in New Hampshire already faced. He noted that in New Hampshire, there are large food deserts that contain no grocery stores for more than 30 miles. Many communities in the state rely on just one store, which may not even be a grocery store, to meet all of their nutritional needs. Nutritionists and doctors have banded together to reach individuals residing within these communities and provide for their nutritional needs. 
New Hampshire only licenses dietitians, not nutritionists. The titles of dietitian and licensed dietitian, as well as the initials LD, are protected under New Hampshire law. Licensed nutritionists do not exist in New Hampshire, but non-licensed nutritionists do. They may work under certain exemptions to New Hampshire's Dietitians Licensure Act. In this article, we examine how you can become a non-licensed nutritionist in New Hampshire, and what unlicensed nutritionists may do there.  
Exceptions to the Law Allowing Non-Licensed Nutritionists to Work in New Hampshire
Exceptions exist to New Hampshire's Dietitians Licensure Act that effectively allow non-licensed nutritionists to practice in the state. Stated simply, the law says that any person who does not call themselves a licensed dietitian may do the following:
Provide advice, counseling or assessments in terms of food, diet or nutrition
Market or distribute food products, including dietary supplements
Provide explanations to or communications with customers regarding the usage of food products, including dietary supplements
Becoming a Non-Licensed Nutritionist in New Hampshire
You may engage in any educational program you wish in order to become a non-licensed nutritionist in New Hampshire, as there are no rules or regulations to follow. Many choose to go the traditional route, seeking college degrees either online or in-person. Others may study online and earn nutrition certifications that can help them to achieve their career goals. 
Some examples of college degrees you may pursue include:
Bachelor of Science in Nutrition – Nutrition and Wellness Option, University of New Hampshire
Bachelor of Science in Public Health – Southern New Hampshire University, online
Master of Science in Nutritional Sciences – University of New Hampshire
Certificate in Food, Nutrition and Health – University of New Hampshire, online
New Hampshire Nutrition Consultant Certificate – Bauman College, online
Examples of professional certifications that New Hampshire non-licensed nutritionists have earned include:
Nutritional Therapy Practitioner (NTP) and Functional Nutrition Therapy Practitioner (FNTP), Nutritional Therapy Association- courses are offered online in areas such as:
Client consultation process
Evolution of the Modern Diet
Introduction to Anatomy and Physiology
Basics of Nutrition
Hydration
Sleep, Stress and Movement
Endocrine
Immunity
Cardiovascular health
Culinary Wellness
Digestion
Blood sugar regulation
Environmental factors
Fatty acids
Detoxification
Barriers, influences and emotional wellbeing
Mineral balance
All you need to begin the program is a high school diploma and an internet connection. Tuition for the program is approximately $7000. Financing and payment plans are available. Graduates may use the NTP or FNTP credentials, depending upon which program they complete. The program is recognized by the National Association of Nutritional Professionals (NANP) and graduates may also sit for the NANP's National Board Exam to be Board Certified in Holistic Nutrition (BCHN).
New Hampshire HACCP Training and Certification – offers Food Handler Safety Training and Certification, as well as Certified Food Manager certification, for jobs that require this. Tuition for this training ranges from $50 to $125. 
New Hampshire School Nutrition Association – offers Certificate in School Nutrition and School Nutrition Specialist (SNS) certification. Fees for the exam for certification are $225 to $325, depending if you are a SNA member.
Positions for Non-Licensed Nutritionists in New Hampshire
If you elect not to obtain a license as a dietitian in New Hampshire, but still wish to work in the nutrition field, jobs are available. As of September 2022, the following nutrition-related jobs were listed as available for those without a license:
WIC Nutritionist and Breastfeeding Coordinator – Community Action Program Belknap-Merrimack Counties, Concord

Salary: $39,900-$50,500 per year
Bachelor of Science or Bachelor of Arts in Nutritional Sciences required
Experience with participant-centered education and motivational interviewing required 

Health Coach – Wentworth-Douglass Hospital, Somersworth

Salary: $34,900 – $44,100 per year
Bachelor of Science or Bachelor of Arts in nutrition or psychology required
NCAA-recognized Health Coach certification required
At least six months' experience in coaching or wellness required

Community Health Educator – AmeriHealth Caritas, Manchester

Salary: $44,800 – $56,800 per year
Bachelor of Science or Bachelor of Arts in nutrition, health education or public health required
One to three years' clinical experience in health education required
Valid driver's license required

Wellness Coach – The Lawson Group, Concord

Salary: $33,000 – $38,000 per year
Two years' experience in professional health and wellness preferred

Food Services Coordinator – Nelson School, Keene School District, Nelson

Salary: $42,500 – $53,900 per year
High school diploma required
Food service experience preferred
ServSafe certification required
Criminal background check required
Here is also some useful information on Becoming a Registered Dietitian in New Hampshire.