A recent report from the Trust for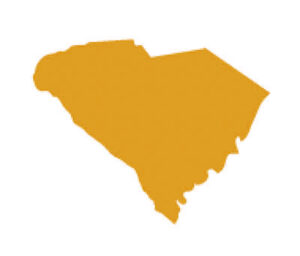 America's Health and the Robert Wood Johnson Foundation states that, as of 2020, South Carolina's adult obesity rate is 34.3 percent (circa 2019). This startling rate is even greater than the United States' adult obesity average rate of 30.9 percent. For South Carolina's black adult residents, the rate of obesity within that demographic is even higher, at 42.3 percent. 
Nutritionists are professionals who are trained in the study of foods and their impact on health. They can help South Carolinians of all ages to make healthier food choices and reduce their risk of obesity-related diseases, such as diabetes, heart disease, and cancer. 
The South Carolina Panel for Dietetics is responsible for licensing dietitians in the state, and do not recognize nor license nutritionists.  [For more information on becoming a licensed, registered dietitian in South Carolina, click here (Becoming a Licensed Dietitian in South Carolina)]. As licensure is not a possibility for nutritionists in South Carolina, here, we will describe the process for becoming an unlicensed nutritionist in the Palmetto State.
Here Are Some Things that Non-Licensed Nutritionists in South Carolina May Not Do:
Call themselves a dietitian or licensed dietitian or refer to themselves with the initials "L.D."
Provide medical nutrition therapy
Things that Non-Licensed Nutritionists in South Carolina May Do Include:
Call themselves a nutritionist or state that they practice nutrition
Distribute or market food, food supplements, and food materials without needing a license
Explain the use or preparation of food, food supplements and food materials in connection with their distribution or marketing without needing a license
Provide general nutritional counseling in health without needing a license, as long as they do not call themselves a dietitian
Provide weight control services without needing a license through a program that does not allow change to be initiated without the approval of a registered, licensed dietitian
Run a faith-based promotional health program without needing a license
Education and Training for Non-Licensed Nutritionists in South Carolina
Because there are no licensing mandates for non-licensed nutritionists in South Carolina, you need not obtain any nutritional education. However, it makes sense to get some education in the field, whether or not your plans include attaining professional nutritional certification (which is also optional). Some examples of education options in nutrition in South Carolina include:
BS in Food Science and Human Nutrition – Clemson University, Clemson 
Minor in Nutrition and Food Systems – University of South Carolina, Columbia
BS in Health Sciences – Nutrition – Bob Jones University, Greenville
Nutrition Consultant Certificate – Bauman College, online
Certificate in Nutrition, Chronic Disease, and Health Promotion – University of South Carolina Beaufort
AAS degree in Sports & Health Nutrition – Culinary Institute of Charleston/Trident Technical College
Professional Certification for Non-Licensed Nutritionists in South Carolina
As mentioned above, certification is not mandatory for non-licensed nutritionists in South Carolina, since there are no rules or regulations to follow. Depending upon your career ambitions, however, you might want to consider any of the following certifications for non-licensed nutritionists:
Board Certified in Holistic Nutrition (BCHN) by the Holistic Nutrition Credentialing Board – involves completion of an approved program of study and passing a certification exam
School Nutrition Specialist (SNS) through the School Nutrition Association of South Carolina – mandatory for some jobs in the public school system, involves completing training and passing an exam
Functional Nutrition Therapy Practitioner (FNTP) of the Nutritional Therapy Association – involves training in Functional Clinical Assessment and passing a certification exam
Certified Dietary Manager, Certified Food Protection Professional  (CDM, CFPP) of the Association of Nutrition & Foodservice Professionals – involves completing training and passing an exam
ServSafe Certification of the National Restaurant Association –This certification is often required for positions in which you handle food or work in food service.Involves completing training and passing an exam. Food Handler and Food Manager certifications are available
Types of Jobs and Salaries for South Carolina Non-Licensed Nutritionists
If you do opt to become a non-licensed nutritionist in South Carolina, you might wonder, what types of jobs will be available for you? You could start your own nutritionist business, join with other healthcare practitioners, or take a look at some of the jobs such as these, that were available in the state as of October 2022:
Certified Dietary Manager – Bethea Retirement Community, Darlington

Salary: $48,858 to $55,500 annually
Must have Certified Dietary Manager (CDM) certification

Nutrition and Wellness Coach – PHD Weight Loss, LLC, Greenville

Salary: $23 hourly
BS or BA degree preferred
One year of health coaching experience preferred
One year of wellness sales experience preferred
Health coaching or nutrition certification preferred

Field Manager Student Nutrition – Chester County School District, Chester

Salary: $56,300 to $71,300 annually
College degree in food service management, nutrition or related field, or five years' food service management experience required

Functional Medicine Clinician/Nutritionist – Functional Health Center of the Carolinas, Fort Mill

Salary: $75,000 to $100,000 annually
Must have functional medicine/nutrition background

Nutritionist II – Bluffton Health Department Public Health – Beaufort County

Salary: $33,784 annually
BS or BA degree in nutrition, foods and nutrition, family and consumer sciences, home economics, health promotion or related field required
Valid South Carolina driver's license needed

Health & Wellness Coach – Jenny Craig Weight Loss Centre, Bluffton

Salary: $26,100 to $33,100 annually
High school diploma required
Retail/sales experience required

Food Services Supervisor- AMIKids Beaufort, Inc., Seabrook

Salary: $32,100 to $40,700 annually
High school diploma or GED required
Current ServSafe certification preferred
Three years of experience in food service required
Food service experience within a school environment preferred
Two years' supervisory experience required 

Regional Marketing Manager, Nutrition & Health Ingredients – GELITA USA

Salary: $74,700 to $94,700 annually
Requires BS or BA degree in marketing or related field
Requires five or more years of marketing experience in the nutrition and health ingredients market