Obesity rates among children and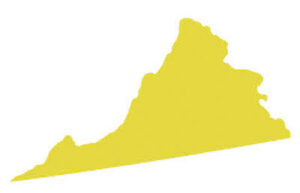 adolescents has been steadily rising for the past few years in Virginia, per the Centers for Disease Control and Prevention. As of 2019, 15.8 percent of the state's children and adolescents are qualified as being overweight, and 14.8 percent are classified as obese. There were spikes in overweight and obesity rates among three- to five-year-olds in Virginia, as well as among Latinx and Black youth from Virginia's lower income households. The isolation of COVID further accelerated obesity and overweight rates among Virginia's low- income families. Some of the highest rates of obesity among all ages in Virginia occur among the rural poor in the state's southwest part. 
There are many contributing factors to the rise in obesity in Virginia, and COVID isolation just one of them. It is a curious fact that Virginia is one of the few states that does not license nor certify nutritionists and dietitians. This is not necessarily a contributing factor to the overweight and obesity increases in Virginia's population, but it cannot be ignored. 
It is not true that just anyone, however, can practice as a nutritionist in Virginia. Under the Code of Virginia, it specifies that the terms "nutritionist" and "dietitian" are protected and reserved only for those who meet criteria found within the code. There are still certified and non-certified nutritionists in Virginia, with licensed in this case meaning certified by a nationally recognized body approved by the Virginia Board of Health Professions. We will discuss the processes of becoming a certified nutritionist and a non-certified nutritionist in the Commonwealth of Virginia here.
Certified Nutritionists in Virginia
If you want to be a certified nutritionist in Virginia, the law specifies that you must have a bachelor's degree or higher in one of the following majors:
Food and nutrition
Nutritional sciences
Public health nutrition
Community nutrition
Human nutrition
Dietetics
Additionally, you must be certified by one of the following recognized certifying bodies:
RDN: Commission on Dietetic Registration (CDR)- If you hold this certification, you are a registered dietitian nutritionist in Virginia, the process of which is outlined in this article (Becoming a Registered Dietitian in Virginia)
CNS: Board for Certification of Nutrition Specialists – Holding this certification means that you are a Certified Nutrition Specialist. It requires that you meet the following qualifications:

Obtain at least a master's degree from an ACNPE (Accreditation Council for Nutrition Professional Education)-accredited program, or hold at least a master's degree in nutrition or a relevant field, including the following courses:

12 credit hours in graduate nutrition science courses
6 credit hours in graduate or undergraduate or graduate biochemistry courses
3 credit hours in graduate or undergraduate anatomy and physiology courses
12 credit hours in graduate or undergraduate clinical or life sciences courses
3 credit hours in graduate or undergraduate behavioral science courses

Complete a supervised practice program consisting of at least 1000 hours, including the following elements:

200 hours of personalized nutrition assessment and interpretation
200 hours of personalized nutrition intervention, education, counseling and ongoing care
200 hours of personalized nutrition monitoring and evaluation

Pass the Certification Examination for Nutrition Specialists, consisting of 200 multiple-choice, single answer questions covering basic and applied nutritional science

DACBN: American Clinical Board of Nutrition – You must hold Diplomate status with this organization under Virginia law in order to be recognized as a certified nutritionist. This entails:

Holding a doctoral degree in a health care profession
Completing 300 hours of post-doctoral training in nutrition from a recognized institution
Writing a nutrition-oriented article with 10 references, acceptable for publication
Have one year of experience in practicing nutrition
Pass the DACBN written examination

Are licensed or certified as a nutritionist in another state
Non-Certified Nutritionists in Virginia
Virginia also allows non-certified nutritionists to practice, under broad exemptions that exist in the state's codified laws. The law states that nothing in it will prevent or "affect in any fashion the ability of any person to provide any assessment, evaluation, advice, counseling, information or services of any nature that are otherwise allowed by law, whether or not such services are provided in connection with the marketing and sale of products." It also states that "No person shall hold himself out to be or advertise or permit to be advertised that such person is a dietitian or nutritionist," meaning that you may not call yourself a nutritionist, certified nutritionist, or licensed nutritionist in Virginia. As long as you do not refer to yourself in that way, you are free to provide nutrition care services without certification.
Even though you do not need certification to work in nutrition in Virginia, professional certification can indicate to clients that you hold yourself to the highest standards of the profession. Some, therefore, opt for a certification such as:
NASM Certified Nutrition Coach (NASM-CNC)- This certification through the National Association of Sports Medicine requires studying through online coursework and passing an online certification test. 
Certified Intuitive Eating Counselor– This certification through IntuitiveEating.org requires that you have at least a bachelor's degree and are working as an allied health professional. You must complete a webinar and group and individual supervision to earn this certification.
Integrative Nutrition Health Coach (INHC) – This certification through the Institute for Integrative Nutrition requires that you study through online coursework and pass an online certification exam.
School Nutrition Specialist (SNS)– This certification through the School Nutrition Association requires that you have 60 college credits or an associate degree, or 30 credits and work experience in child nutrition programs, and pass an examination.
Working in Nutrition in Virginia
 A good way to examine what is needed for nutritionists or those who wish to become employed in nutrition in Virginia is to scan the classified ads. Recent job postings in Virginia include:
Specialist, School Nutrition – Loudoun County School District, Ashburn

Salary: $68,111 to $125,860 annually
Must have an associate degree or higher in nutrition or a relevant field
Must have five years' supervisory experience
Must have, or be able to obtain, SNS credential
Must have current Sanitation Certification

Director of Sports Nutrition – Virginia Commonwealth University, Richmond

Salary: $63,200 to $80,000 annually
Must have at least a bachelor's nutrition or related degree 
Must have two years' experience 
Prefer work experience in a university setting

Nutrition Services Director – The Gardens at Warwick Forest, Newport News

Salary: $86,000 to $109,000 annually
Must have a bachelor's nutrition or related degree 
Must have recent relevant experience
Must have supervisory experience 

Nutrition Consultant – Composition ID, Arlington
Medical Nutrition Wellness Coach- Cornerstone Wellness, Falls Church

Salary: $18 to $22 hourly
Must have a nutrition or related degree
One year of nutrition experience preferred